1940s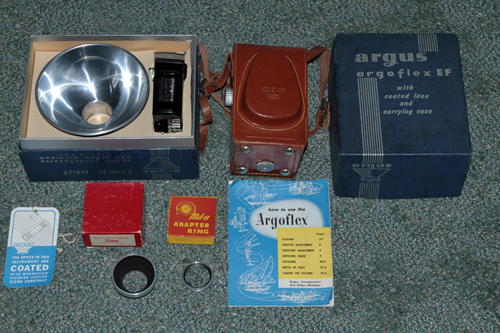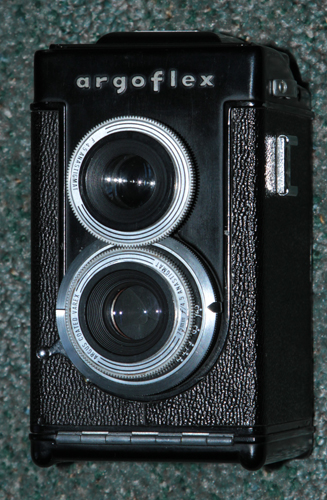 ARGUS ARGOFLEX EF - 1948-51. The EF was a Twin Lens Reflex (TLR) made by Argus from 1948 through 1951. It took 620 roll film and had an aperture range of f4.5 to f18 with a 75mm lens. The body was metal and it had flash sync. Shutter 1/10 - 1/200 second, time and bulb. The tag with the set above indicated a price of $91.88, but did not include the lens hood, adapter and filter. That may not seem to be a lot, but in 2012 dollars it would be $877.71! The winning bid on eBay was $16.17. The camera is in near mint condition and the leather case shows little use other than wrinkles at bend points. For those with a small budget who would like to develope a reasonable collection without spending too much, the above is a good example of what to look for: 1) Low minimum bid with few or no bidders, 2) excellent to near mint condition, 3) Original box, manual and other accessories. Although some camera owners are ardent photographers, many cameras, especially movie cameras, spend most of their life tucked away in a drawer, thus remain in excellent condition. At any one time there are thousands of vintage cameras listed for sale on eBay. If you are willing to spend the time searching through the listing several times a month you will be able to build an impressive camera collection with minimum expenditure.
http://camerapedia.wikia.com/wiki/Argus_Argoflex_EF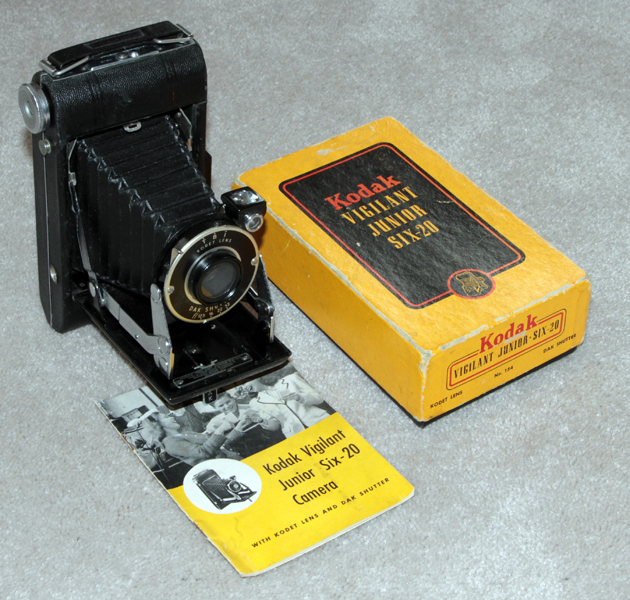 KODAK VIGILANT JUNIOR SIX-20- 1940-48. The Kodak Vigilant Junior Six-20 was a folding camera made in the USA and Canada by Kodak from 1940 to 1948. It took 6x9cm images on 620 film. It was similar to the Kodak Vigilant Six-20, but with a simpler lens and shutter. There was also a larger model, the Vigilant Junior Six-16. The camera came equipped with either a simple fixed focus Kodet meniscus lens in a Dak shutter, or a better 3 element Bimat lens in a Dakon shutter. This particular sample is in excellent condition and was purchased on eBay with the original box and manual for $10. Original MSRP $11.00 ($170 in 2010).
http://camerapedia.wikia.com/wikia/Kodak_Vigilant_Junior_Six-20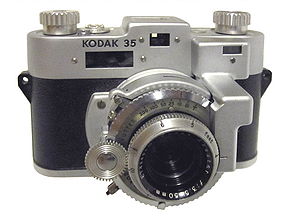 KODAK 35 RANGEFINDER - 1940-51. The 35 Rangefinder was introduced to compete with the Argus C-series. The rangefinder was gear-coupled to the front lens element through a cumbersome external linkage. This resulted in a camera design that has been described as "one that only a mother could love". Anastigmat 50mm f/3.5 lens. Shutter 1/10 - 1/200 second.
http://www.mattdentonphoto.com/cameras/kodak_35rf.html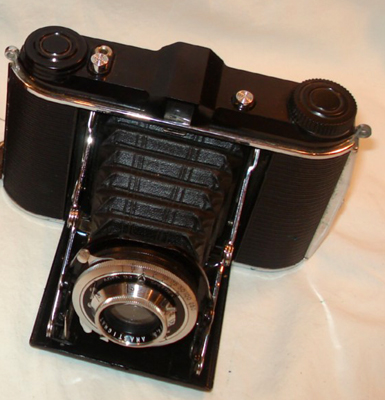 AGFA B2 SPEEDEX - 1940-50. There were apparently two versions of the B2, the first having a silver shutter button and the second sold 1946-50 having a red shutter button. Lens f/4.5 85 mm. Shutter 1/2-1/250 sec, B, T. The above camera in excellent condition was obtained on eBay for $10.50.
http://camerapedia.wikia.com/wiki/Ansco_Speedex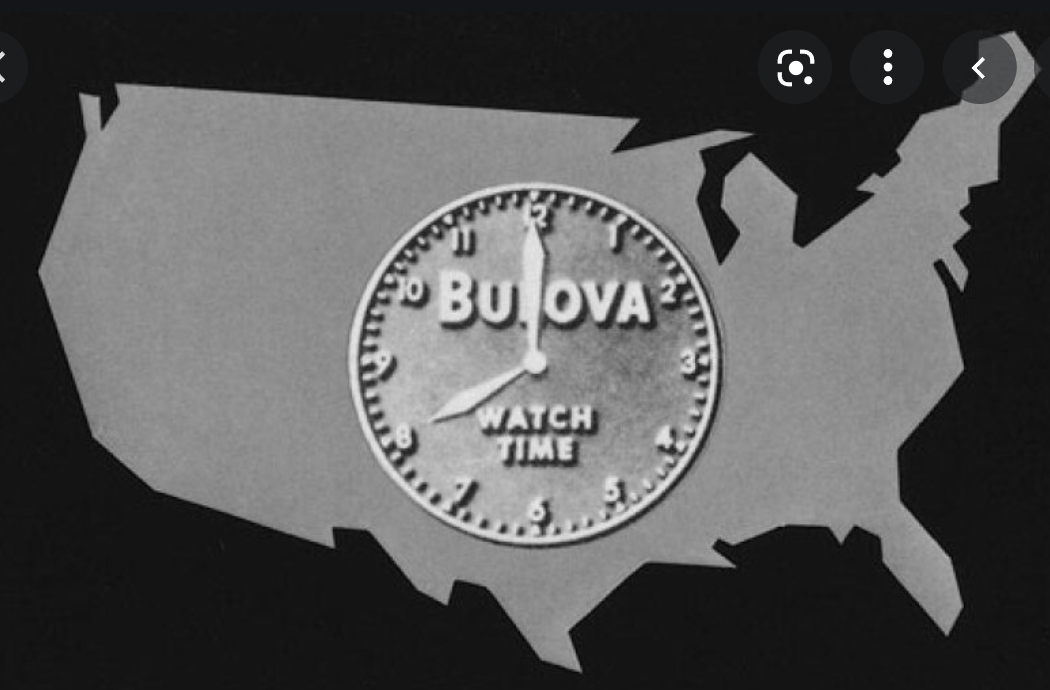 FIRST U.S. COMMERCIAL TELEVISION LICENSE - 1941. On July 1, 1941, NBC was the first to have commercially sponsored broadcasts. CBS, DuMont and others followed that Fall. NBC began with a 10 second "Bulova" watch commercial. This first commercial, a simple picture of a clock and a map of the United States with a voice-over proclaiming, "America runs on Bulova time," gave the network a profit of $7.00!

https://www.facebook.com/watch/?v=658129714912457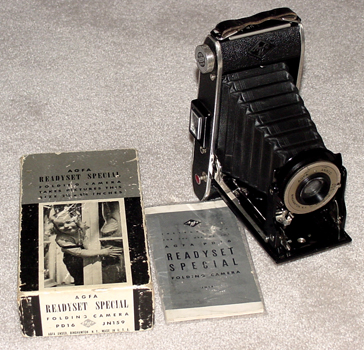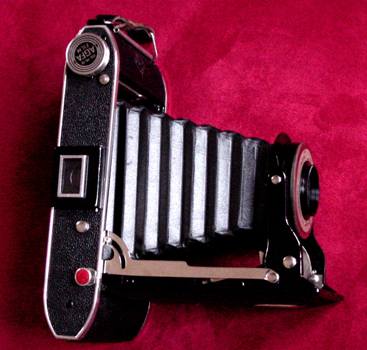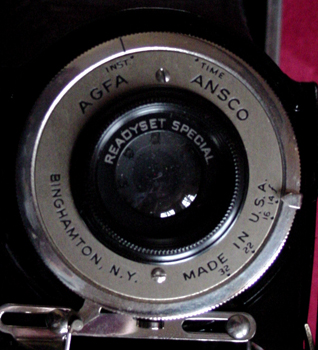 AGFA / ANSCO READYSET SPECIAL - 1941. Bellows type cameras continued to be common up through the 40's. The Readyset Special was produced by the AGFA Ansco Corporation, Binghampton, NY. It is not necessary to spend a lot of money to have a nice camera collection. The above camera was purchased for less than $20 in like-new condition.
http://camera-wiki.org/wiki/Ansco_Readyset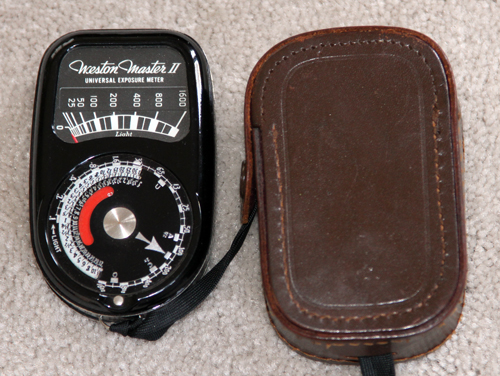 WESTON MASTER II MODEL 735 - 1945-55. Ask the typical consumer camera owner today what a light meter is and most could not tell you even though they make use of one every time they take a photograph. All new cameras now except the very cheapest and some speciality models have the light meter built in. This was not so in the past. Before so much technology was built into the camera itself it was necessary for the photographer to use some type of device to determine the strength of the light in order to properly set aperture and shutter speed. Weston was one of a number of companes that produced hand-held light meters over the years, but no longer do so bcause of the almost total dominence of cameras with internal light meters. Light meters came in two general types; those that read reflected light and were pointed at the subject, and those that read light fallling on the subject and were thus pointed at the light source. Some types did both. The above light meter was donated to the museum by Joan Klonowski, Grants, New Mexico.
http://www.jollinger.com/photo/meters/meters/weston_735-m2.html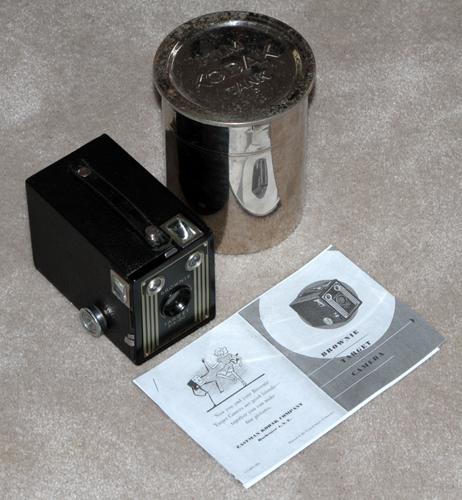 KODAK BROWNIE TARGET SIX-20- 1946-52. Donated by Susie and Kevin Casanova. A continuation of the cardboard Brownie cameras that began in the late 1800s. Designed for 620 film, but due the difficulty of finding that film today some users wind 120 film onto 620 spools. Design on the front of this camera and many similar Brownies is called Art Deco. The above sample is relatively uncommon due to its excellent condition. There is no visible wear on the edges of the covering, probably due to being stored away for most of its life. Original MSRP in 1946 $3.50. Shown with a Kodak developing tank of the early 1900s.
http://www.brownie-camera.com/47.shtml
A VERY SPECIAL HANEEL TRI VISION – 1946-49. This camera belonged to Norman Breslow. Yes, the same Norman Breslow who was the originator of the process for digitally altering photos prior to the development of apps for doing such artwork and who is shown on our 1991 page. Norman didn't use this camera for any of his projects, but the mere fact that he owned it makes it a collectible item. The Haneel Tri-Vision was a Bakelite stereo camera for making 28x28mm double exposures on 828 roll film. It was made by the Haneel Company in Los Angeles, CA. The first version had a Bakelite back, the later metal back was an improvement. The camera has a characteristic rounded shape. Together with the aperture adjustment knob between the two Lestra-Lite 1:4.5/60mm lenses and the two shutter release buttons, one for 1/50 sec and the other for B mode, the camera has a very individualistic design.

http://camera-wiki.org/wiki/Haneel_Tri-Vision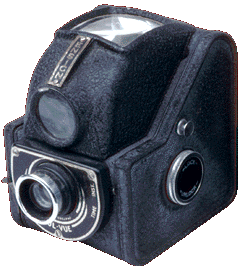 HOUGHTON ENSIGN FUL VUE - 1946. Houghton cameras date back to 1834 when George Houghton joined Antoine Claudet as a glass seller. After the announcement of the Daguerreotype process in 1839, Claudet secured a license directly from Daguerre and spent most of his time operating his own studio while Houghton began selling Daguerreotype requisites. The firm came together for manufacturing purposes with W. Butcher in 1915 and they merged as Houghton-Butcher Ltd. and a selling arm, Ensign Ltd, was set up in 1930. George Houghton's sons and grandsons continued in the business until the firm disappeared in 1961. The Ensign model of 1946 was of an unusual design and made entirely of metal. It was also sold in red, blue and grey. If you find one in other than the four original colors, it is because some owners have applied their own. Many such unique cameras can be purchased at very low prices in excellent condition for those looking for an educational hobby to pursue. Now is a good time to begin camera collecting as the advent of digital photography has brought untold numbers of film cameras onto the market. Searching for the word camera on eBay under the drop-down menu of cameras and photo elicits more than one hundred thousand items!
https://camerapedia.fandom.com/wiki/Ensign_Ful-Vue

http://licm.org.uk/livingImage/IndexRoom.html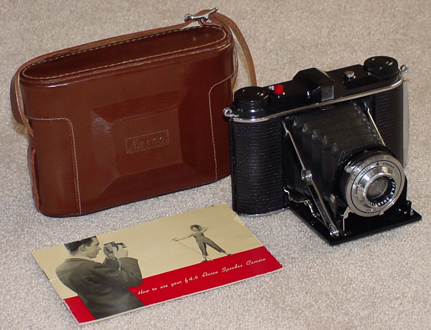 ANSCO SPEEDEX 4.5 - 1946. At the beginning of the 1900's the Ansco trademark was found on many excellent large-format bellows cameras made for professional use, in addition to a range of smaller medium format pocket folding cameras which used the 116, 616 and 818 film formats. After a merger with Agfa in 1928, Ansco products began to include U.S versions of several Agfa models, which in North America displayed the Agfa-Ansco trademark. For most of the 1950's, a good number of Ansco's better 35mm and medium format cameras were imported directly from Germany and were for the most part relabelled Agfas. As a camera collector I never cease to be amazed at the condition of numerous readily available vintage cameras. The above Ansco with leather case was purchased in virtually mint condition ($44) despite being sixty years old. Would that we could all be such condition at that age!
http://www.ph.utexas.edu/~yue/misc/AnscAgfa.html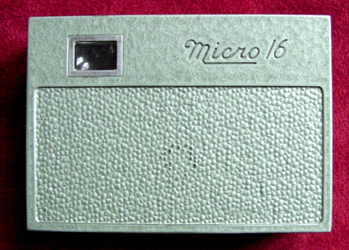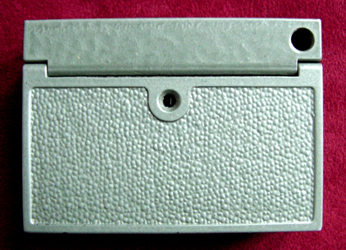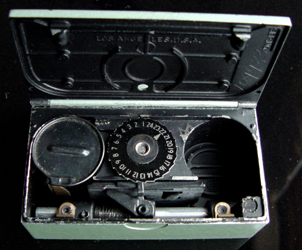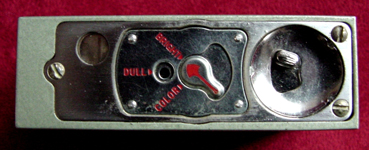 WHITTAKER MICRO 16 - 1946. If you're into spy cameras, the Micro 16 should be in your collection. The Whittaker Micro 16 is smaller than a pack of cigarettes at 2 3/4 x 1 x 2 inches, yet this all metal subminiature is heavy at 8 3/8oz. It was made in Los Angeles, California by the Wm. R. Whittaker Co. Ltd. The firm was owned by William and Robert Whittaker, makers of aircraft parts. The camera was designed to fit into a cigarette wrapper and hundreds where sold to police departments and detective bureaus throughout the United States. Numbers on the counter show through the small hole in the back of the camera. The above camera in excellent condition was purchased on eBay for $17.
http://www.submin.com/16mm/collection/whittaker/introduction.htm

KEYSTONE K-25 CAPRI– 1946.. Keystone Mfg. Co., Boston, began to sell their equipment through Paramount Mfg. Co, Warren Mfg. Co. and Sears Roebuck. This is the type of movie camera most amateurs had to deal with for many years – windup power supply, guess at the correct f/stop and depend on the fixed-focus lens to obtain a viewable image – a feat seldom accomplished by most. No wonder amateur movie makers were delighted with cameras such as the electronic Yashica Super 60E (1968) that came onto the market in the 60's. Keystone was bought out in 1965 by Berkey. Subsequently, in 1991, Keystone stock and brand names were bought by Concord Camera Corp. Avenel, NY, USA.

http://www.xs4all.nl/~wichm/cinelisb.html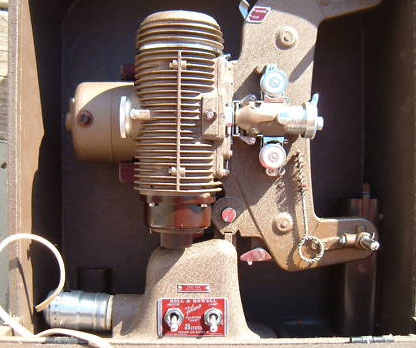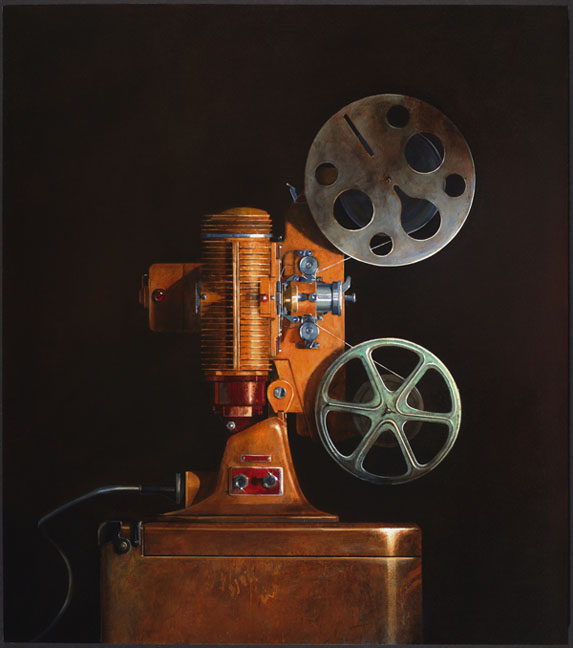 BELL & HOWELL MASTER 400 FILMO 122 8mm PROJECTOR - 1946. Typical of projectors of that era with very sturdy construction. Projectors of this type can be purchased in excellent working condition for as little as $10-20, but beware, you may have to pay $50-60 for a bulb! The photo on the right is an oil painting of the Master 400 by Wendy Chidester that sold for several thousand dollars.
https://www.pinterest.com/pin/412853490811830536/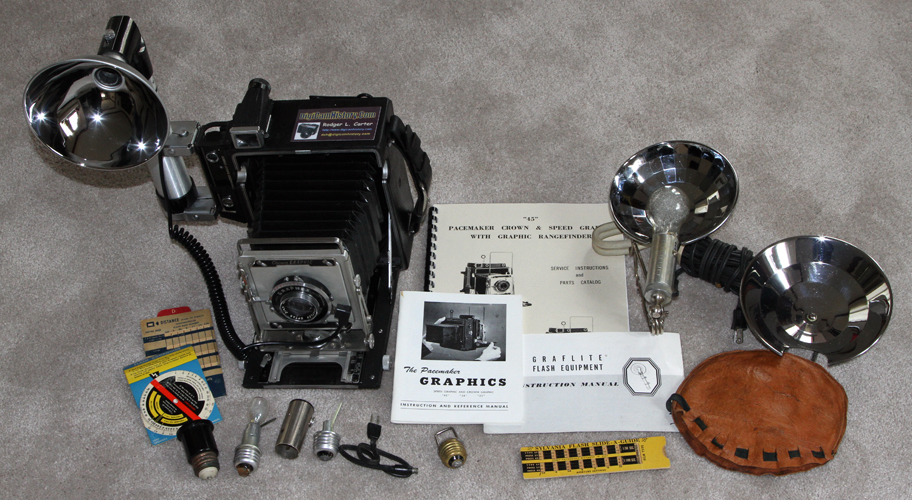 GRAFLEX CROWN GRAPHIC PACEMAKER- 1947-1970. One of a wide variety of so called "Press Cameras" made by Graflex which were used quite extensively by news photographers. The pacemaker model was available in 21/4 x 31/4, 3 x 4, and 4 x5. Early models had a side-mounted Kalart rangefinder. In some models an attachment called the Focuspot containing a light bulb could be fitted to the top of the rangefinder. A light beam could then be sent through the two windows of the rangefinder onto the subject. When the beams merged the subject was in focus. In 1995 the Kalart was replaced with a top-mounted Graflex rangefinder. The speed Graphic models were equipped with a focal plane shutter, but the Pacemaker models had front shutter only. A wide variety of accessories were made for Graflex press cameras over the years, a few of which are shown above. These cameras are readily available on eBay and other sites in a variety of conditions and at a variety of prices.
http://www.camerapedia.org/wiki/Graflex_Speed_Graphic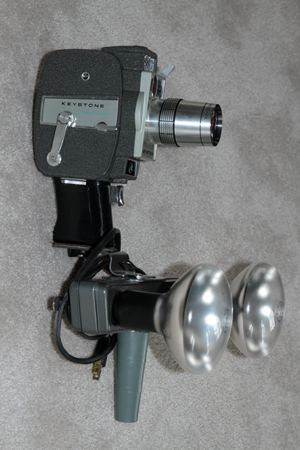 KEYSTONE K-774 ELECTRIC EYE ZOOM- 1947-1955. With zoom and automatic exposure control, the K-744 was one of the better amateur movie cameras of the time. This sample in near mint condition along with a Kestone movie light, also working and in like new condition, was purchased on eBay for $15.50.
http://wichm.home.xs4all.nl/cinelisb.html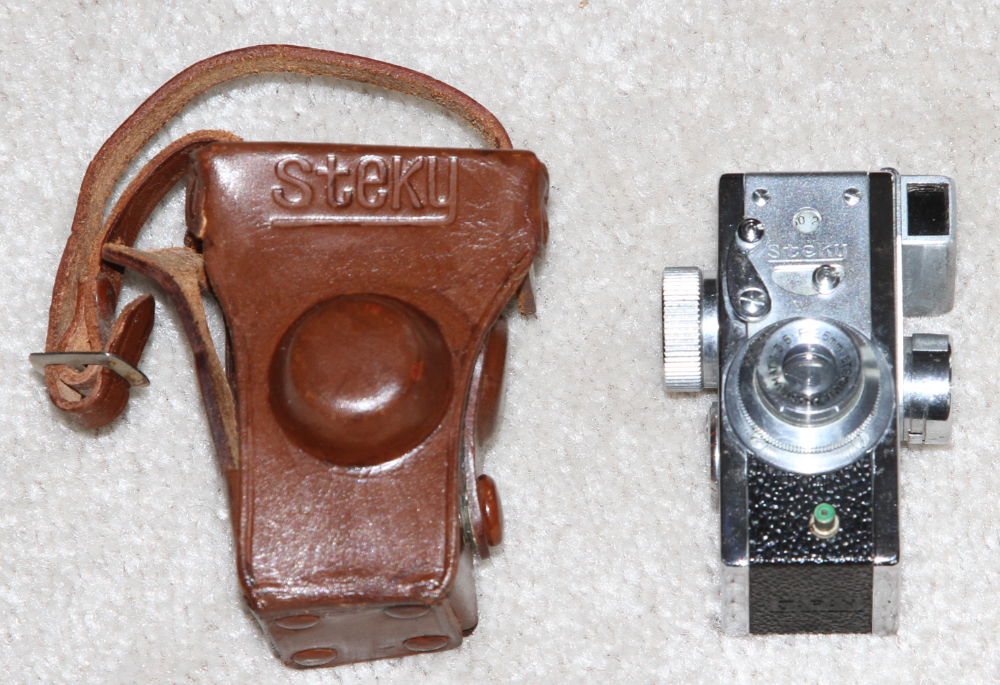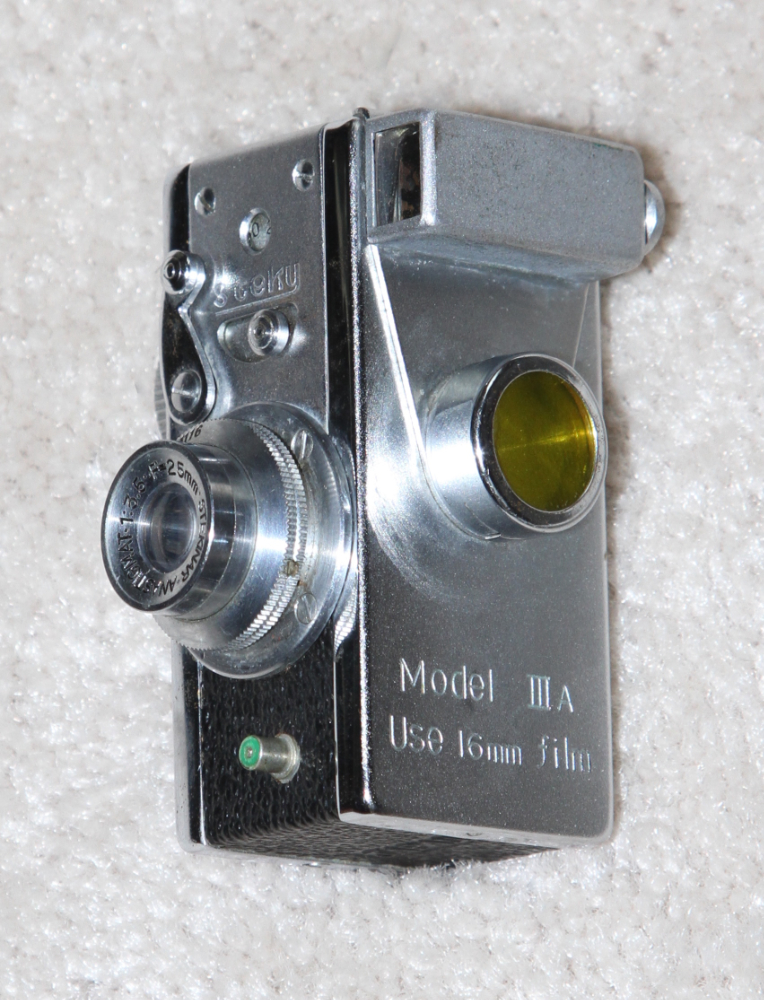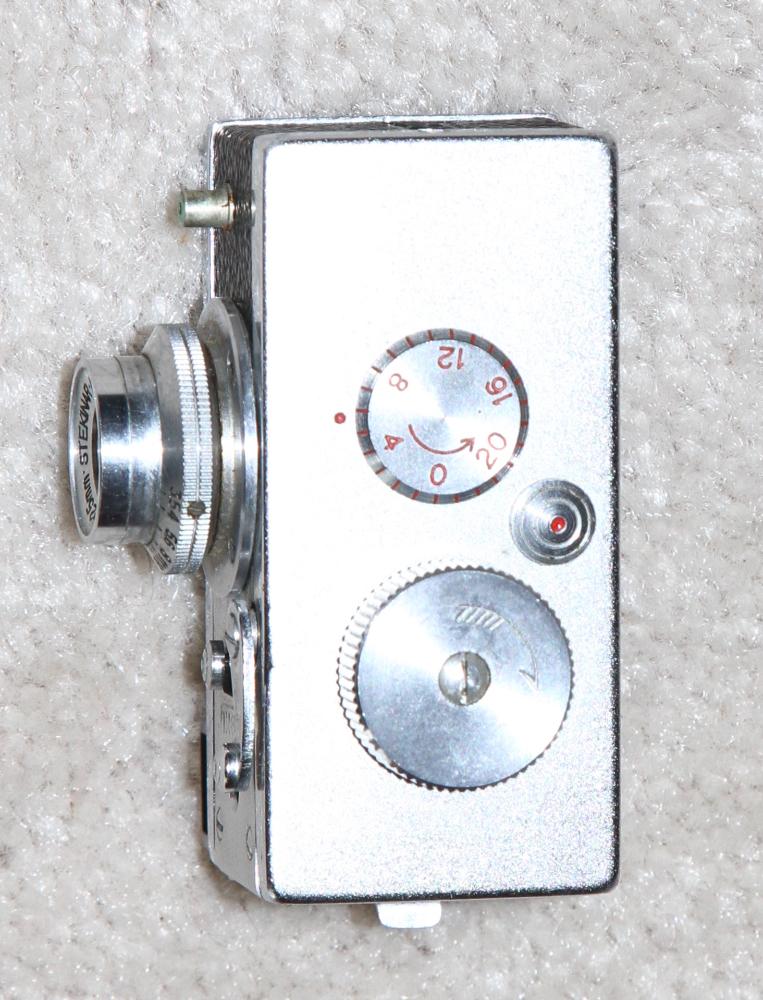 STEKY 16mm Subminiature - 1947-57. The Steky is a series of 16mm cameras introduced in Japan after WW2. The first camera with the Steky name appeared in 1947. It was the first "successful" Japanese camera to use 16mm film. Most of the 16mm cameras at that time were of low quality, toy-like. However, the Steky came with interchangeable lenses, variable shutter and aperture speeds in a very well-built camera. The basic camera was flexible, but there were also many accessories available: a 40mm (f5.6 - 16) telephoto lens, a 40mm (f3.2 - 16) lens, and a 17mm wide-angle slip-on converter, filters (UV, red, green, 80A), lens hoods, cases, pocket tripod, flash gun, viewfinder masks, clip-on viewfinders and leather case. The Model IIIA (above) had interchangeable, fixed-focus 25mm (f3.5-16) lens; shutter B, 1/25-1/100. Steky cameras are fairly common on eBay, usually 2-3 dozen models with various accessories (and prices) available at most times.

http://camera-wiki.org/wiki/Steky

http://www.subclub.org/shop/steky.htm

http://www.subclub.org/creative/fixsteky.htm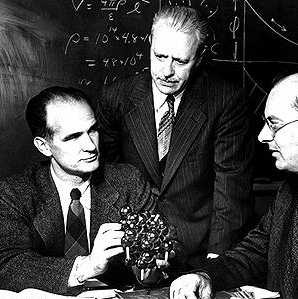 --------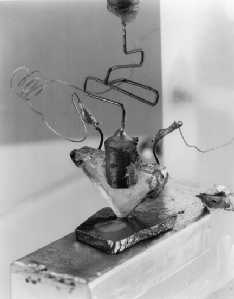 Shockley, Bardeen, and Brattain The First Transistor
Click for Enlarged View
THE TRANSISTOR - 1947. In 1956, the Nobel Prize was shared by William Shockley, John Bardeen and Walter Brattain of Bell Labs for their work in developing the transistor.

https://en.wikipedia.org/wiki/History_of_the_transistor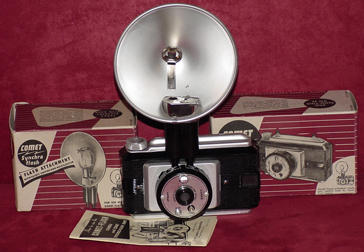 ZENITH COMET - 1948. The Zenith Comet is known primarily for two things - cheapness of construction and weirdness of function. The quality of construction would be an embarrassment even to the Russians. The Comet shown above was made by the Zenith Camera Corporation in Chicago, but others were apparently manufactured in Webster, NY. The focus has two positions: under ten feet and over ten feet. If the subject is less than ten feet away the lens is left all the way in. If the distance is over ten feet the lens is pulled all the way out. The shutter is cocked by turning a small knob on the front of the lens and then snapped by pushing a button, also on the front of the lens. The viewfinder is located such that it is necessary to look through a peephole in the rear door of the camera in order to frame the subject. The Comet was apparently produced for a number of years with little modification. The one shown above was found new in its original box in a store that closed in 1948 and was not reopened until the 80's. One difference in later models is the inclusion of increment marks on the side of the lens. There is no need for such marks on this early model as it moves only 1/8 of an inch! A second difference between late and early models is the design on the box. A third difference is that later models had a lever on the right side of the lens that allowed the user to select either f/11 or f/16.
http://www.pbase.com/cameras/zenith/comet_flash
http://camera-wiki.org/wiki/Zenith_Comet




INSTANT PHOTOGRAPHY - 1947. On February 21, 1947, Edwin Land demonstrated instant film at the Optical Society of America meeting in New York City. https://en.wikipedia.org/wiki/Edwin_H._Land


EDWIN LAND MARKETS THE POLAROID MODEL-95 - 1948. First commercially successful self-developing camera system. On November 26, 1948, the first instant camera, Polaroid Model 95, and film (40 series roll film) were sold to the public at the Jordan Marsh department store (now Macy's) in Boston, Massachusetts. Ansel Adams was hired by Polaroid's founder, Edwin H. Land, as a consultant to test new films and analyze results.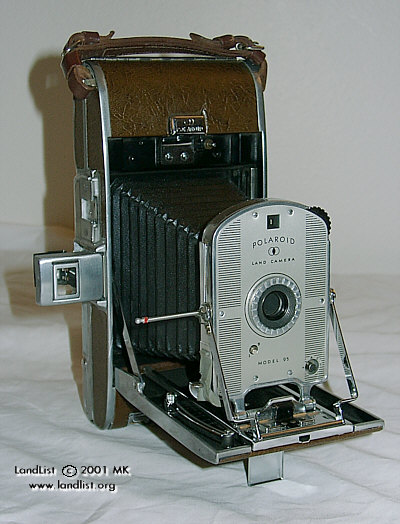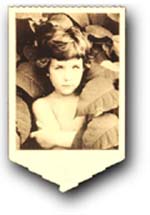 EDWIN LAND MARKETS THE POLAROID MODEL 95 - 1948. First commercially successful self-developing camera system. On November 26, 1948, the first instant camera,the Polaroid Model 95 and film (40 series roll film) were sold to the public at the Jordan Marsh department store (now Macy's) in Boston, Massachusetts. Ansel Adams was hired by Polaroid's founder, Edwin H. Land, as a consultant to test new films and analyze results. The Model 95 used twin rolls of film dropped into opposite ends of the body. Later Polaroid models used single rolls of film with all chemicals contained in the one roll.


CABLE TELEVISION - 1948. Cable television, first called "community antenna television," was launched in small towns in Pennsylvania and Oregon as local electronics entrepreneurs constructed antennas on hilltops to transport distant television signals to areas with little or no over-the-air television reception:
(1) John Walson, an appliance store owner in the small town of Mahanoy City in the mountains of Pennsylvania.
(2) Ed Parsons sold electronics equipment and ran a radio station in Astoria, Oregon. On Thanksgiving Day, 1948, the Parsonses watched KRSC's inaugural broadcast even though the TV station was 150 miles away in Seattle. Parsons had found he could pick up a usable signal on the roof of the John Jacob Astor Hotel where he lived. He set up an antenna there and strung a cable from it to his living room. When Parsons installed a set in the hotel lobby, it attracted so many gawkers that guests could not reach the registration desk. Then he put a set in a store window across the street and brought the signal to it with coaxial cable - the first recorded use of coaxial to carry television.
http://www.todayinsci.com/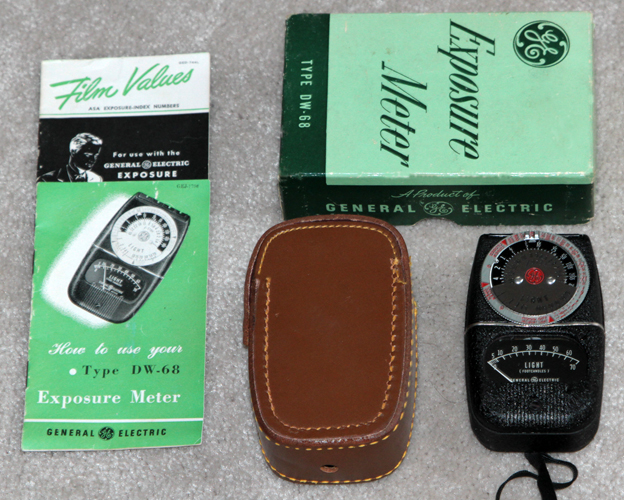 GE DW-68 - 1948. The first of the DW-68s required the use of GE's Film Values booklet in order to properly use their light meter as the ASA system was not yet adopted. Later film values booklets contained both GE and ASA film values. The above meter in excellent condition with original box, case,manual and film values booklet was obtained on eBay for $14. Original MSRP $24-$27 (about $220-$245 in 2011 dollars).
http://camerapedia.wikia.com/wiki/General_Electric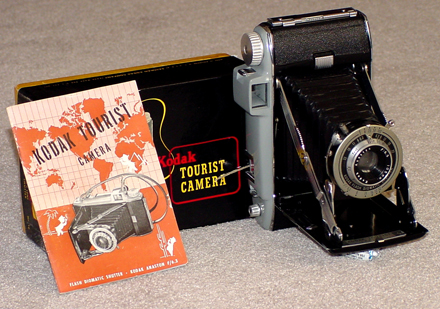 KODAK TOURIST CAMERA - 1948. Very enjoyable collections dedicated to a single brand of cameras or series within a single brand can often be built at minimal cost. Kodak has produced hundreds of models over the years and most are still available in collectible condition at low prices. The Kodak Tourist Camera shown above was purchased in like-new condition with original manual in excellent condition and original box in good condition for only $20. Film: 620 2 1/4 x 2 1/4. Lens: Kodak Anaston F:6.3, 105 mm. Shutter: Kodak Flash Diomatic.

http://www.krphoto.com/kodaktourist.html
Disposable Cameras / Digicams - 1948/2001. In 1949, Photo-Pac marketed a cardboard camera with eight 35mm exposures for mail-in processing. It was invented by Alfred D. Weir in 1948 and had an MSRP of $1.29. Over the years many companies have sold disposable cameras to buyers not wanting to invest in more expensive reusable cameras. In 2001, three Japanese companies announced the testing of disposable digicams. Although a number of companies have since marketed disposable digicams, they have not been as successful as disposable film cameras because of their relatively poor quality images as well as cost over time compared to inexpensive reusable digicams. We purchased the above Pepsi Pro driver single use digital camera on eBay, but have not been able to find any specific information concerning it. We would guess that it was part of some Pepsi give away promotion. If anyone knows for sure the origination of this camera we would appreciate hearing from you.

https://en.wikipedia.org/wiki/Disposable_camera#Digit

https://www.cnn.com/2001/TECH/ptech/10/11/disposable.digital.cameras.idg/


https://photography.thefuntimesguide.com/disposabledigit/

https://flashbackdallas.com/2016/03/12/photo-pac-the-first-disposable-camera-1948/

https://disposableamerica.org/course-projects/della-keyser/the-first-century-of-the-disposable-camera-1886-1986/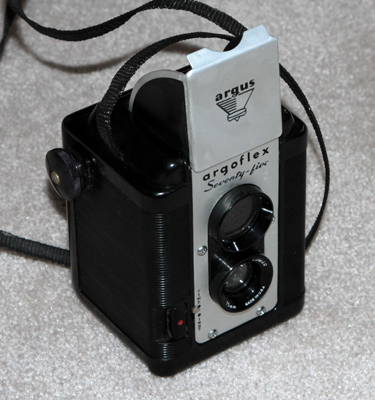 ARGUS ARGOFLEX SEVENTY-FIVE - 1949-58. Donated by Susie and Kevin Casanova. One of a number of inexpensive cameras designed to resemble their more expensive twin lens-reflex cousins. Used 620 film which is now hard to find. Some users roll 120 film onto 620 spools in order to operate the camera.
http://camerapedia.wikia.com/wiki/Argus_Argoflex_Seventy-Five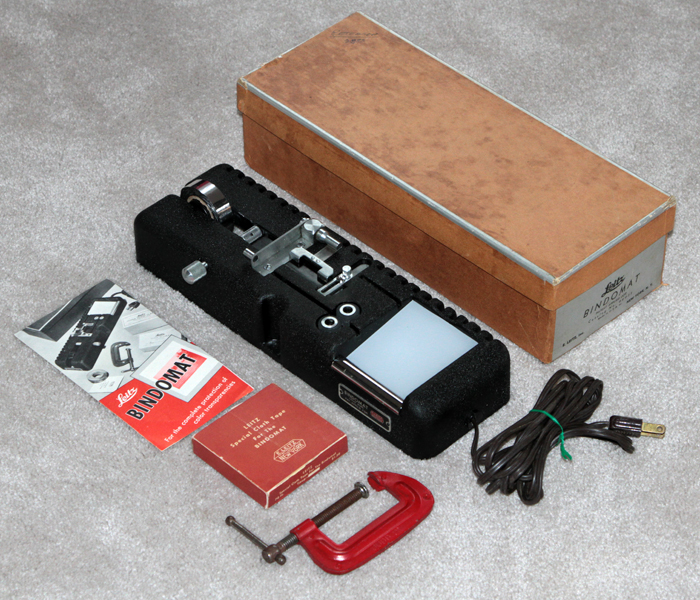 LEITZ BINDOMAT - 1949. The Bindomat was designed to ease the process of binding the edges of slides encased in glass. This sample in excellent condition was obtained on eBay for $18, which by coincidence, was the original MSRP, however, $18 in 1949 would be about $166 today.
http://www.flickr.com/photos/peterlerman/5647195695/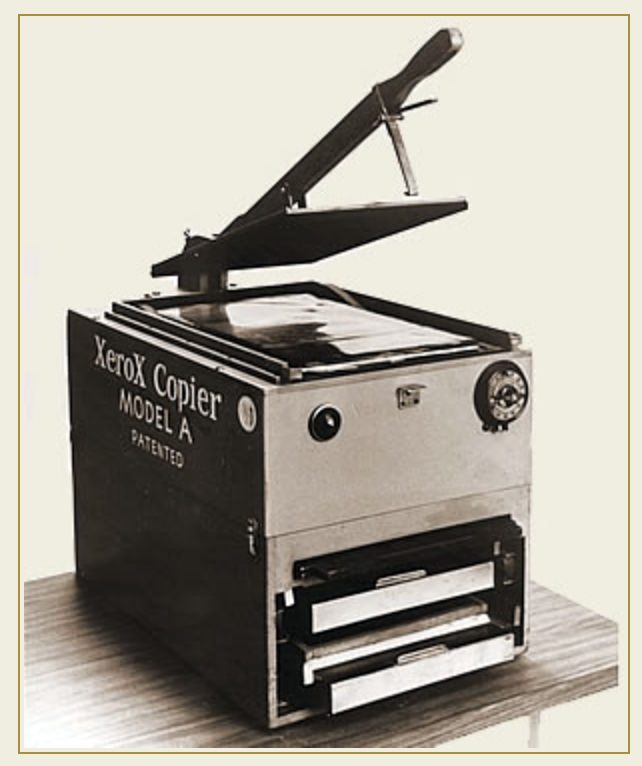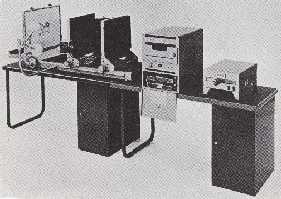 XEROX MODEL A - 1949. The first commercial copiers produced by Xerox were large and difficult to operate. Introduced in 1949, the Model A required multiple manual steps to produce a single copy. The engineers at Haloid read Carlson's manual about the copying process and followed it step by step. An early Haloid (Xerox) brochure described thirty-nine steps for making good copies on its first commercial copier which was sometimes called the Ox Box.

http://www.webstermuseum.org/xerox.php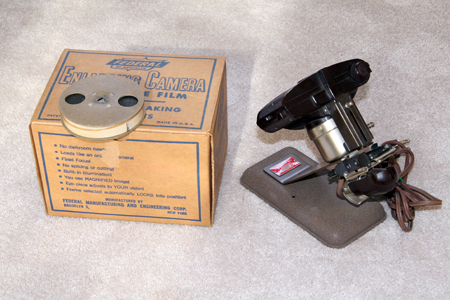 FEDERAL 16-A - 1949. Federal of Brooklyn, a well-known manufacturer of enlargers at that time, marketed the model 16-A, a unique enlarger designed to copy negatives from 8mm or 16mm film onto 127 film so that prints could more easily be made with commonly available enlargers.
http://camera-wiki.org/wiki/Federal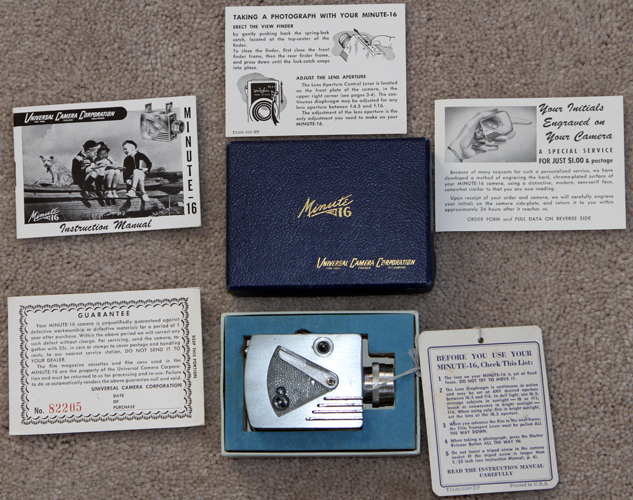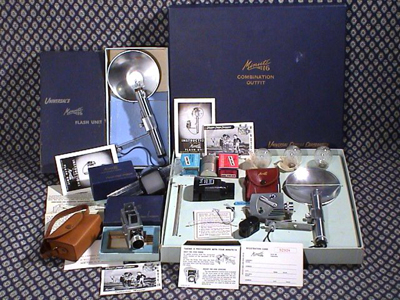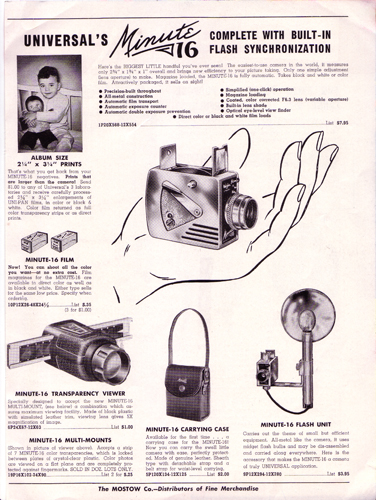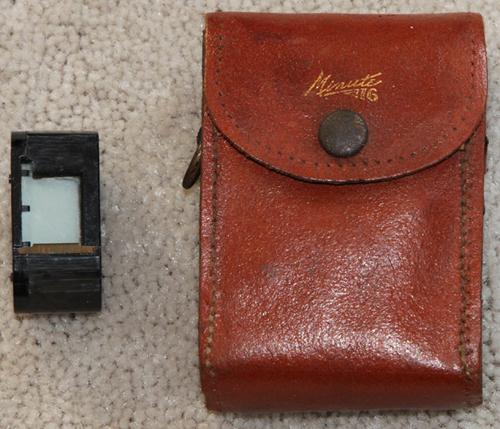 UNIVERSAL CAMERA COPORATION MINUTE 16 - 1949-52. The Minute 16 recorded twelve images on a 16mm film cartridge. Shutter 1/60 sec. Lens f/6.3, f/8, f/11, f/16. In used condition, the Minute 16 by itself is commonly available on e-Bay for $25-50. The complete set with flash may sell for several times that. Original catalog ad shown on lower left. Minute 16 case and 16mm film cartridge shown on lower right. The above camera in unused condition was donated to the museum collection by Joan Klonowski, Grants, New Mexico.
http://www.submn.com/16mm/collection/universal/introduction.htm
1940s