FROM CHINA WITH LOVE

A short while back my wife and I hosted four exchange students from China. The purpose of the hosting program is to allow foreign students to become acquainted with American customs and American way of life. Our purpose in participating in the program was to enrich the experiences of the students while in the United States rather than having them spend most of their time on campus entirely among themselves. Most of those in academia will tell you that China always sends its best students to participate in exchange programs. Our four students were not an exception to this practice, however, what we didn't expect was that our four students would be among the nicest persons we have ever met. All four students were delightful in every way - friendly to a fault, helpful in every way possible, and bubbling over with enthusiasm for every event that we proposed as a joint venture

While the students we hosted were very happy with the program and the experiences we provided, my wife and I feel that we were the ones that gained the most from our interaction with these four wonderful young people. We would be very happy to call any one of them or all four of them our own. They are terrific good-will ambassadors for their country as well as bringing honor to their families back home. If a university near you has such a program we strongly suggest that you volunteer to become a host family.

Below and on the other two pages are a few samples of the many hundreds of photos from the various events we participated in with our four exchange students.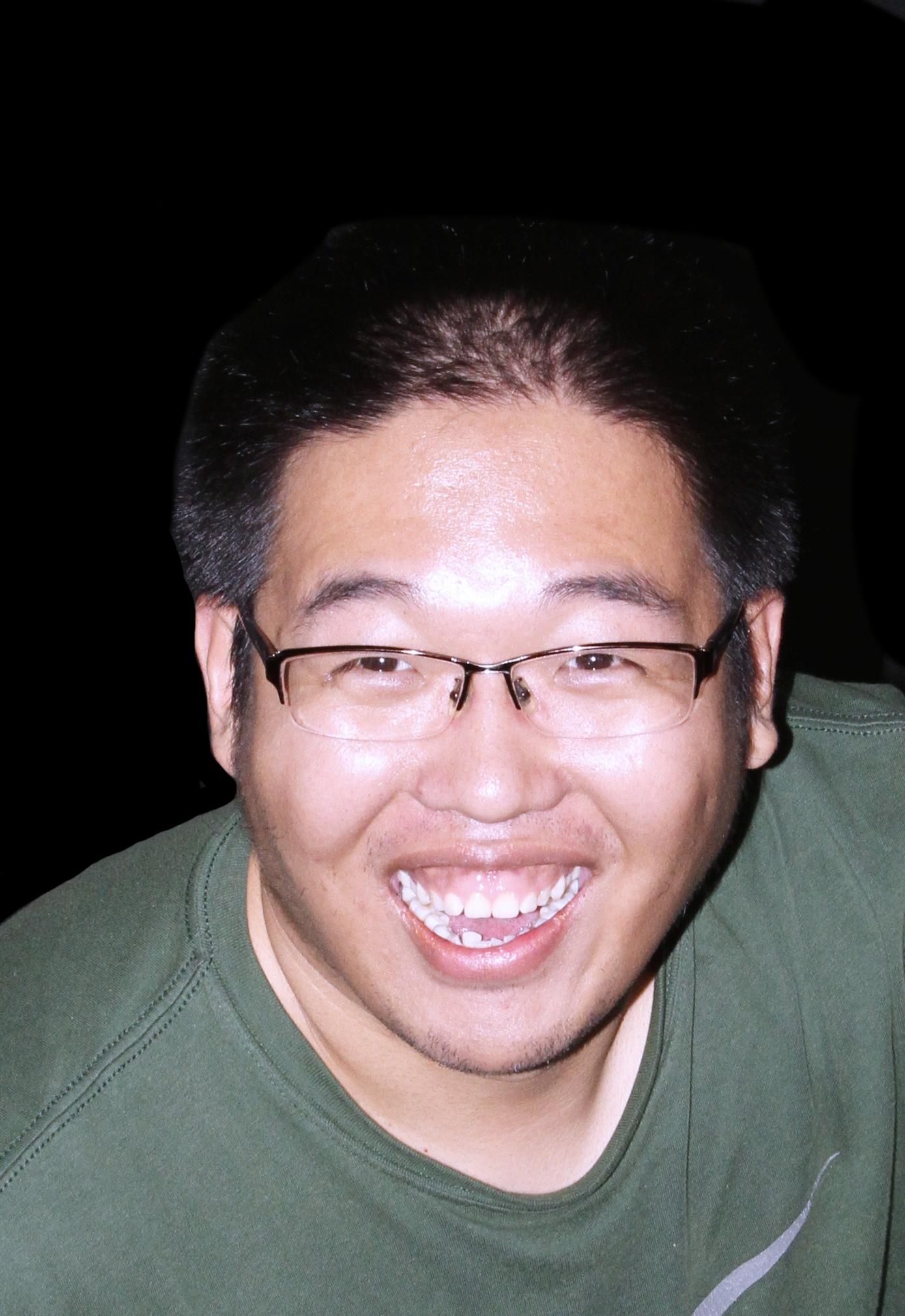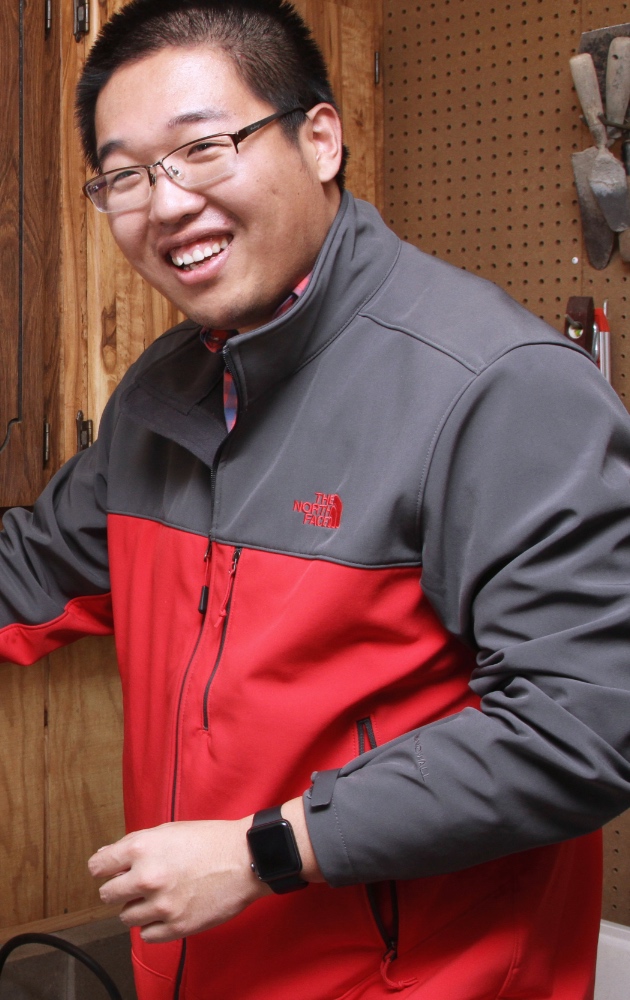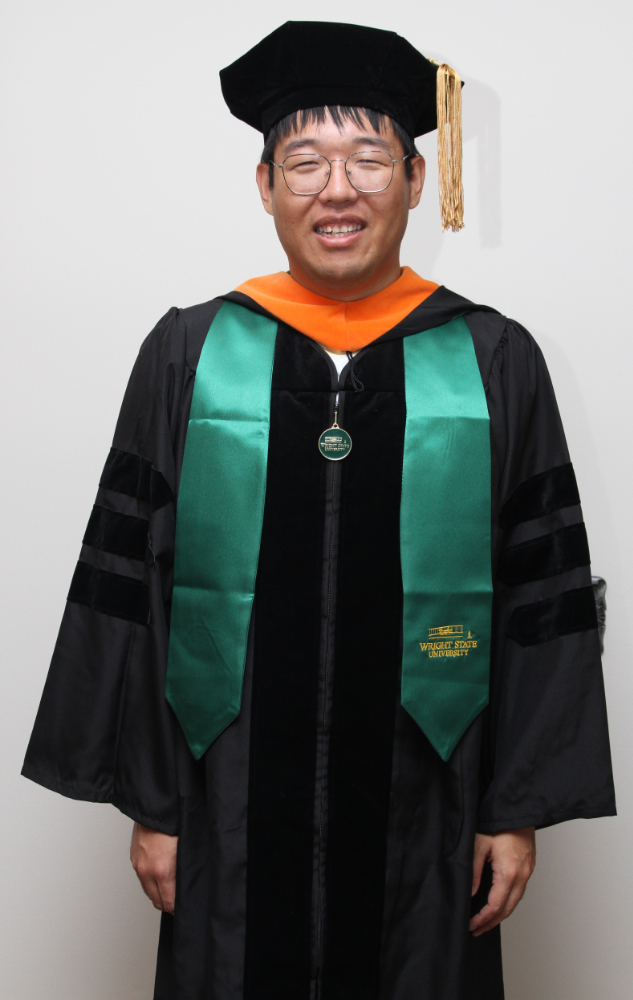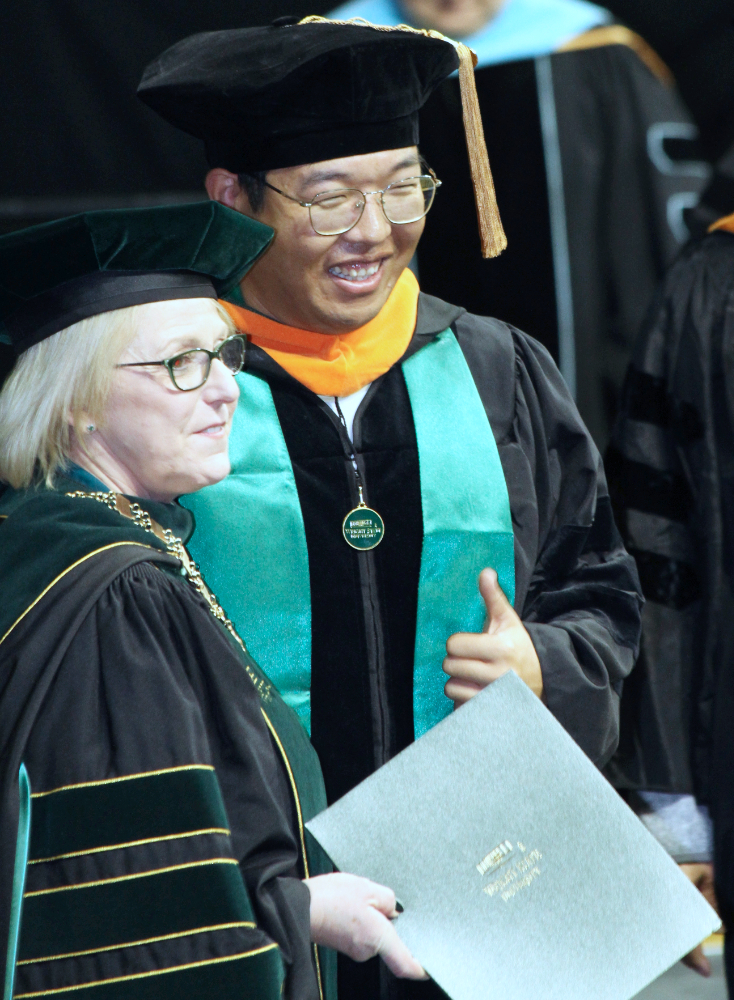 YU WANG.
Yu is currently completing a Ph.D. in engineering. He has a great sense of humor and always had our group in stitches with laughter. He was not only very helpful to us in carrying out the various activities we had planned, he also assisted the other students in any way he could. His parents are very fortunate to have such a son. Despite his infectious humor, Yu is a serious, mature person that other students look up to and we consider to be fully adult in every way.

UPDATE: Yu is continuing his Ph.D. program but now has a full load of teaching also. Because he is occupied almost all the time his new nickname is "Mr. Busy."

UPDATE II: We can't call him "Mr. Busy" anymore, we must call him Dr. Yu! He has finished his Ph.D. in electrical engineering and is now employed by a company in California.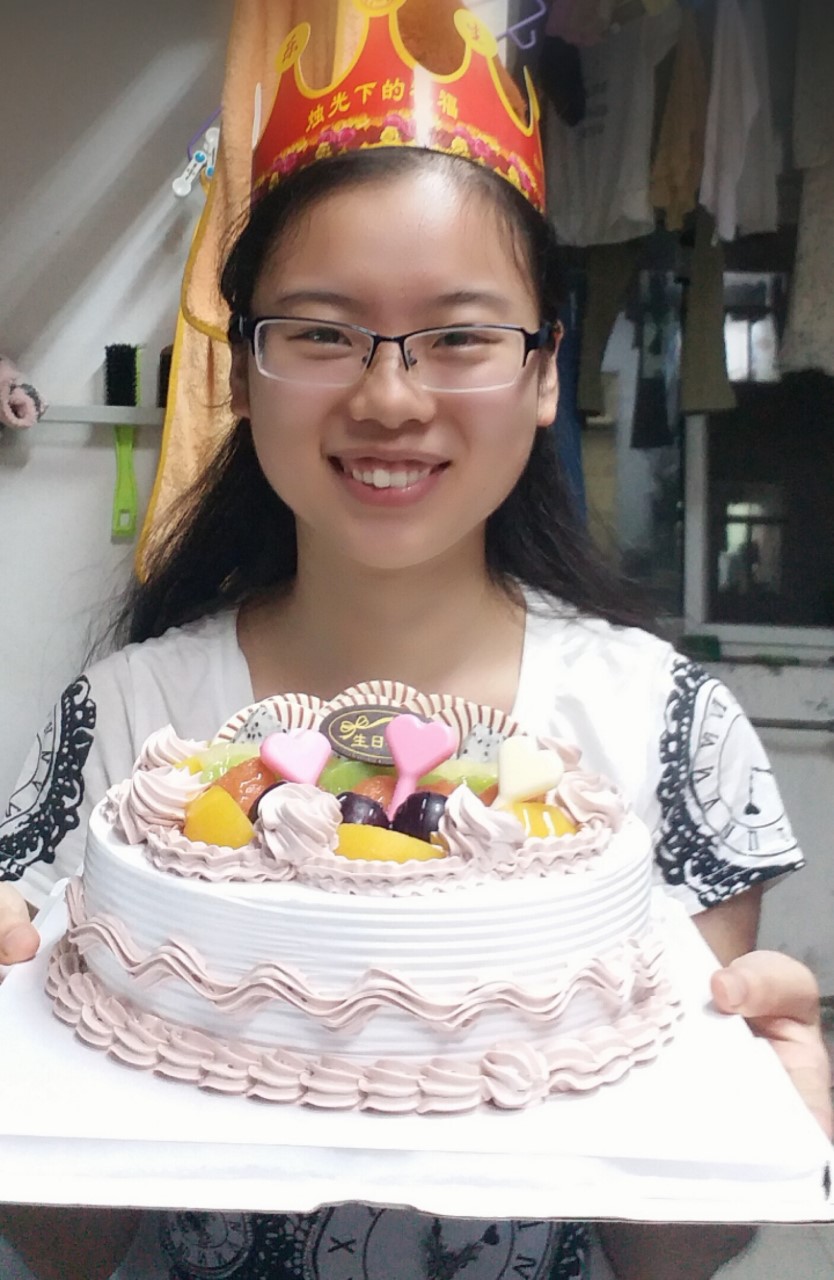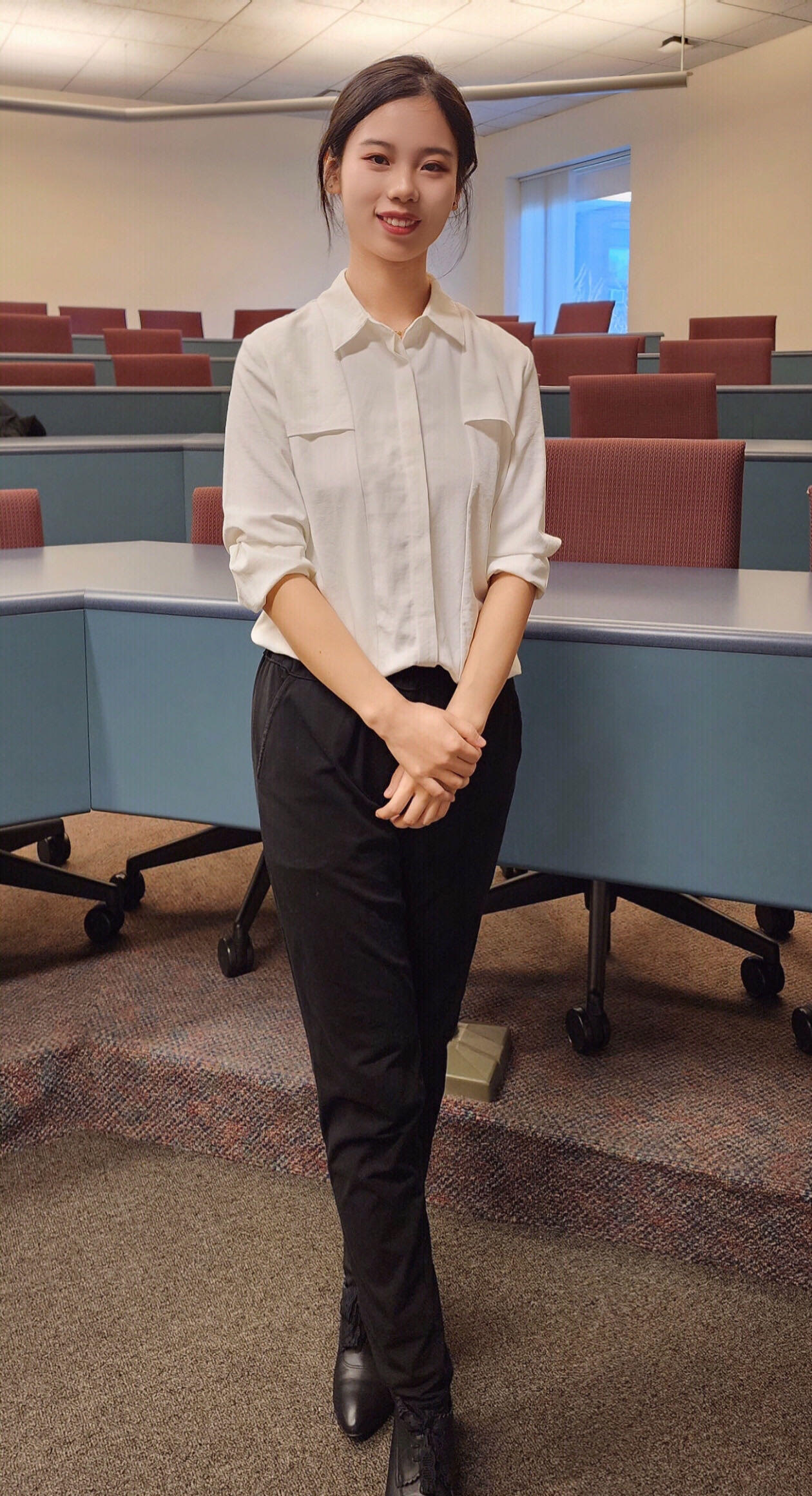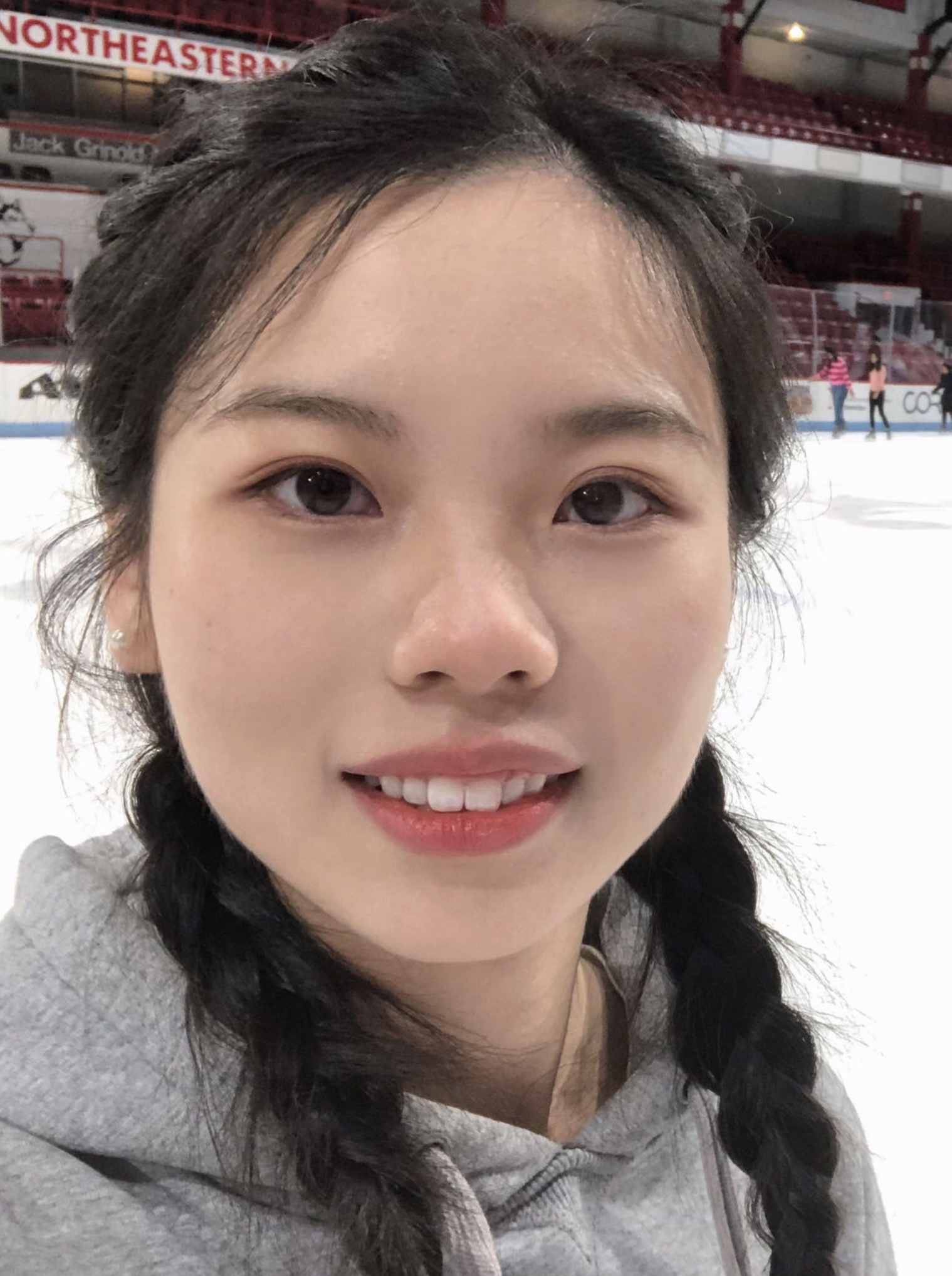 JIALE LYU.
Jiale is about to complete an undergraduate degree in computer science. Our nickname for Jiale is 'Braveheart'. It is a nickname well suited for her for because she is absolutely without fear. She was always willing to try anything among our activities, even those that the rest of us approached with trepidation. Jiale has no brothers or sisters and her grandparents and mother are no longer with us, leaving only her father as her family. She is very quiet when you first meet her, but when you get to know her well you are envious of her father for having such a fine daughter.

In addition to being both beautiful and courageous, Jiale has a sweet and loving personality. Following are excerpts from letters Jiale sent to us after returning to China - I really appreciate that we know each other. You and granny have taught me a lot. Like how to love people, always think of others. You impressed me a lot by your braveness, your love and respect for each other, your generosity, your kindness, your energetic and active hearts. Every time we left your house, you and granny stood there and said goodbye to us. That moved me a lot. That reminds me of my grandpa every time I left for school. When we left you, I tried so hard not to let my tears drop down. Wherever I go, you are always my dearest grandparents in the world. I will try my best to come back to visit you. You are my motivation for going forward. - You guys always appear in my dreams. Sometimes I feel like I have known you for years, but it's just three months. I feel like we just had dinner in your house yesterday, but three months have already passed away. I miss you and granny so much-no less than how I miss my grandfather when he left me. - When I look at the photos we took together, those happy memories come back to my mind, which makes me feel that I am still in them. After I realize that it's all over, I feel disappointed and start missing everything and everyone there. And I miss granny and gpa the most. If time can be back, I will treasure every second when being with you. - I really miss the days we spent together, miss the beautiful garden, miss granny's delicious food, miss you and granny most! Although I can't be with you, I will always think of you. You live in my heart. When you miss me, just think that your granddaughter is missing you on the other side of the world at the same time.

UPDATE: Jiale has competed her degree in computer science and beat out others for a position with a company in China due to her excellent English skills.

UDATE II: Jiale has been accepted at a very prestigious university in Boston, one of the very best in the U.S. They tell you on their web page not to apply unless you are a straight A student, and even then you only have only a 50% chance of being accepted. Congratulations Jiale!

UPDATE III: Jiale has begun work on her master's degree in Boston, and as you can see from her last photo, this once cute little girl has grown up to be a stunningly beautiful young lady.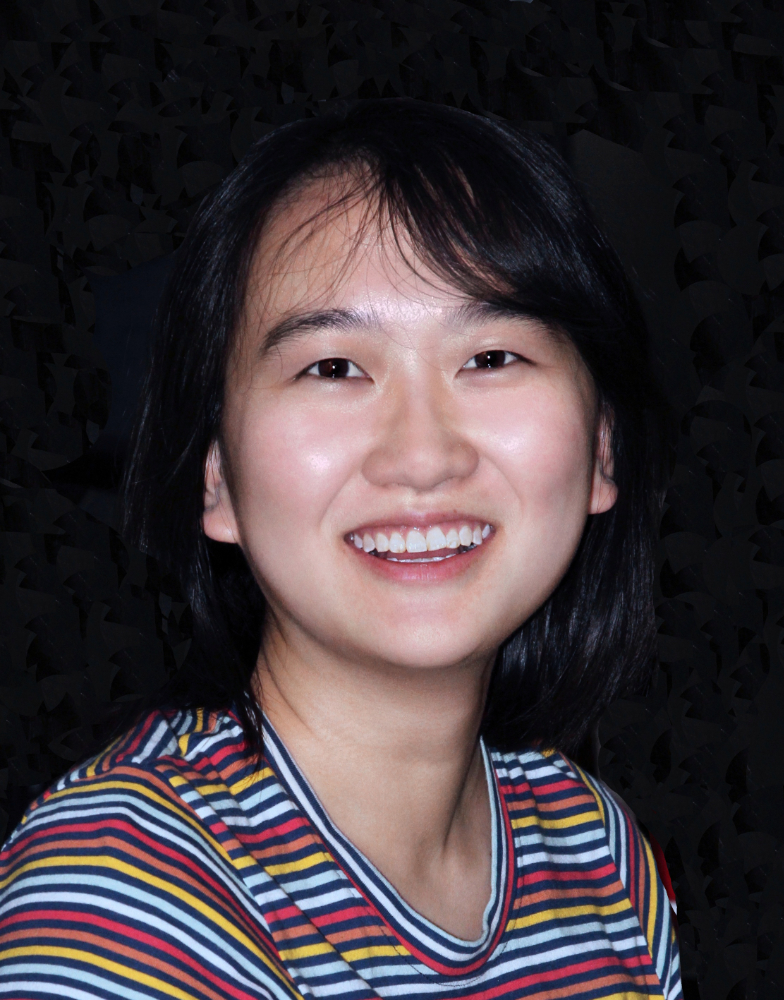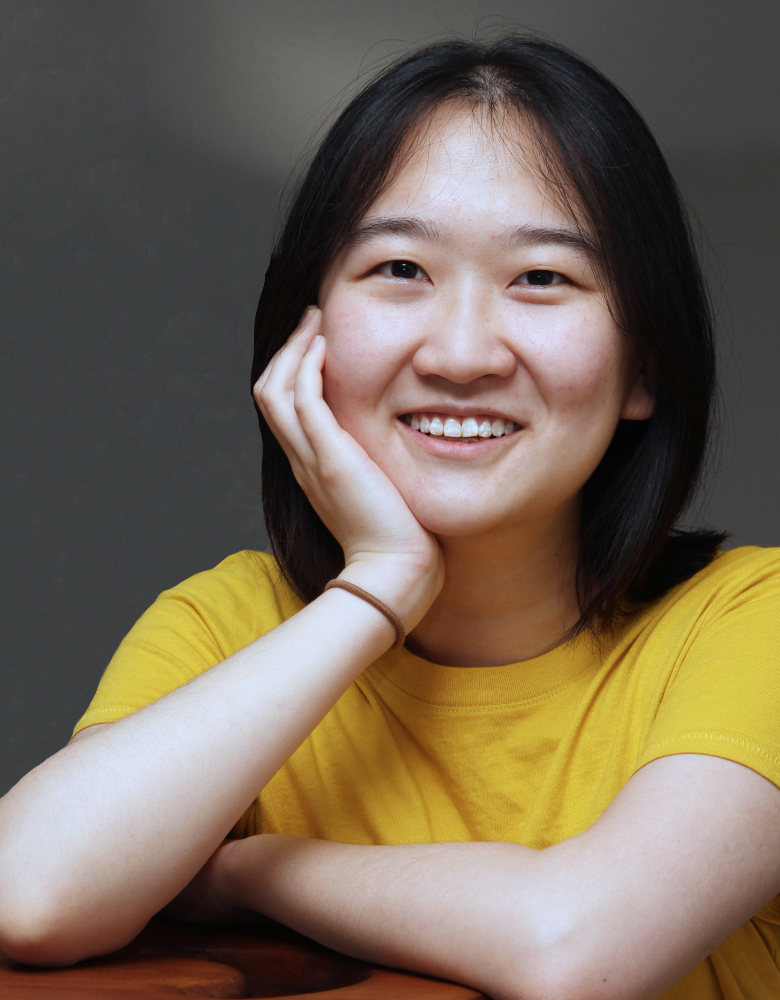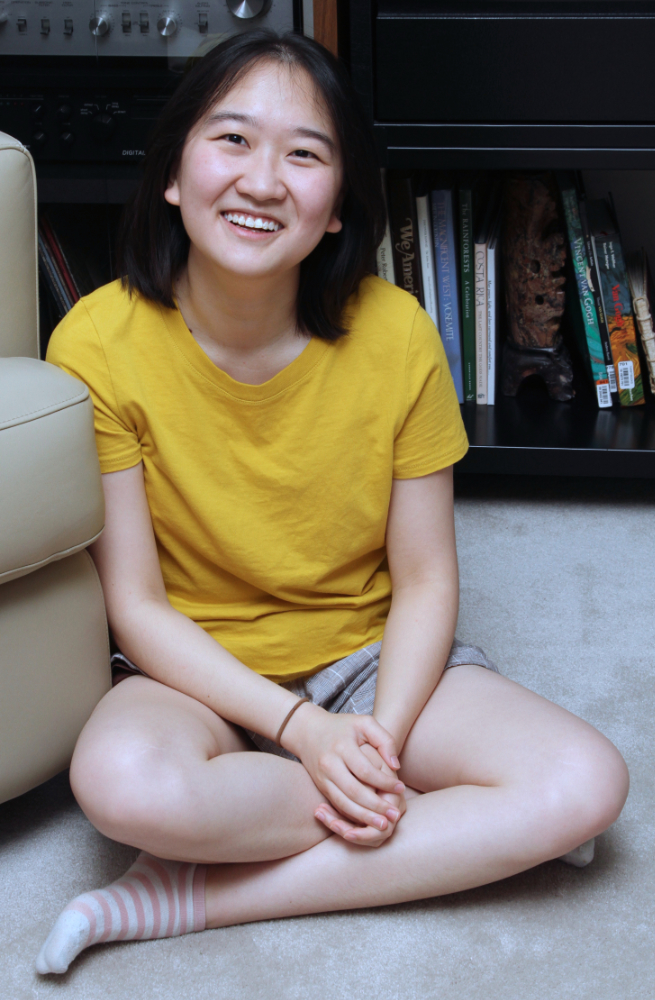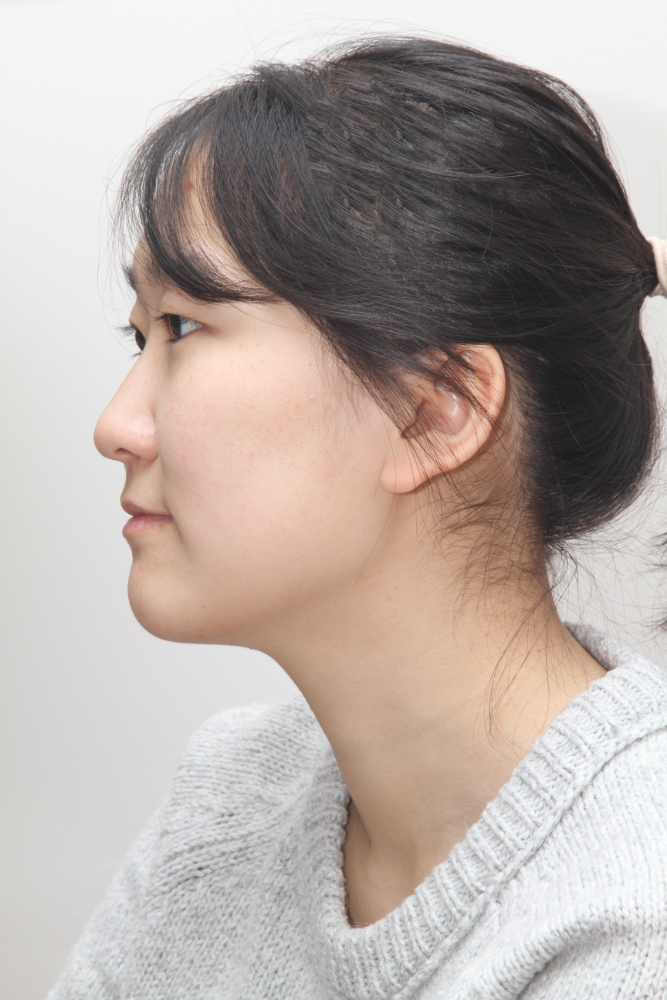 SIYI ZHANG.
Siyi is just now completing an undergraduate degree in biology. Like Yu, she has a great sense of humor with laughter ready to come forth from that beautiful smile at any moment. Because of that, she quickly earned the nickname Good-humor girl. Her English proficiency is top-notch, which was a good thing for us because she is a super conversationalist. My wife and I talked with her for hours about a wide variety of subjects and always came away impressed by this very remarkable young lady. Since returning home, her emails have been just as entertaining and delightful as her in-person conversations.

UPDATE: Siyi has completed her degree in biology and is now pursuing a master's degree in Epidemiology and Biostatistics at Case Western Reserve University in Cleveland Ohio. As Yu says, "She has a powerful brain."

UPDATE II: Siyi has completed her master's degree and has applied for positions in her career field at a number of institutions. She is awaiting results from a number of organizations before making an employment choice.

UPDATE III: Siyi has accepted a position at Johns Hopkins, the number one rated employer in her career field. The best will be working for the best!

UPDATE IV: Siyi's career continues to skyrocket upward. Due to her outstanding work record and very impressive resume, she has now been employed by a very prestigious company. You've not heard the last of this amazing young lady!

UPDATE V: Her new company has given her a significant raise in pay and several bonuses. Good going Siyi!

UPDATE VI - The Visit. In July of 2023, Siyi's parents made a one-month visit to America. Siyi acted as a tour guide, driving her parents to New York, the Statue of Liberty and many other places, including a three-day visit with Granny and Gpa in Ohio. Her parents were pleasantly surprised to find that the little girl that they hadn't seen in many years had grown up to be a competent, take-charge young lady that can capably handle any task that comes her way. She made all flight arrangements for her family and provided written guidance to assist them along the way. No professional tour guide could have done better. While with us, we introduced her parents to common American treats, apple pie and cherry pie, desserts they don't have in China (Come on China, you can go to the moon, so let's get with pie for dessert!). Unfortunately, her parents aren't eligible for retirement yet, so had to return to China and immediately commence working as did Siyi. We hope we can see them again not too far in the future.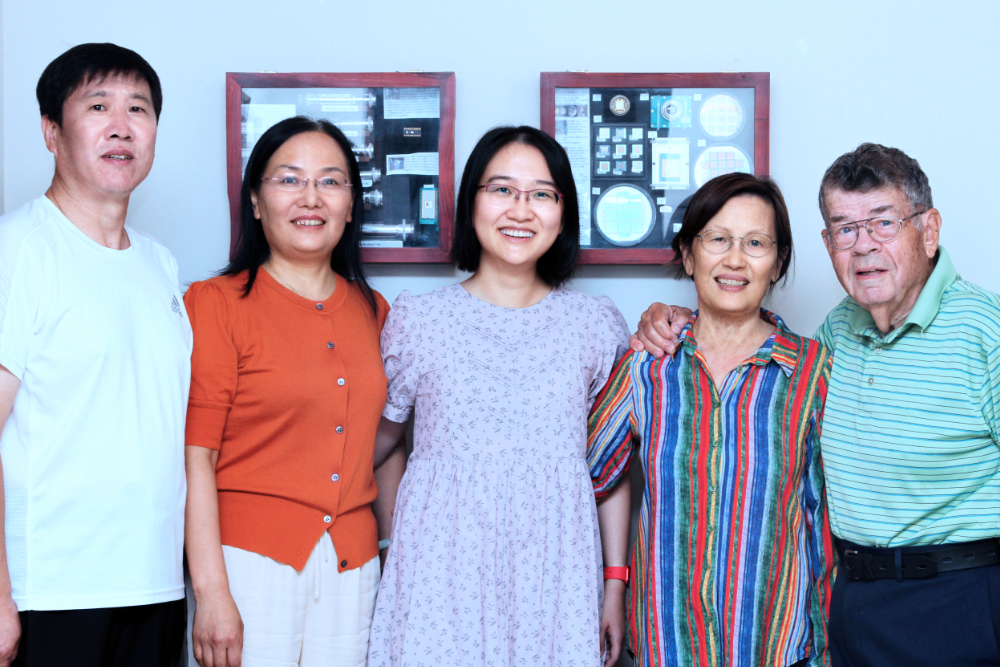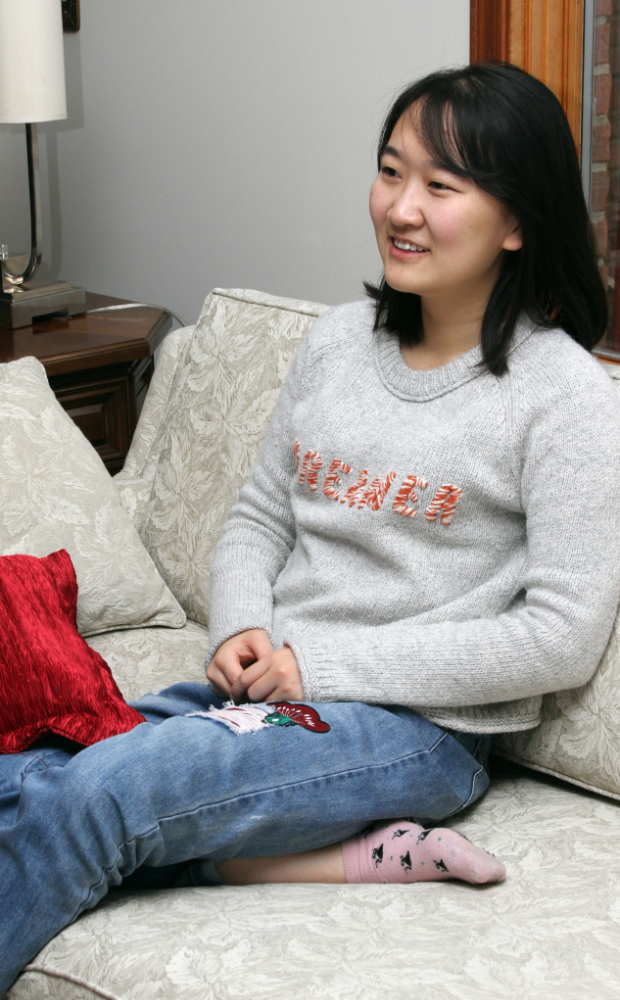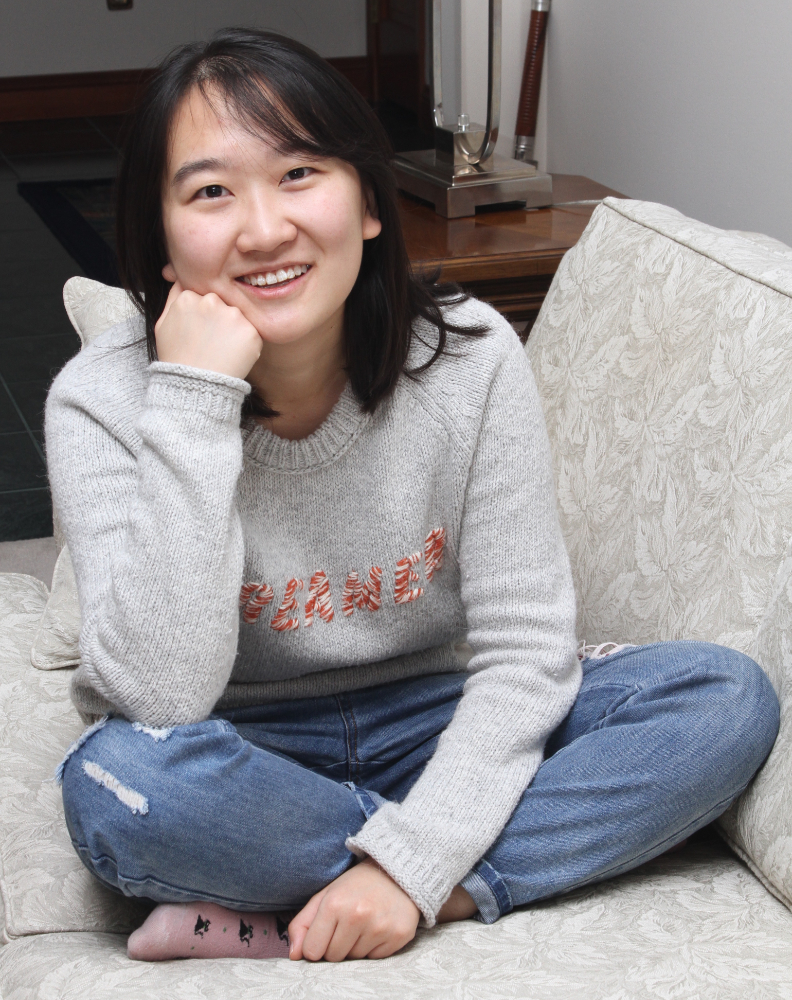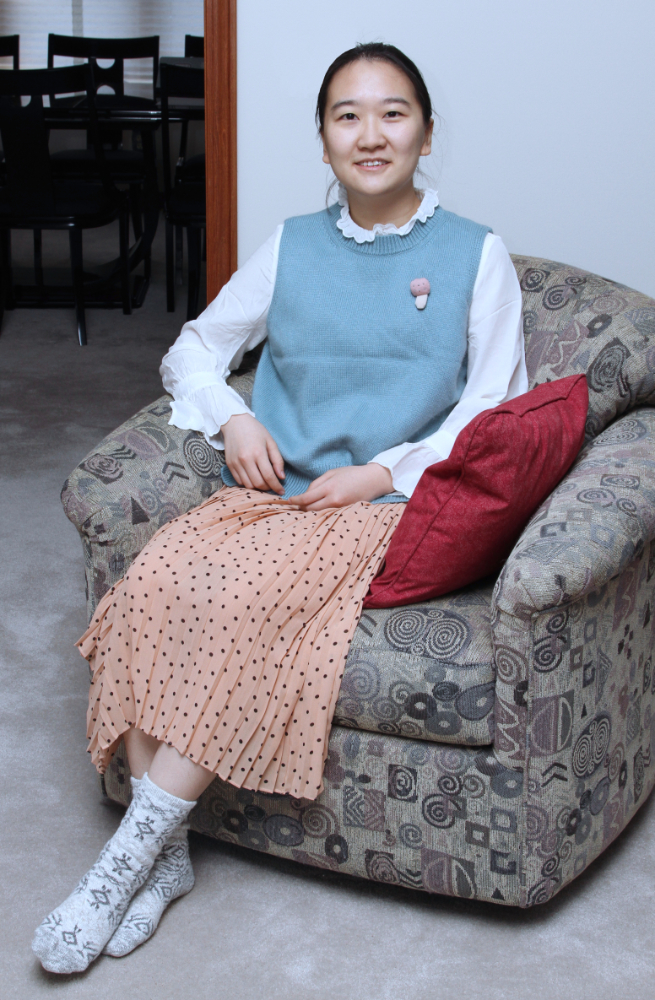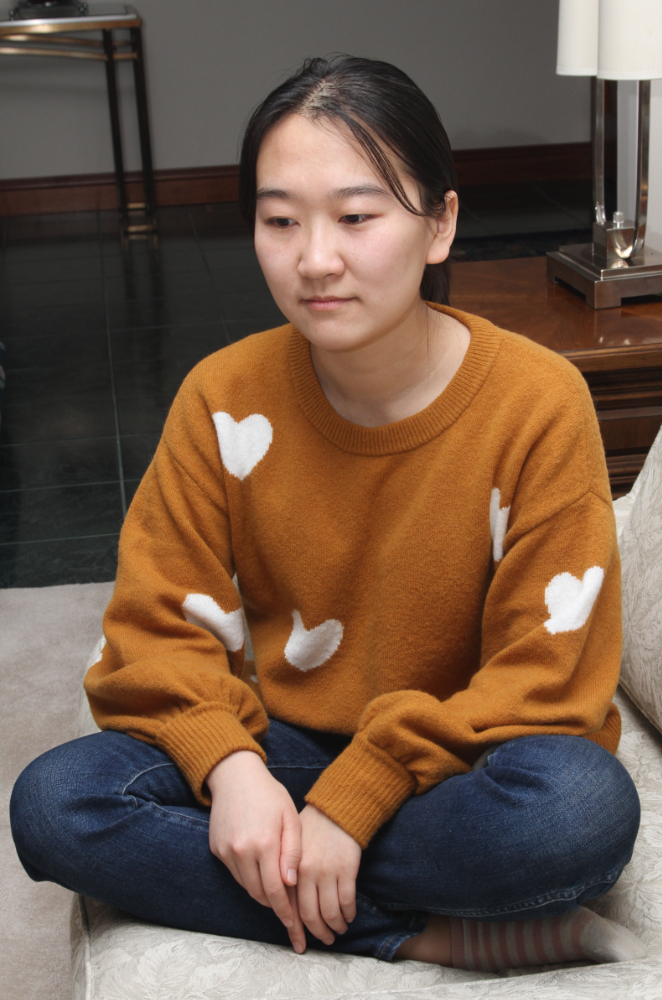 We first sponsred Siyi in 2016. Since that time she has become a beloved member of our family and has visited us many times over the years. To see more photos of Siyi click here.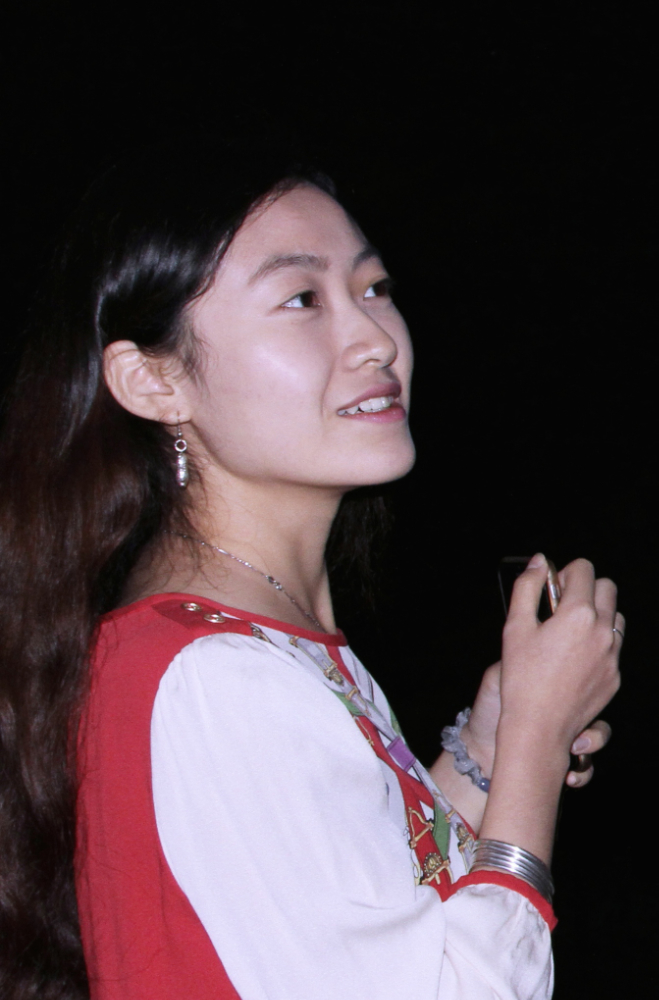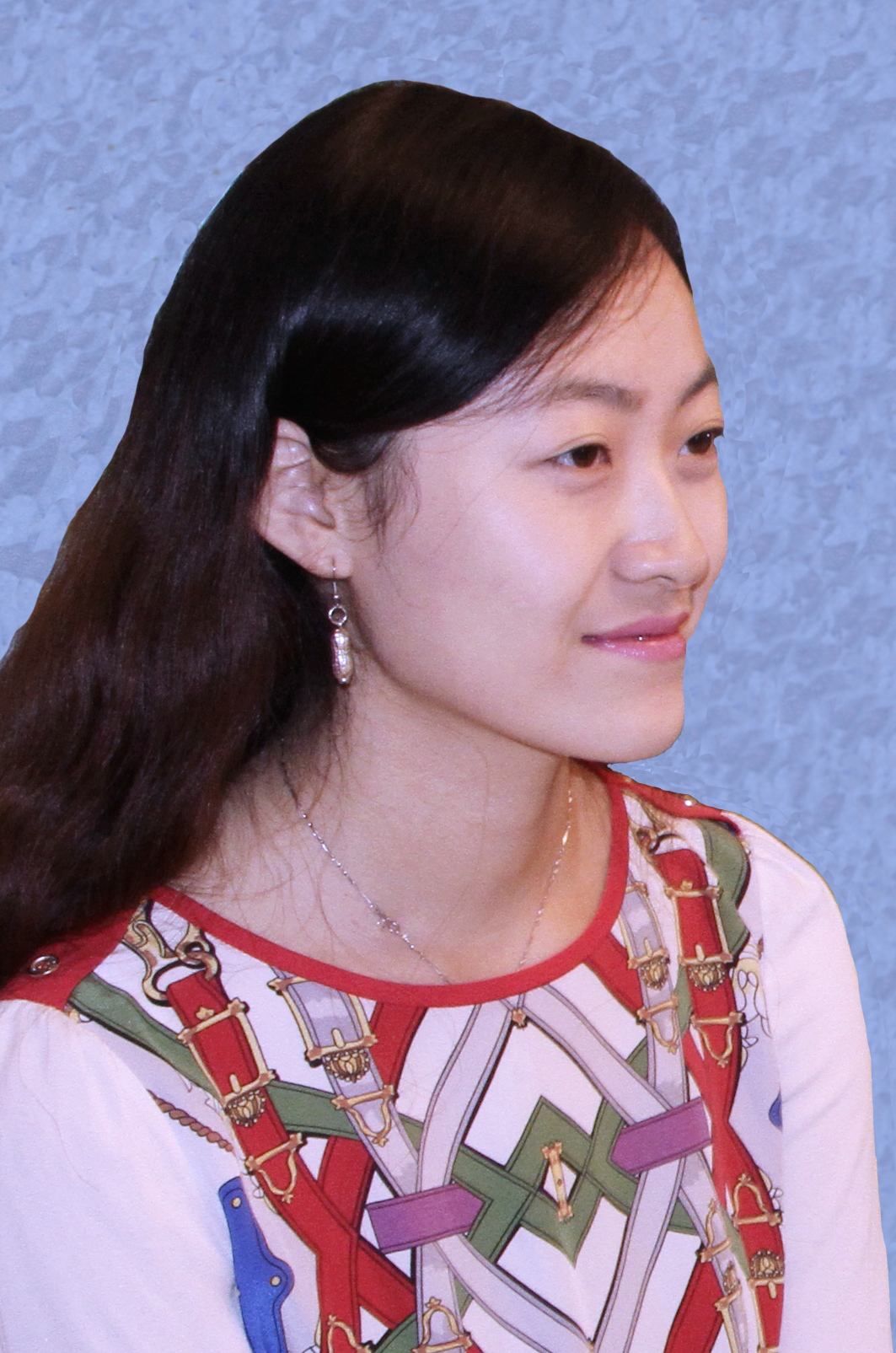 MENGQIAO YE.
Mengqiao is a music major. Mengqiao was very shy when we first met her, but when we got to know her better we found that she has a very sweet personality and is a very enjoyable young lady to have as a friend. She also has a good sense of humor, is very smart, kind, and has a pleasing personality. She always has a smile on her face and is friendly with everyone she meets. After she became better acquainted with us her shyness disappeared and she participated fully in all our activities including ziplining, golf, bullet-making, etc.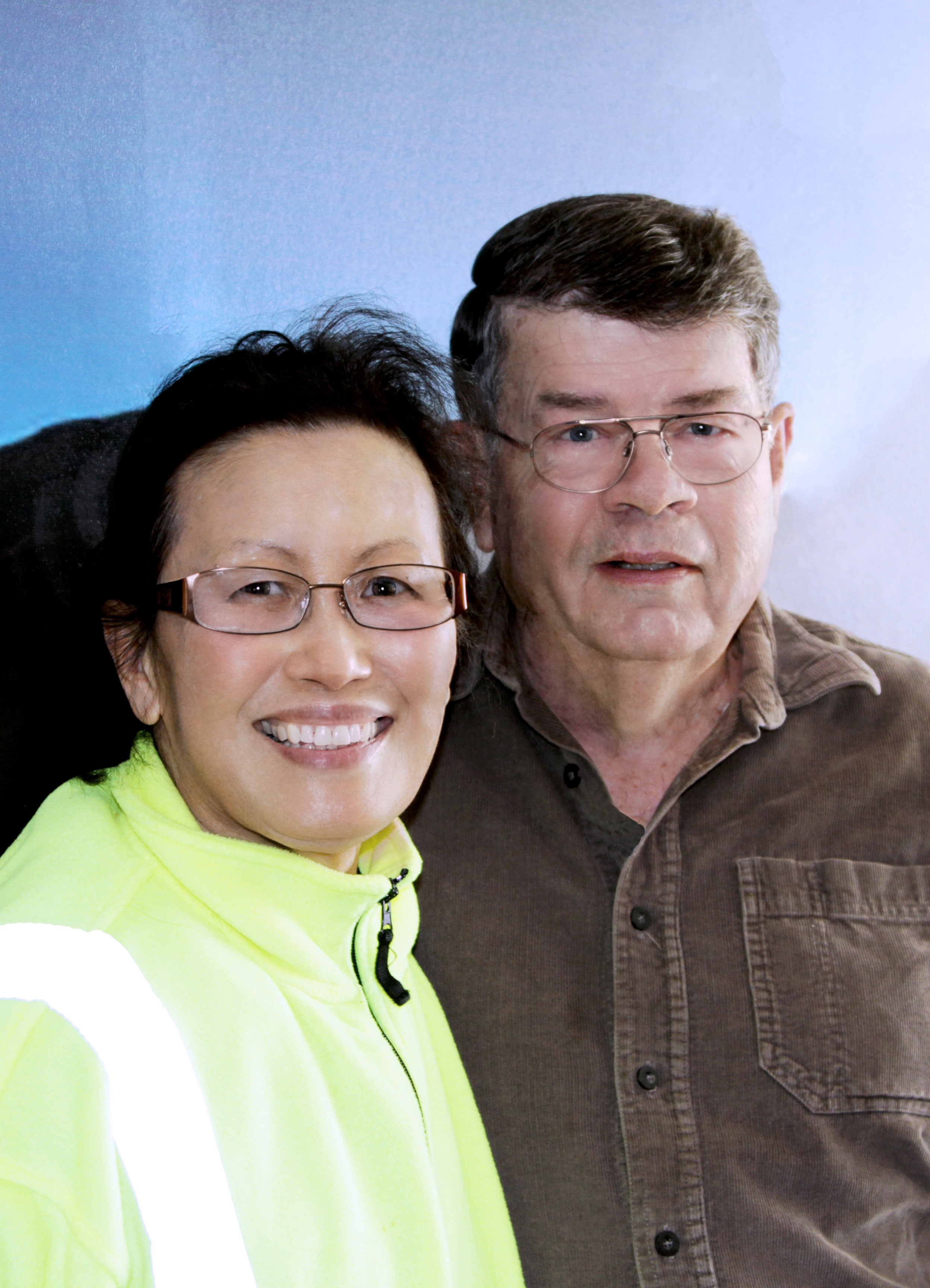 SU and RODGER CARTER.
Also known as Granny and Gpa.

In October of 2016 we had our first dinner with our students. It included a tour of our tree house pirate ship. To see photos of the pirate ship under construction go to our front page and click on the Jolly Roger photo.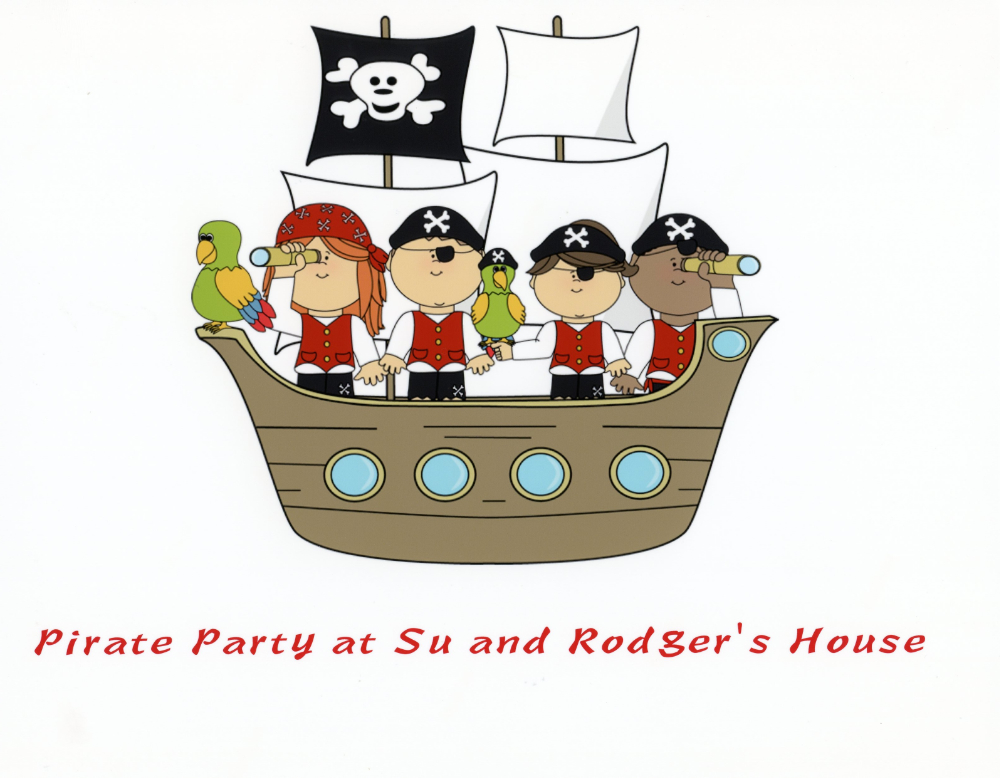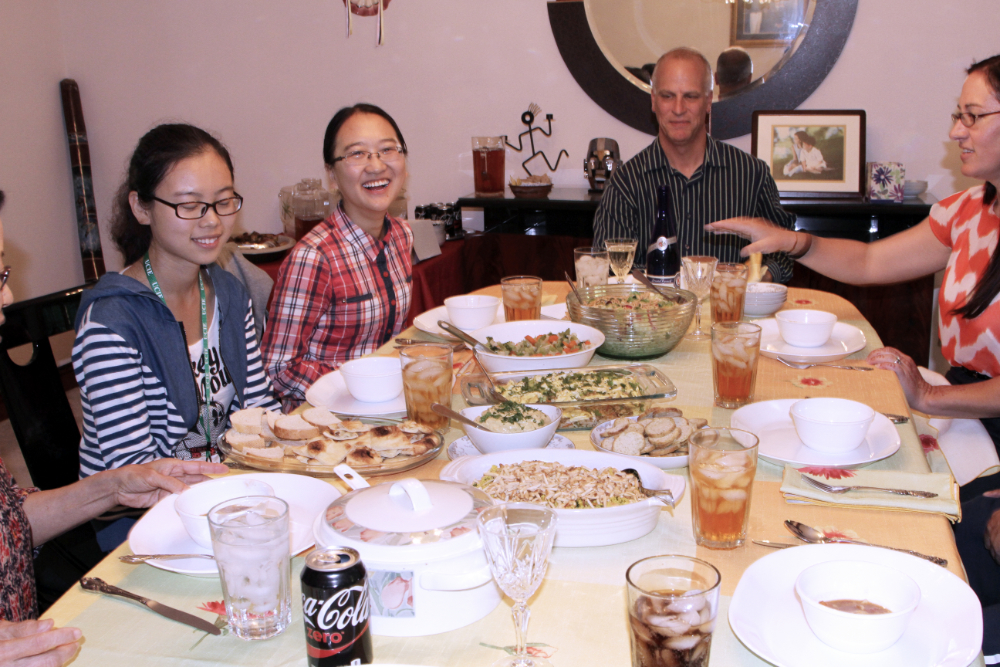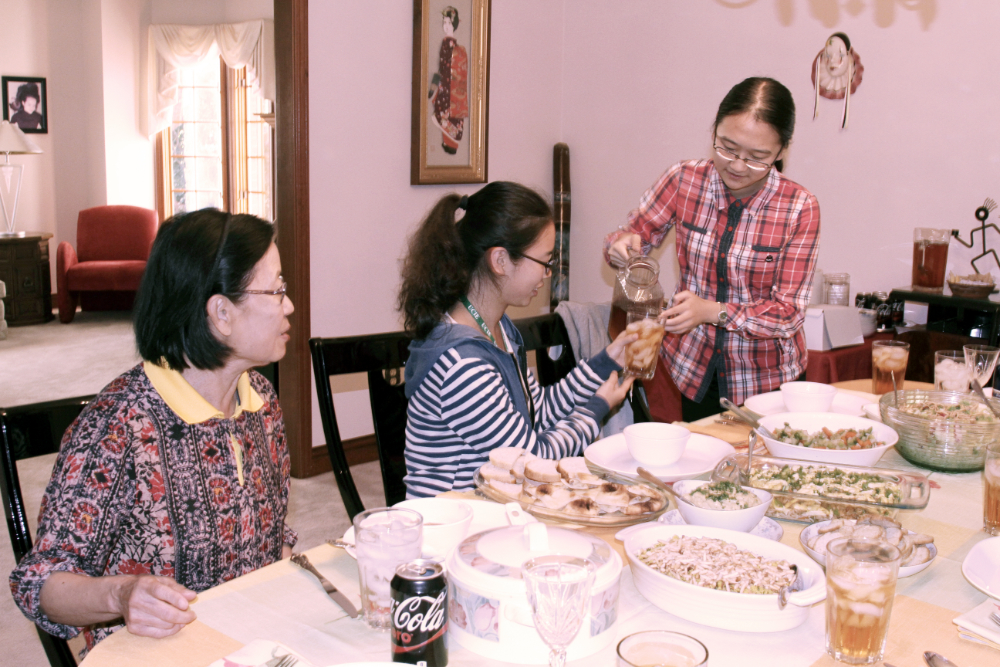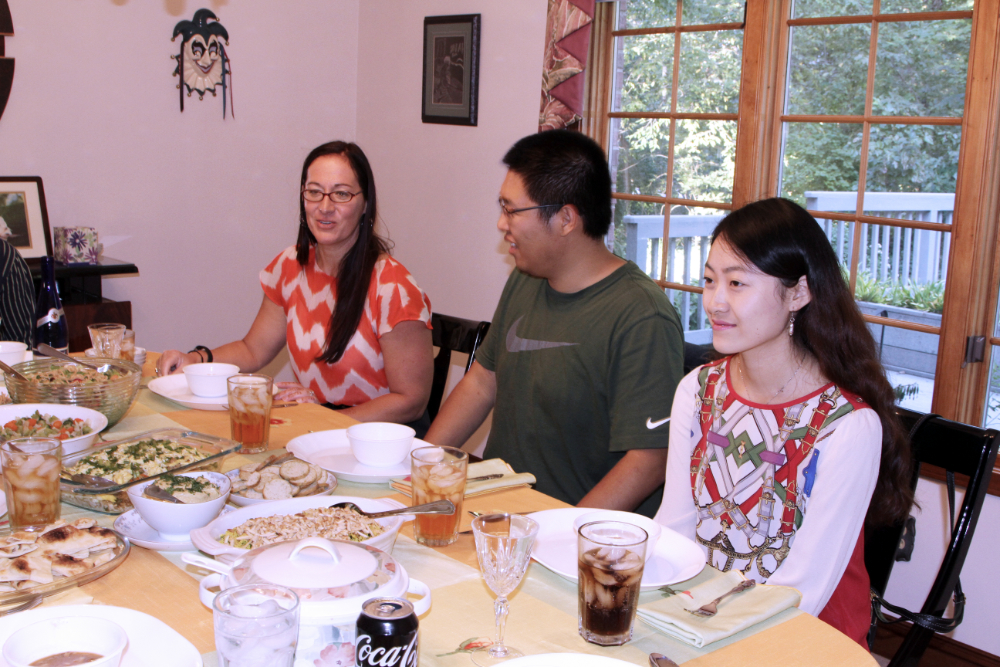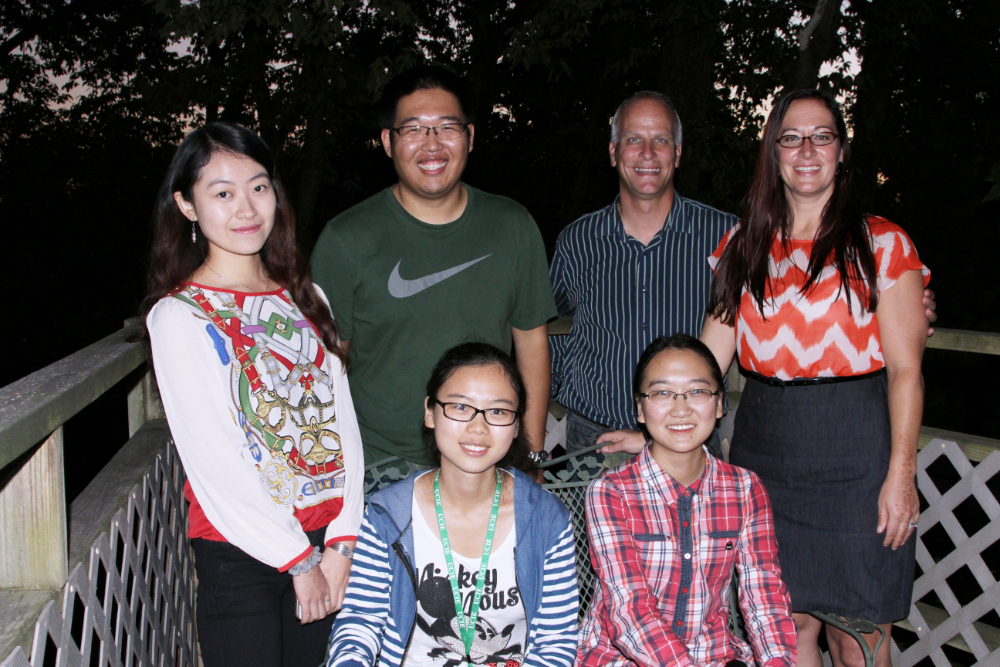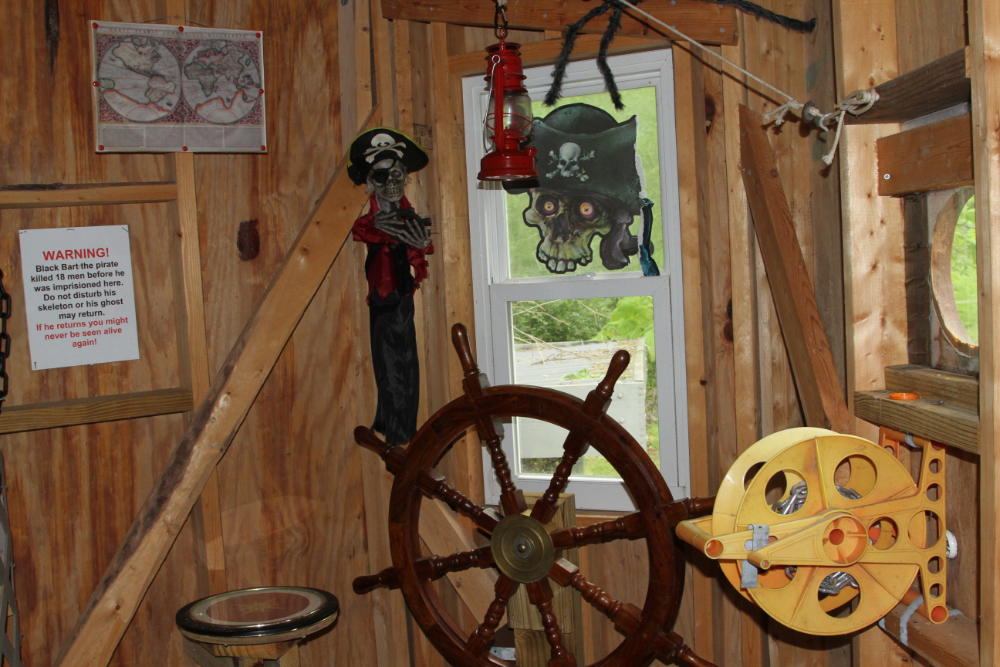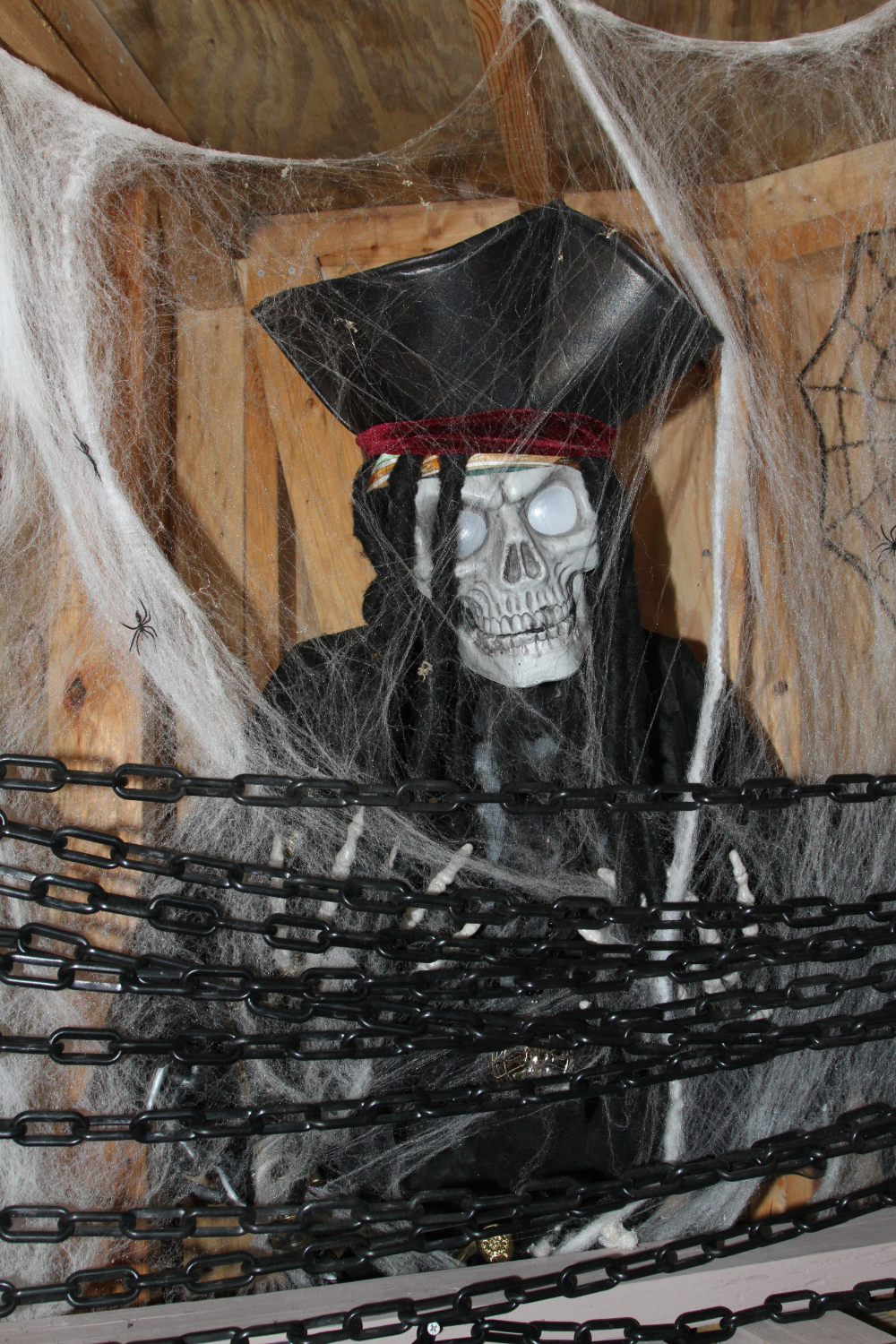 Captain's Quarters and Remains of Black Bart the Pirate (His ghost still haunts the ship)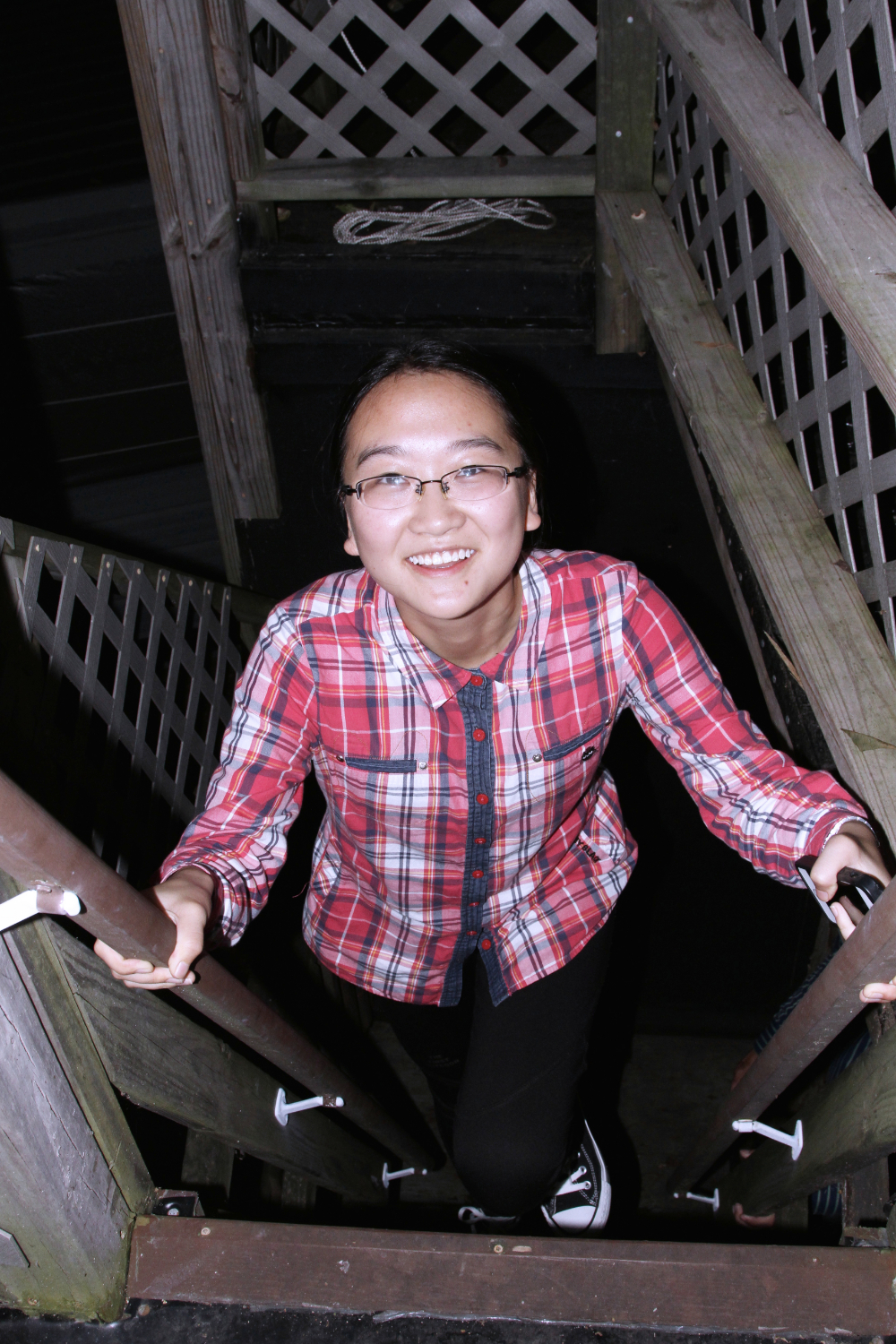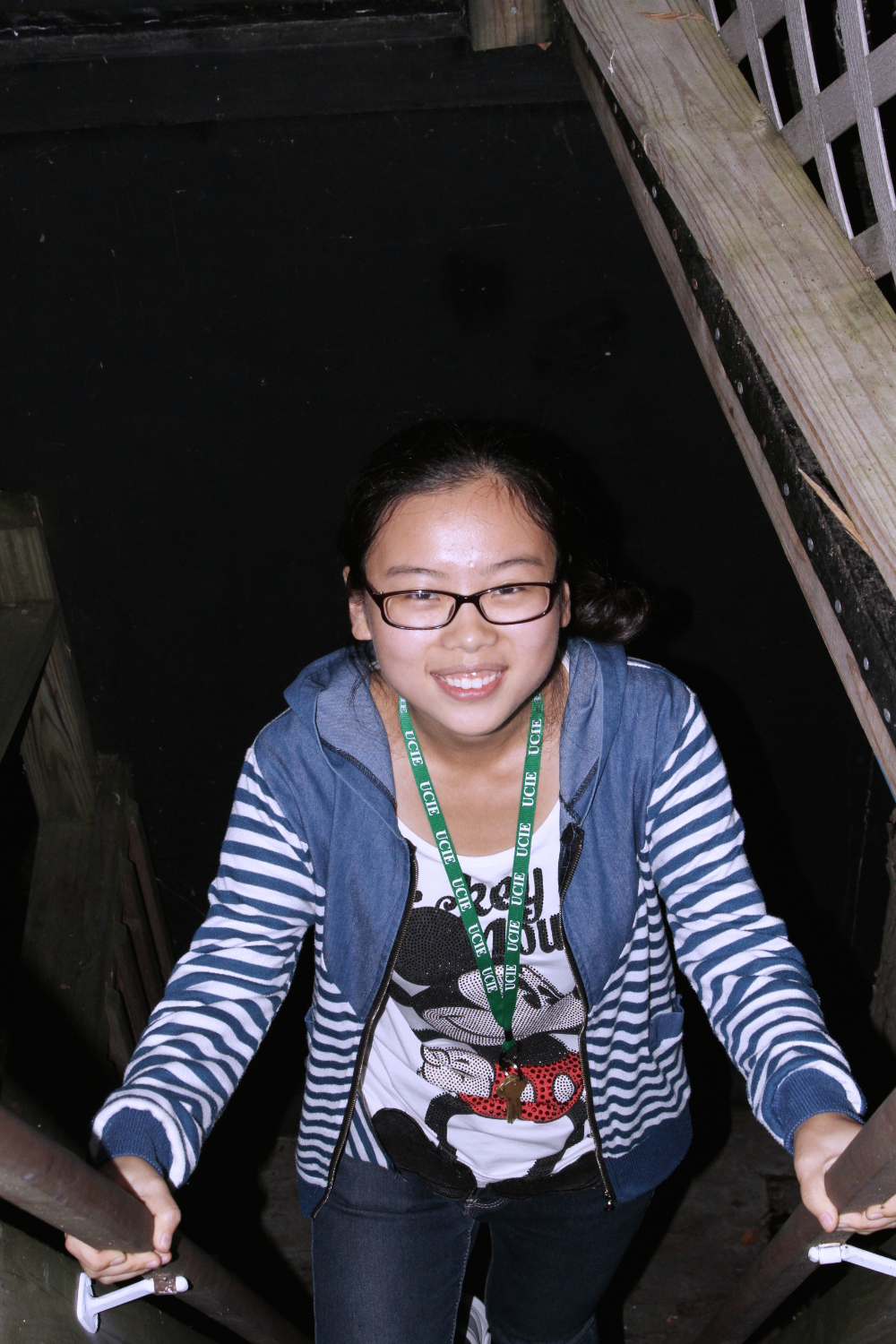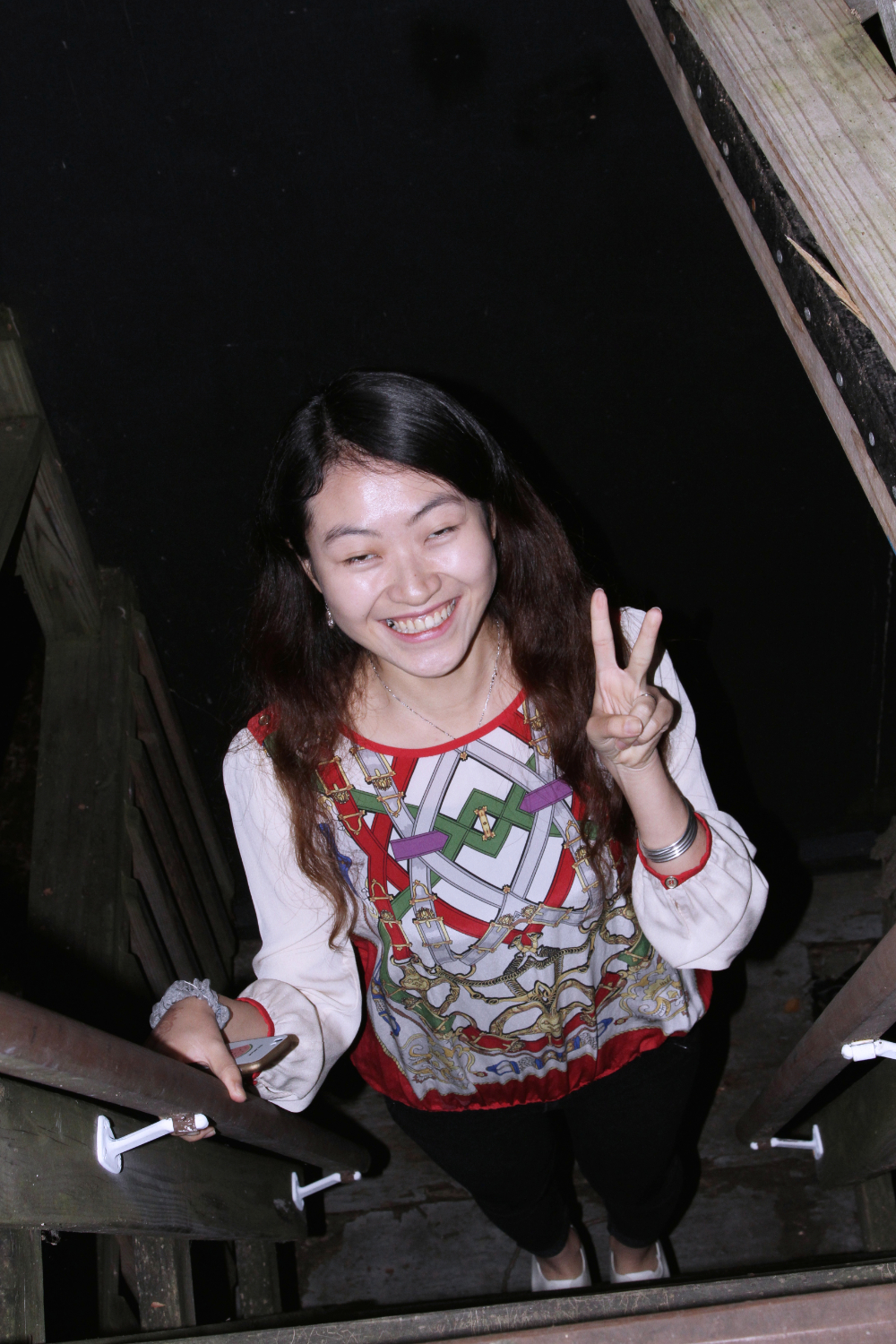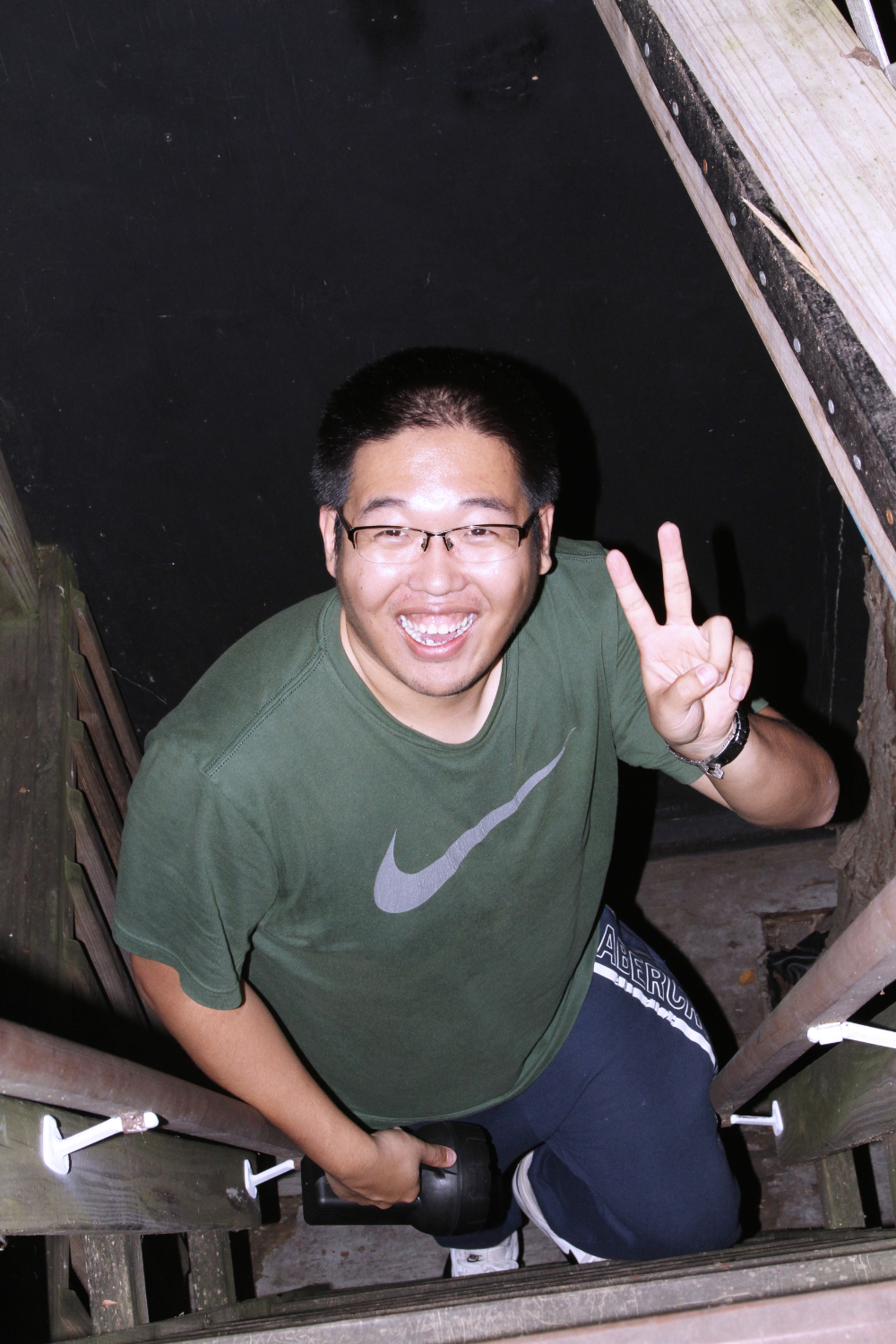 Siyi, Jiale, Mengqiao and Yu ascend the ship's ladder to the upper deck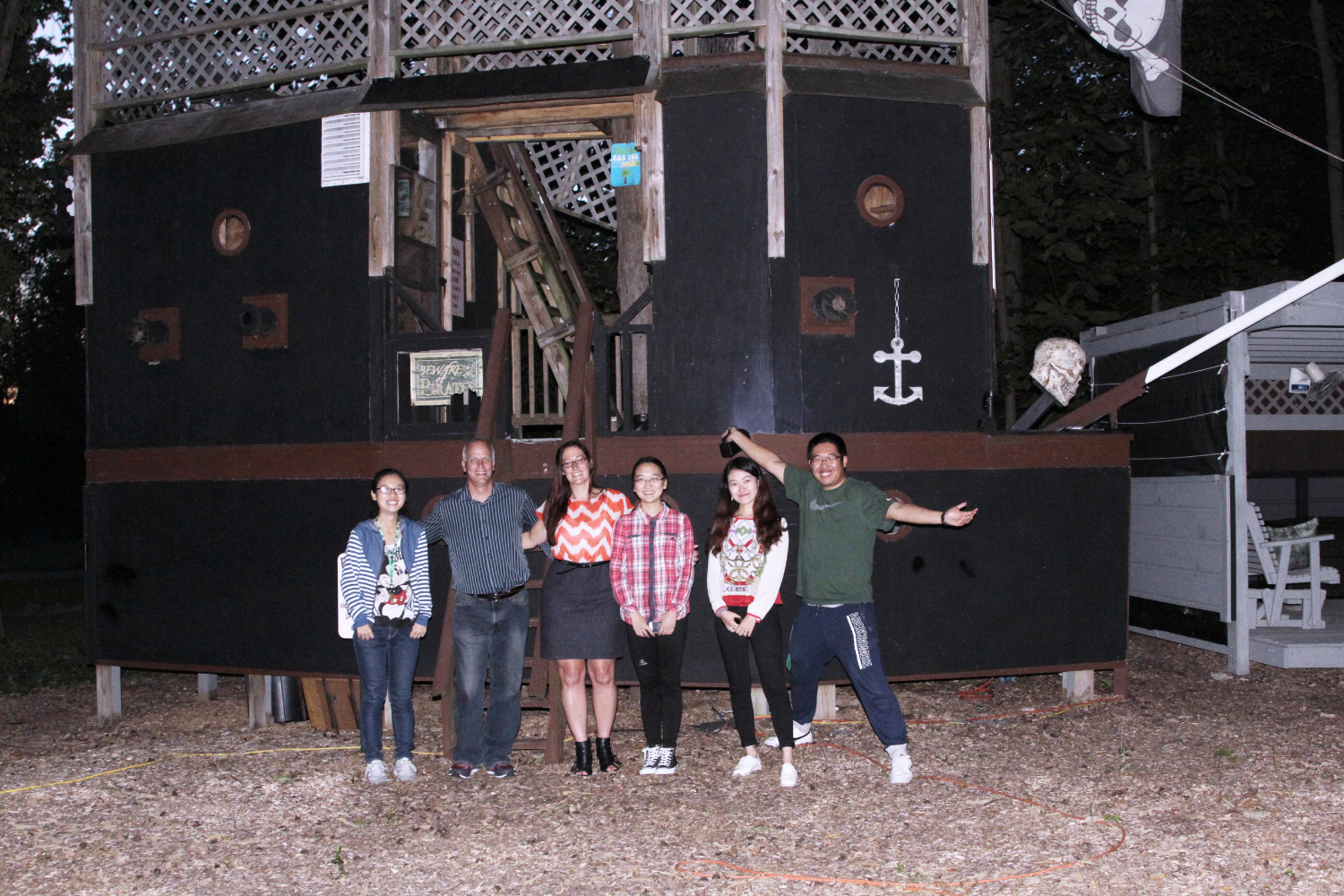 They made it back to shore safely


EnterTRAINment Junction


The EnterTRAINment Junction is located in west Chester Ohio north of Cincinnati. Billed as the the world's only railroad-themed family entertainment center, EnterTRAINment Junction offers an indoor train display of 25,000 square feet with more than two miles of track and 90 operating model trains depicting every era of American railroading.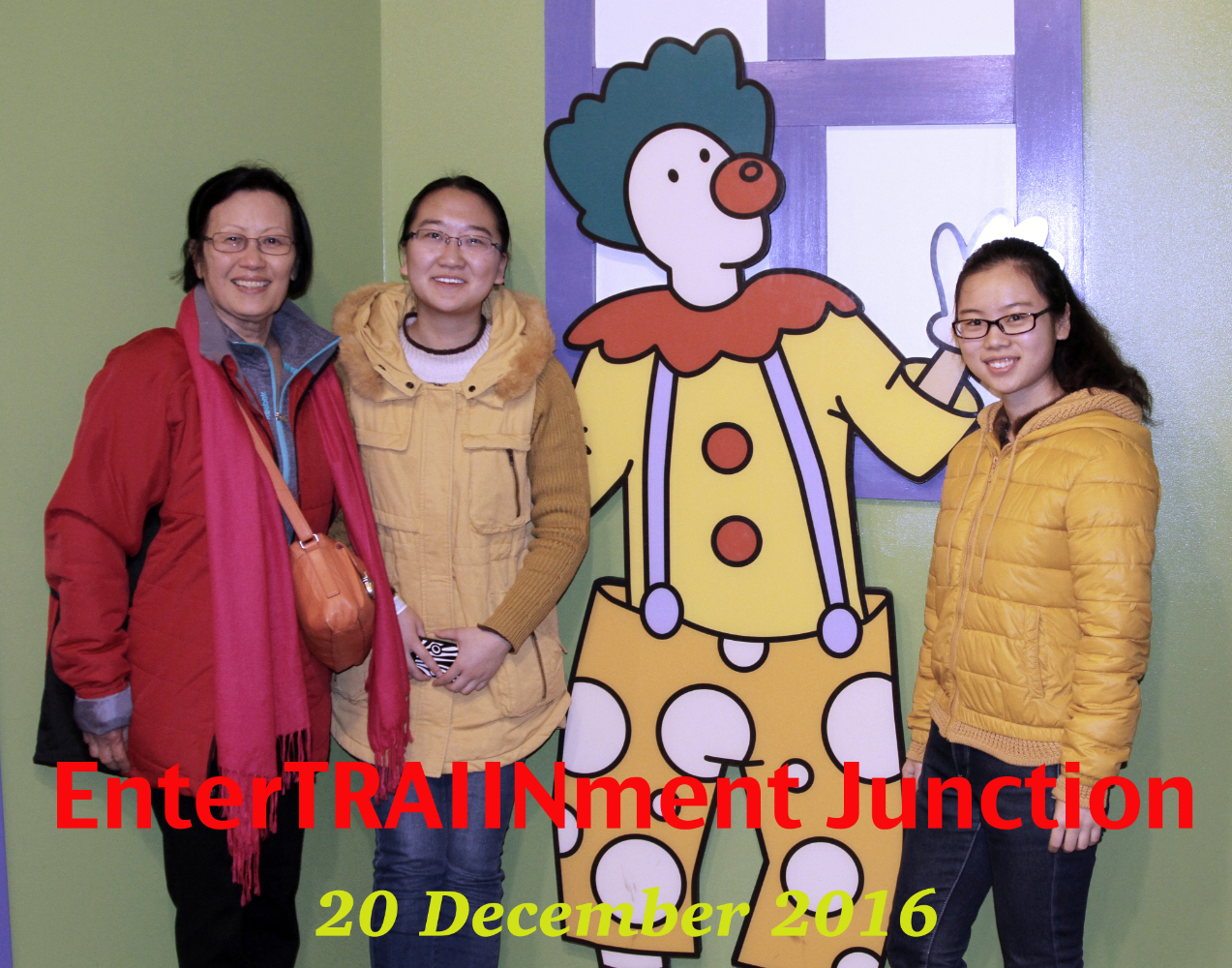 Granny, Siyi, an unidentified clown, and Jiale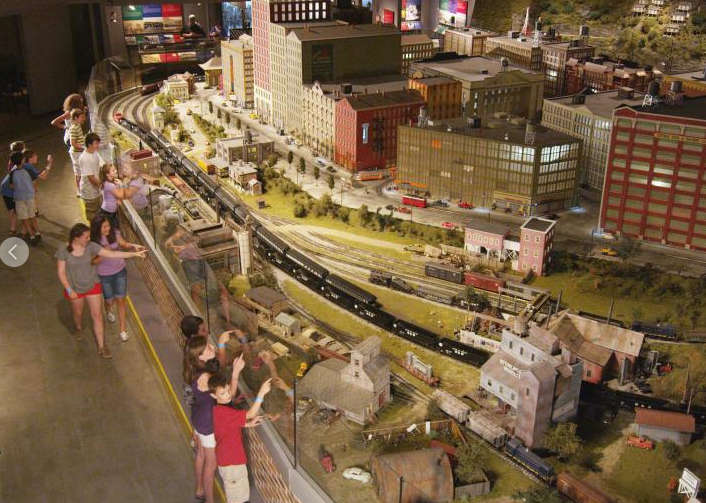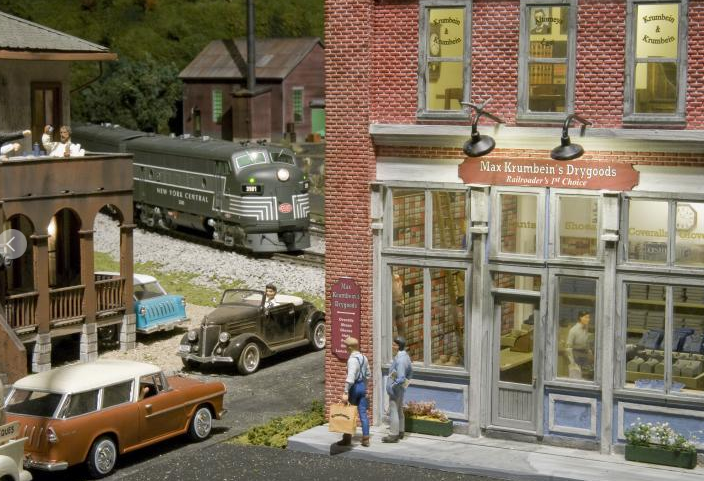 Towns and cities are constructed in extraordinary detail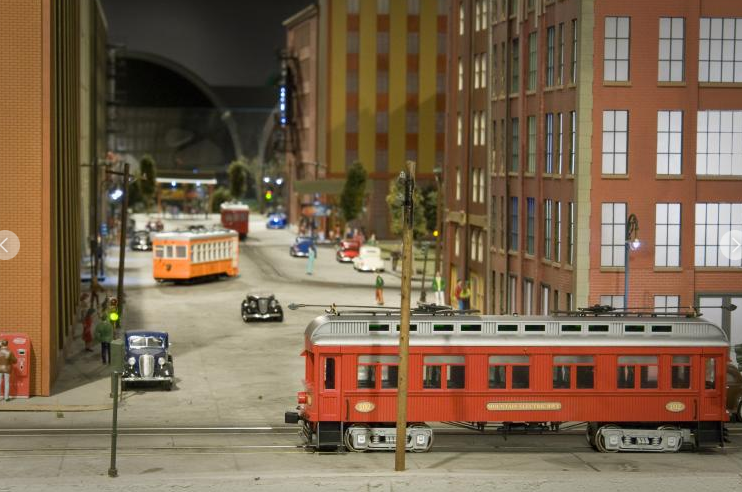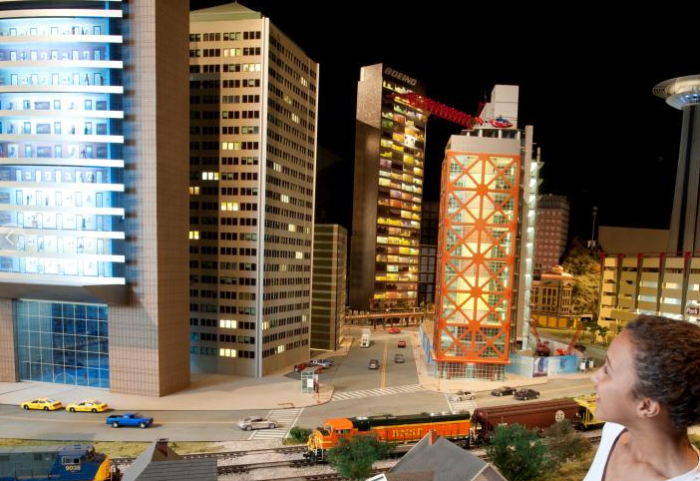 Each era throughout our country's history is depicted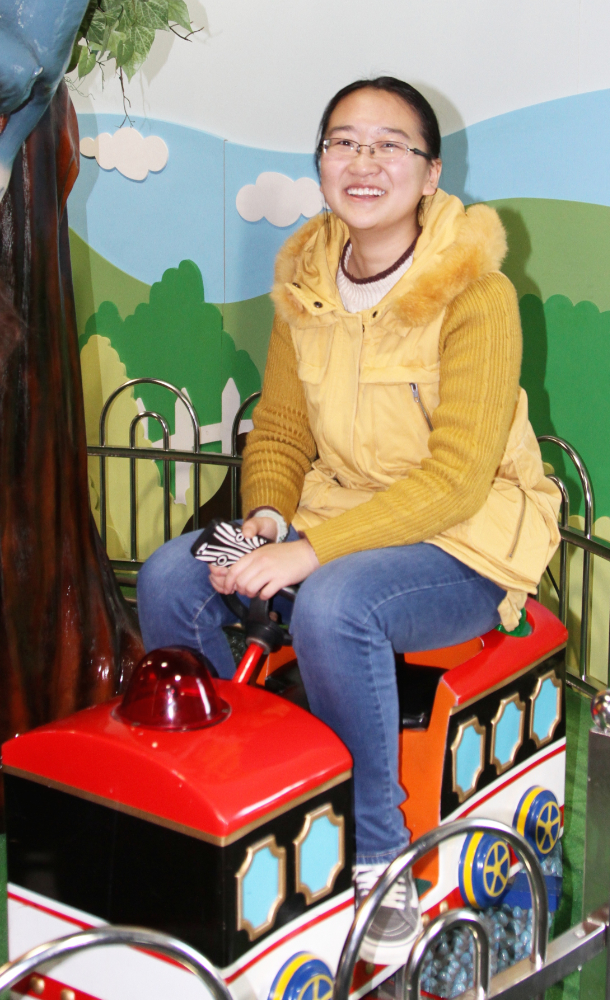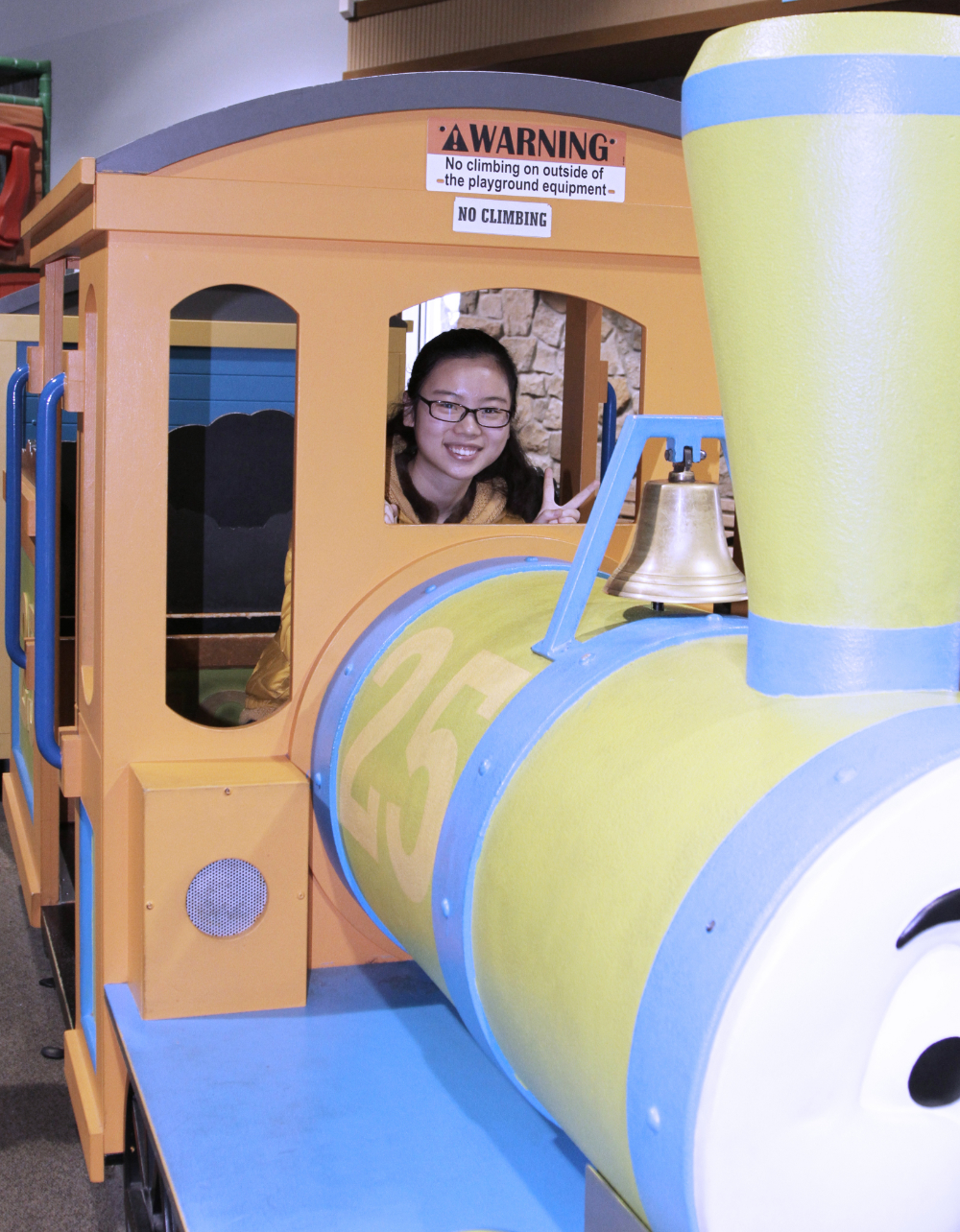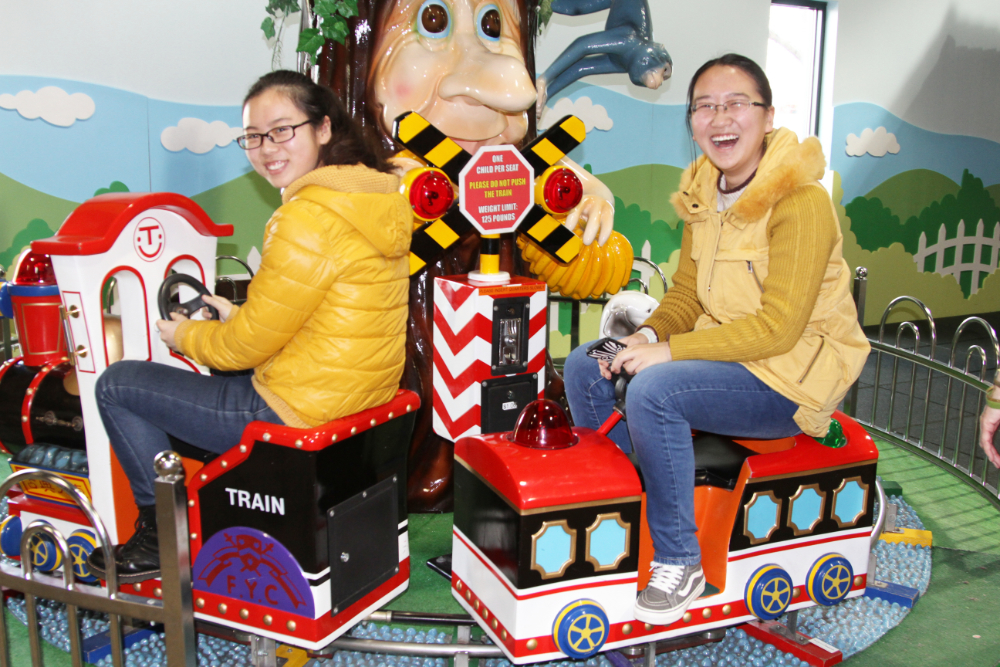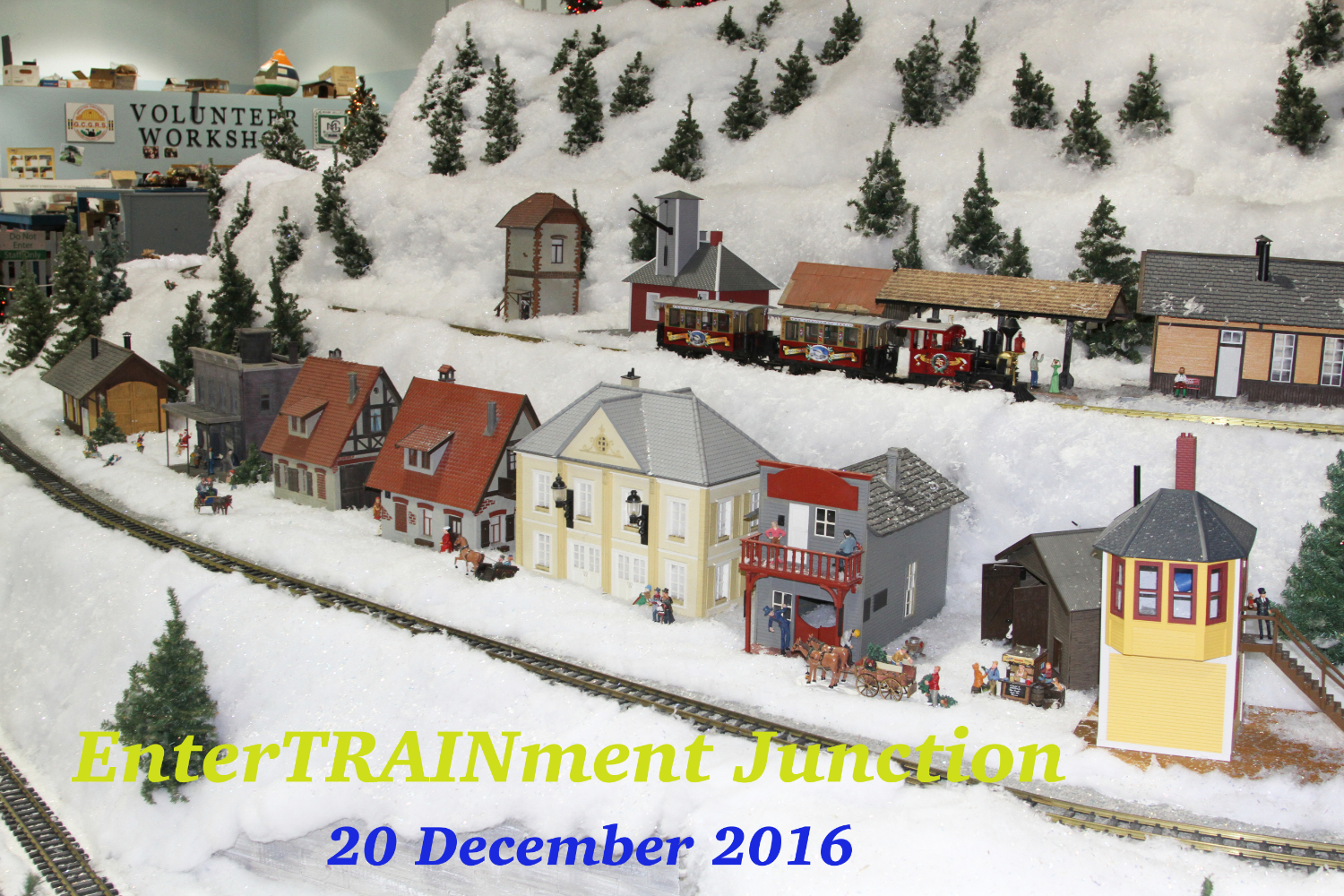 Golfing in China is very expensive and few young people ever get to do it, at least on a regular basis. My wife and I do golf regularly and we have a friend who is a golf instructor. As with all our proposed activities, our four exchange students did not hesitate to say yes when asked. We were able to schedule golfing three different occasions along with many other events during the times the students were available on weekends.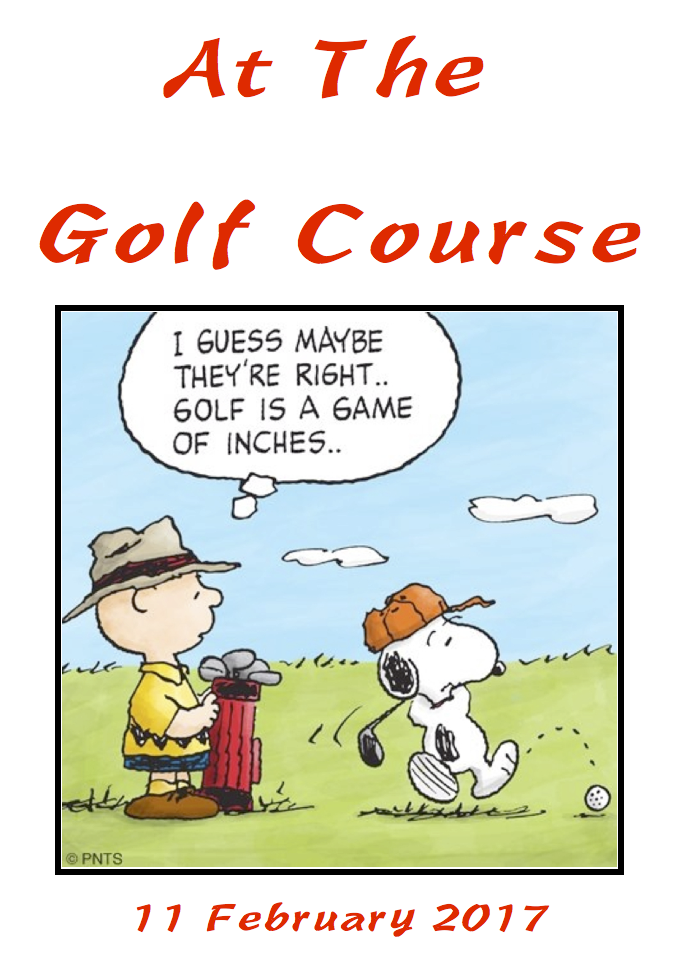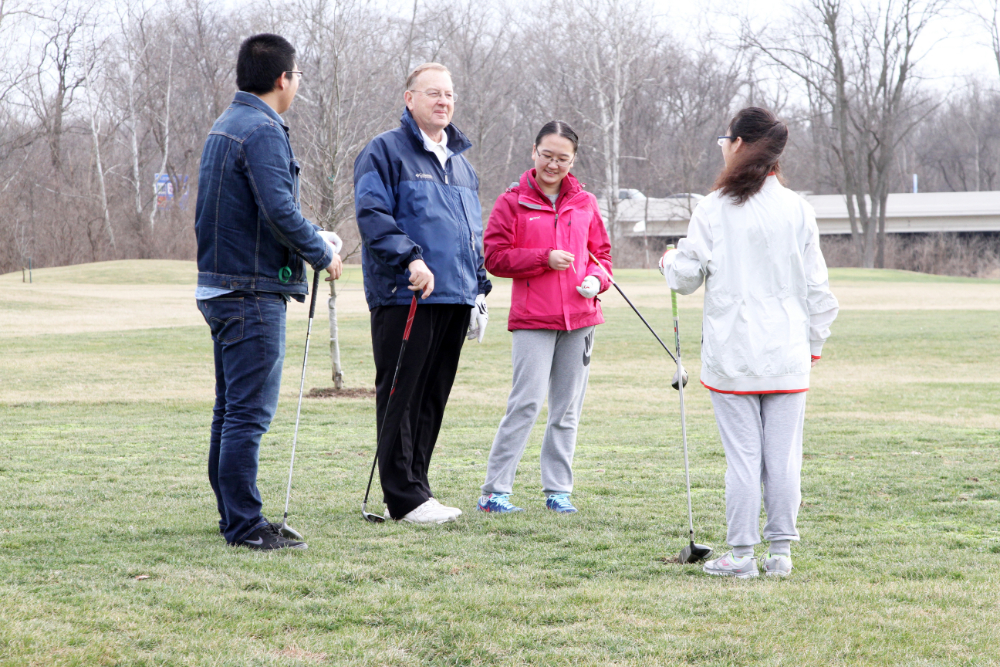 Yu, Siyi and Jiale with professional golfing instructor Ron Hardwick of the Miami Valley Golf Academy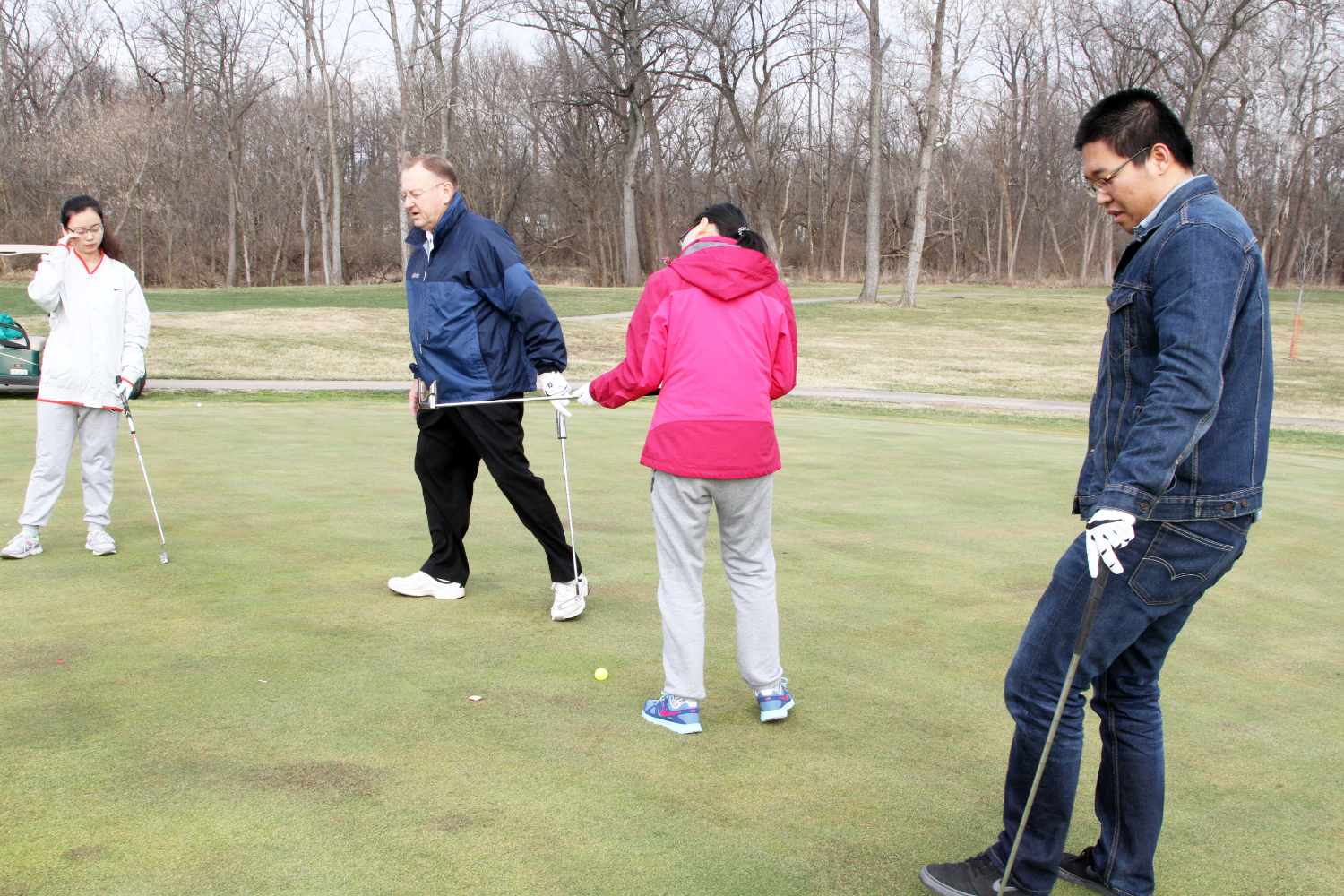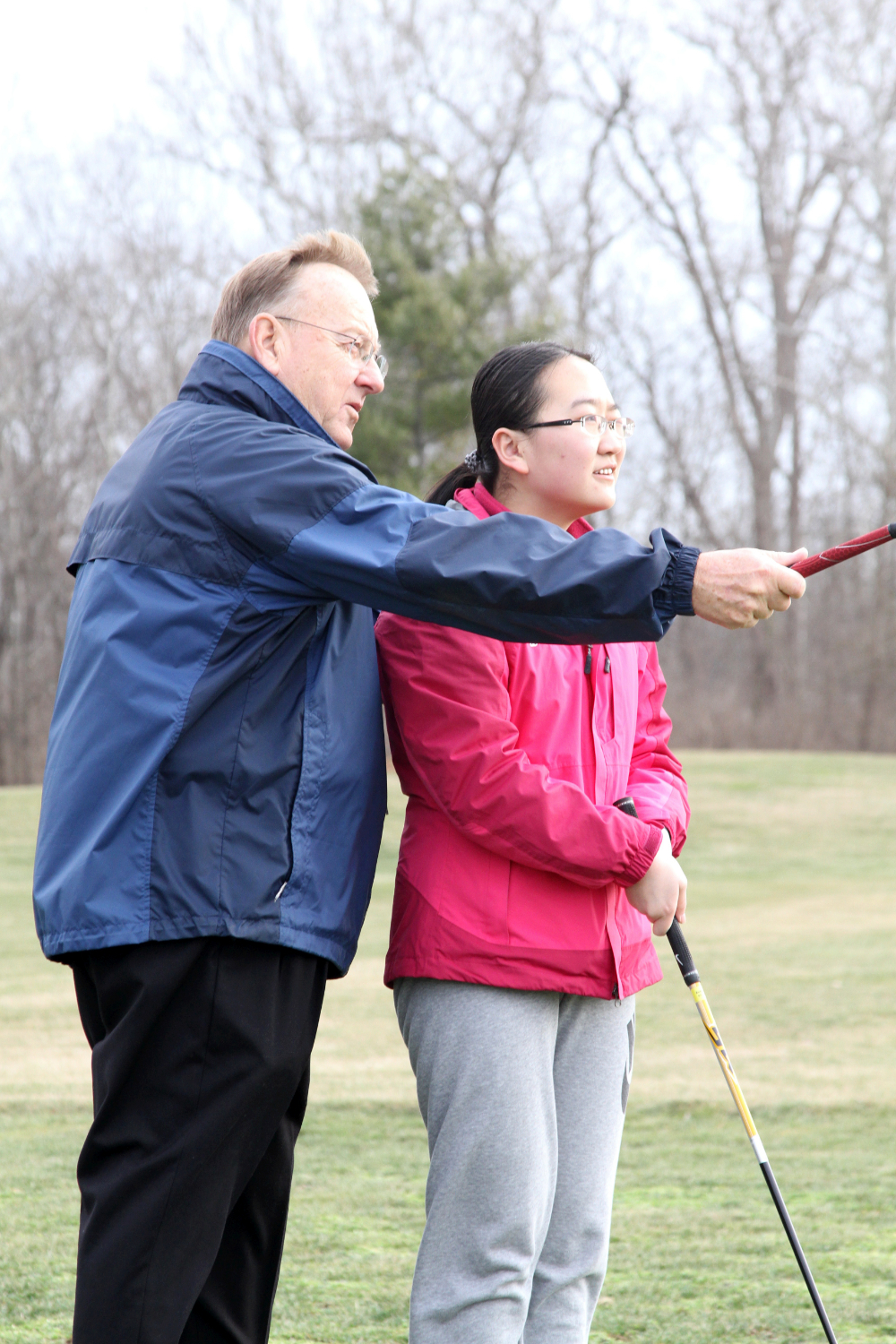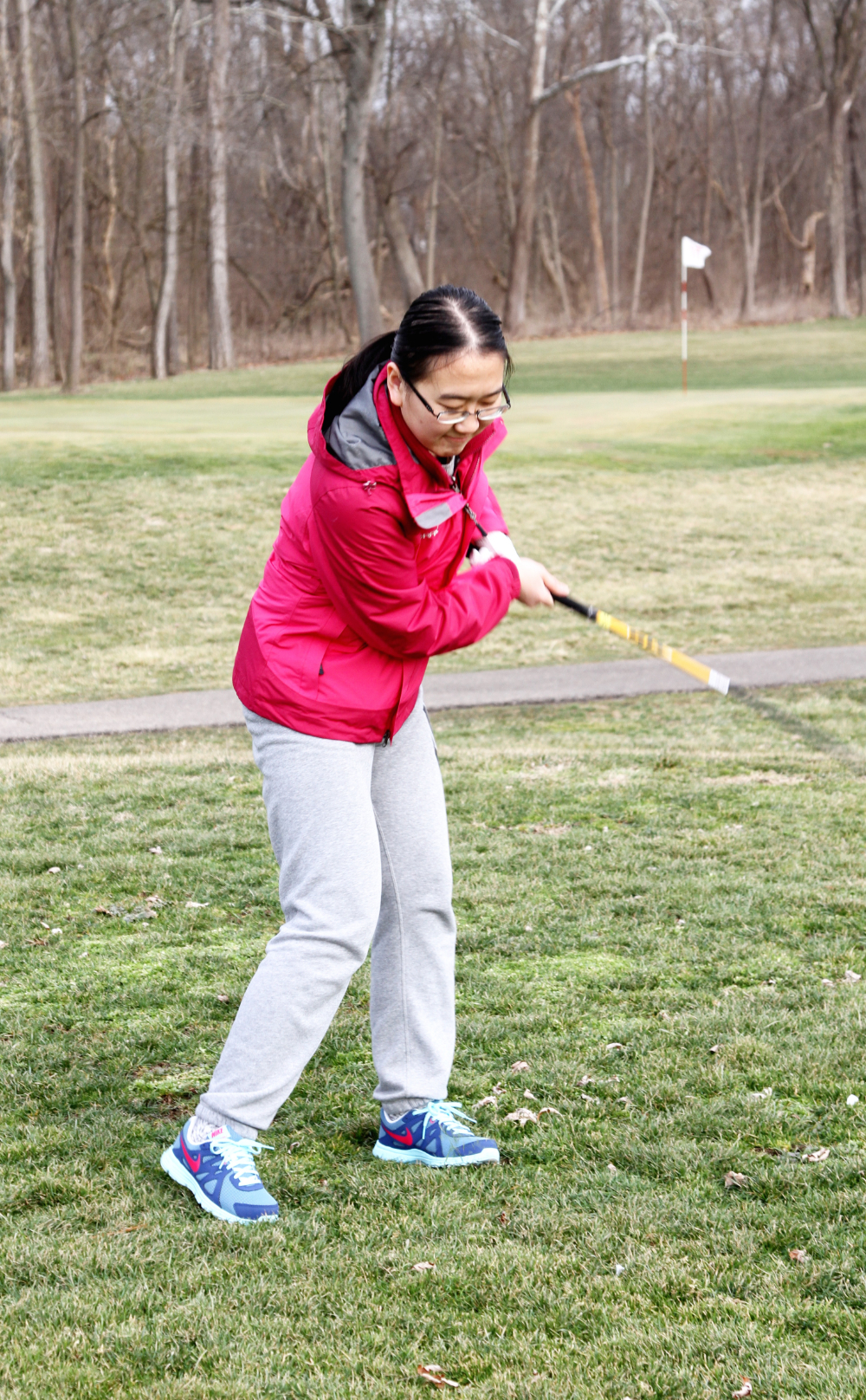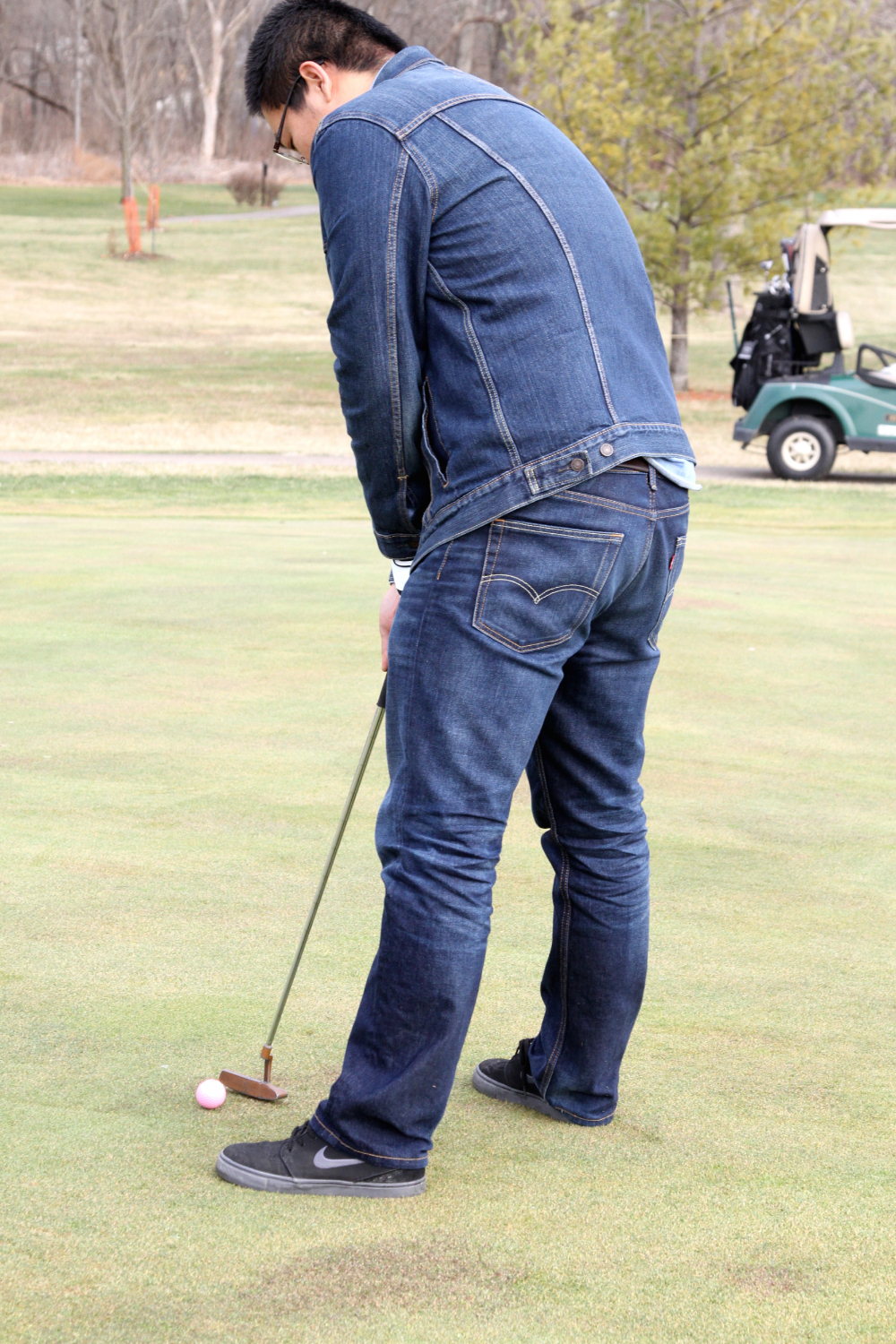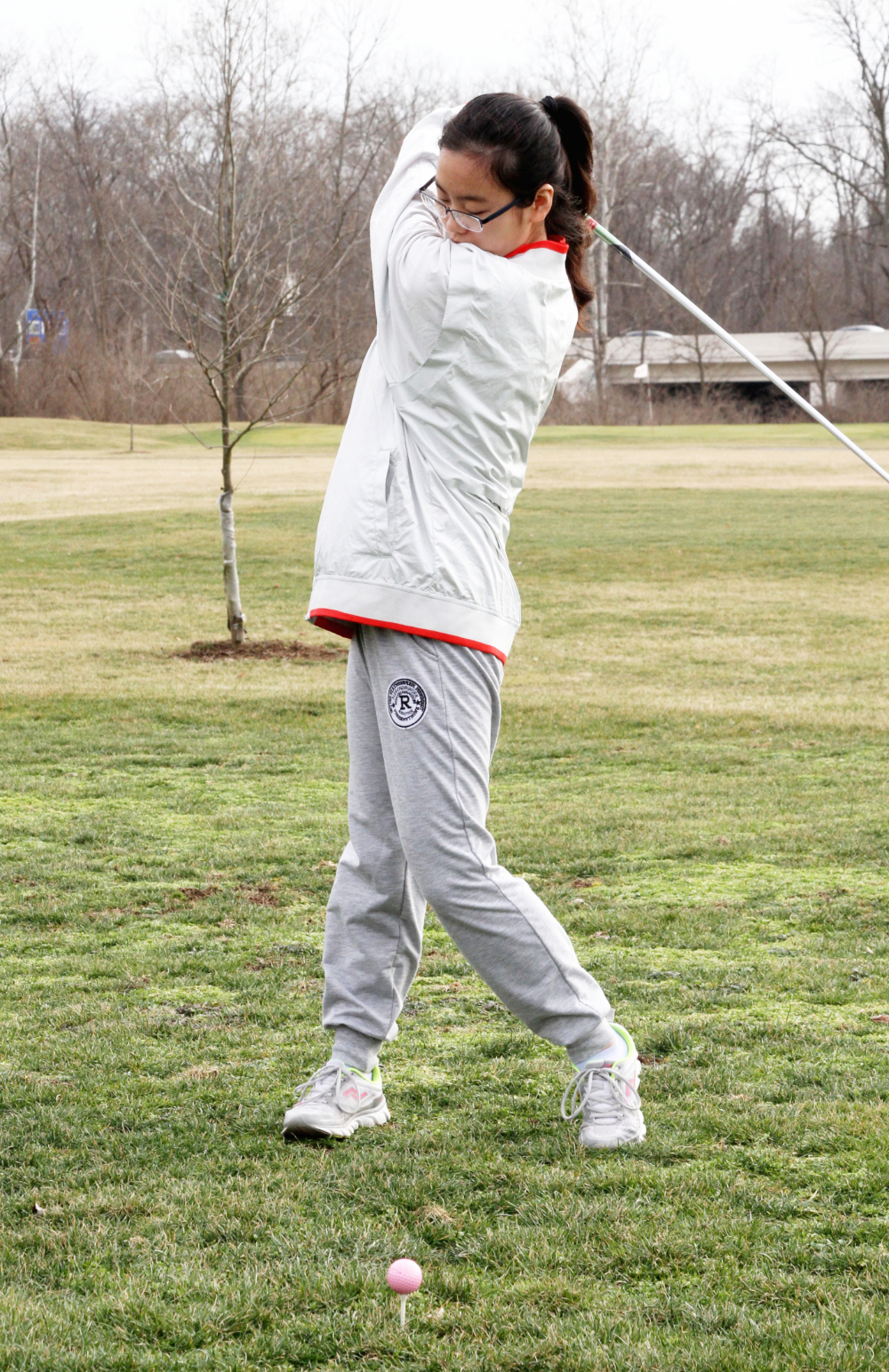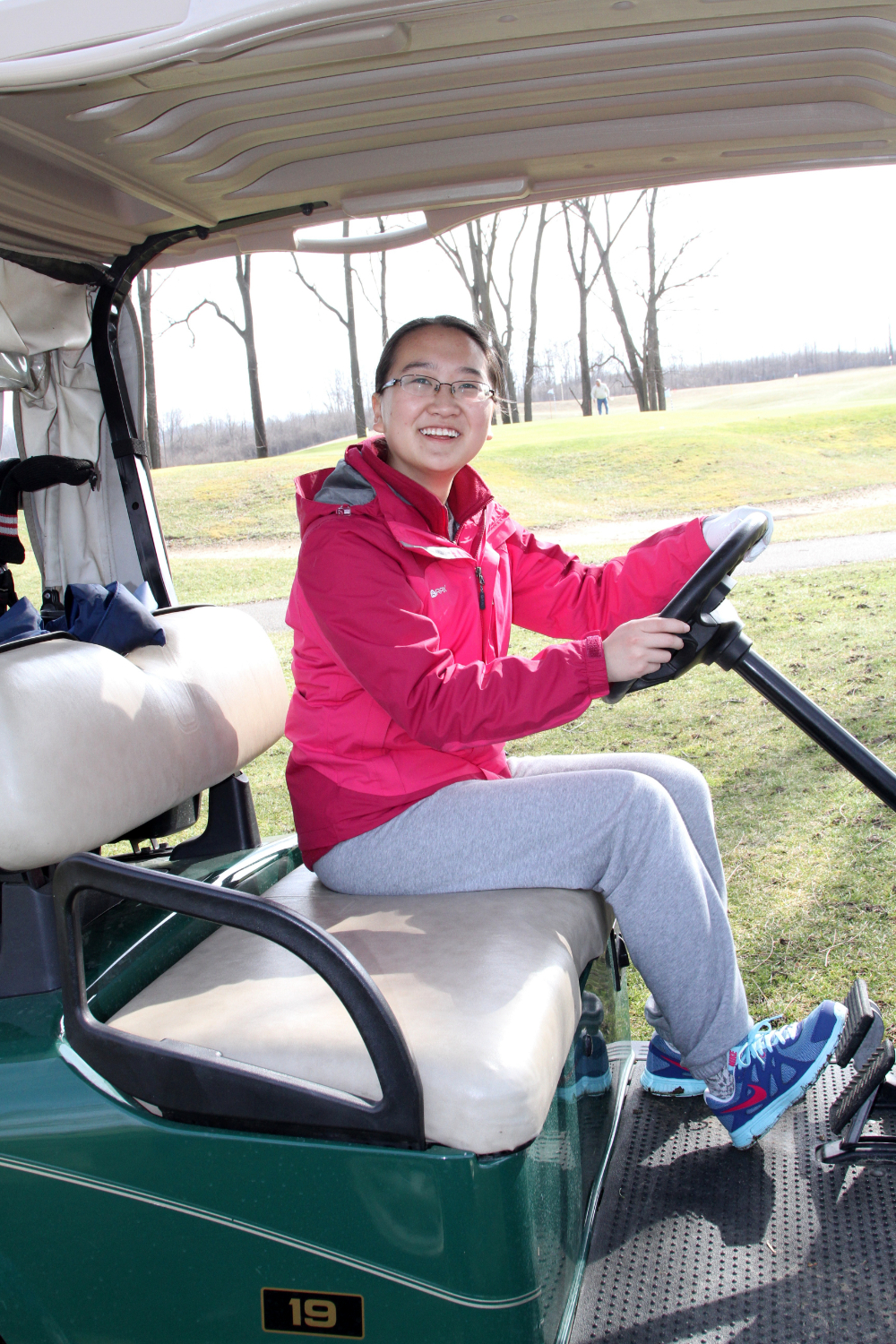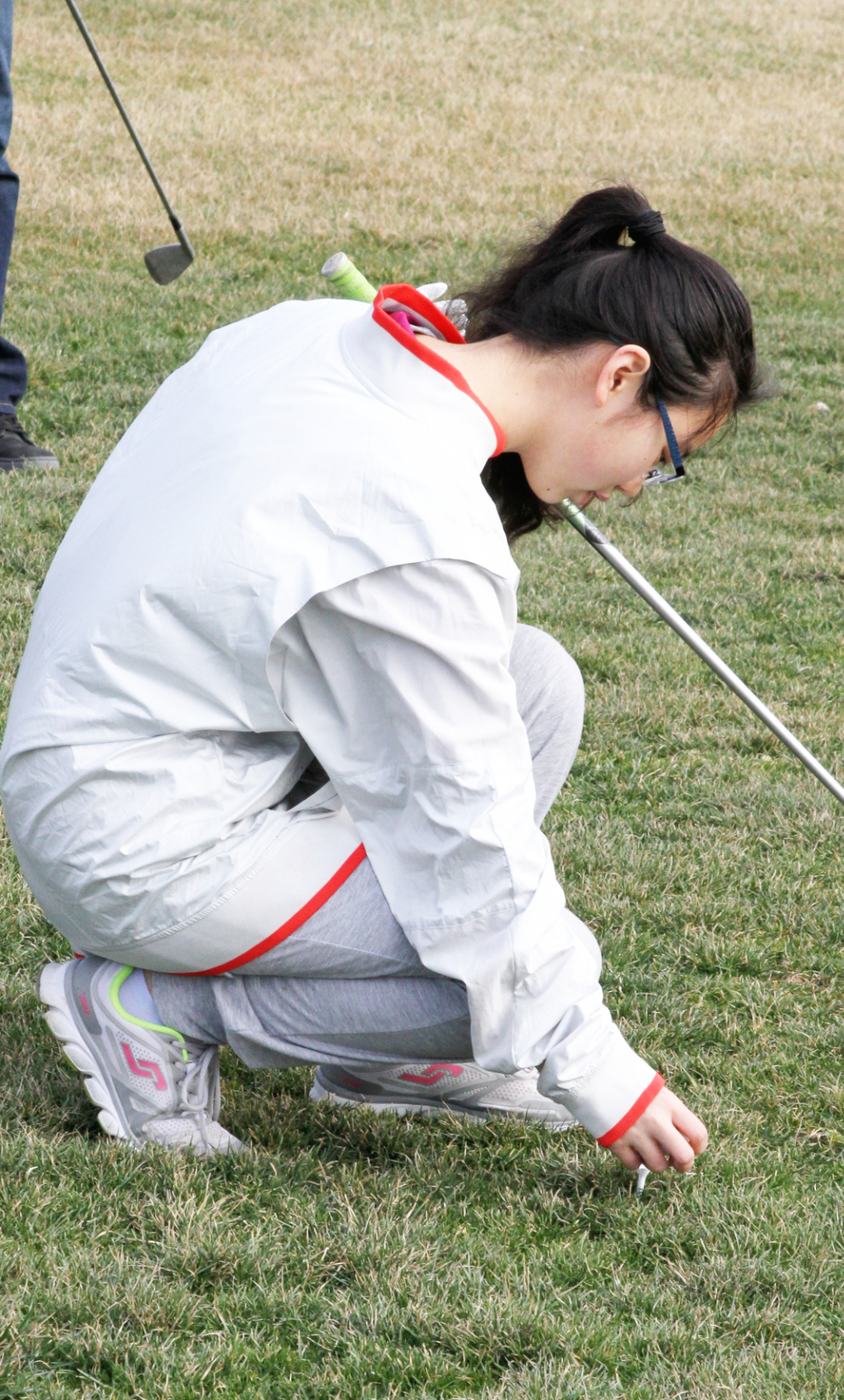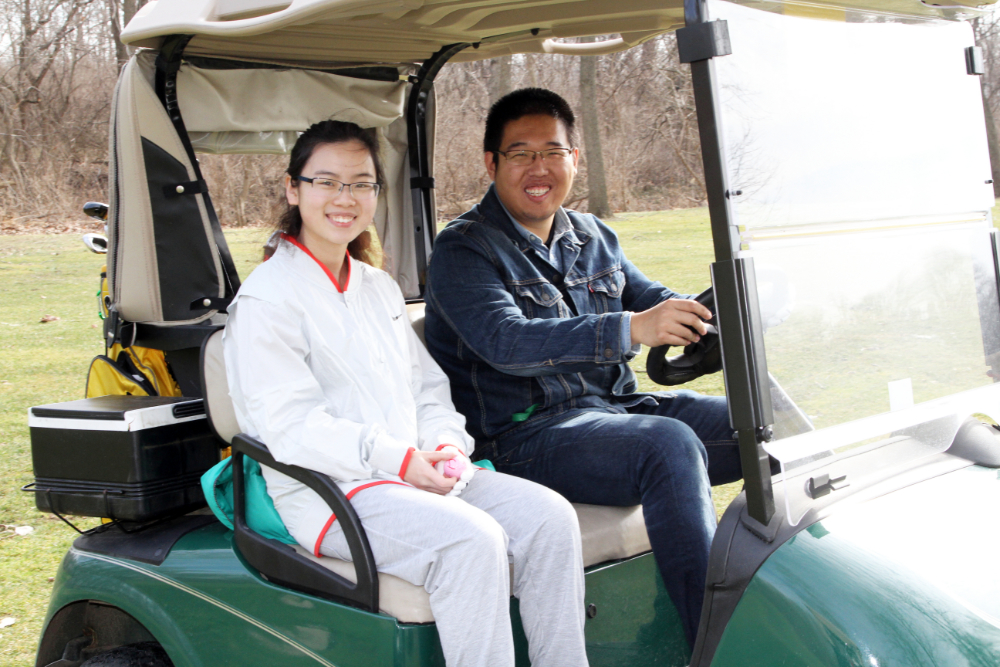 The National Museum of the United States Air Force is located a few miles east of Dayton, Ohio on Wright-Patterson Air Force Base. It contains many hundreds of aircraft from the early days of flying up through the current era as well as space exhibitions and many items related to flying and space technology. Admission is free.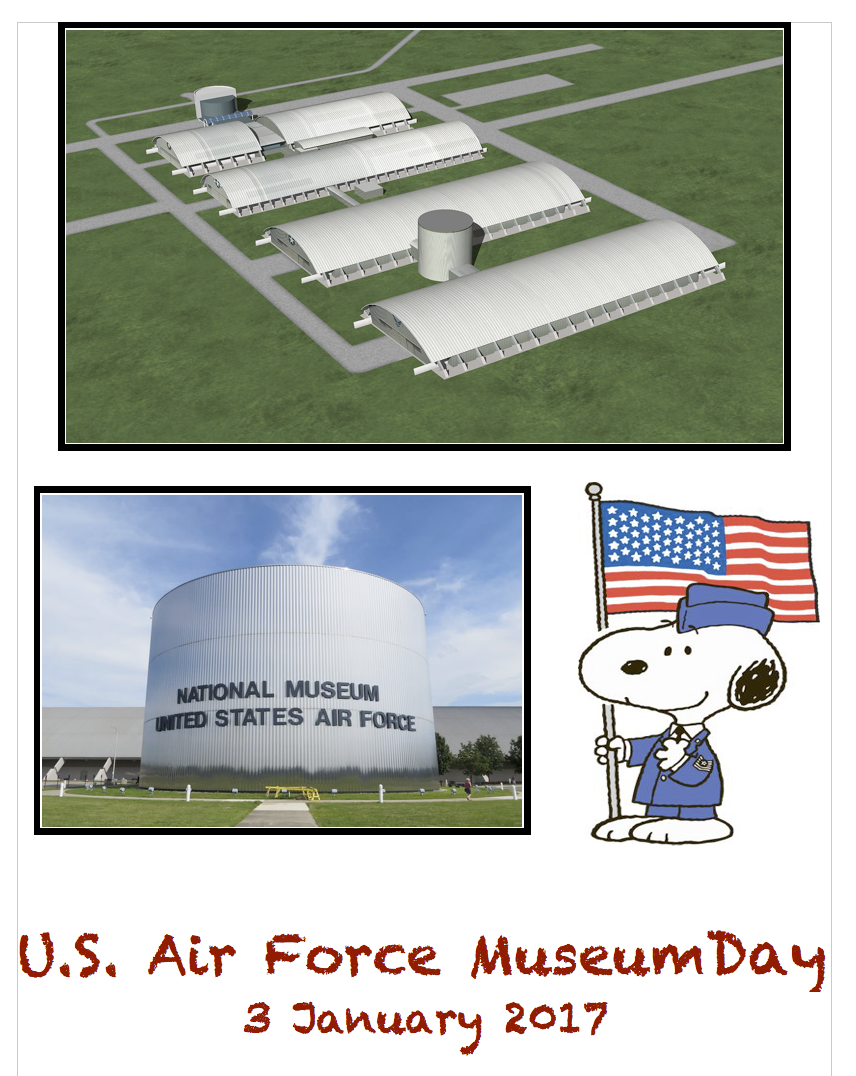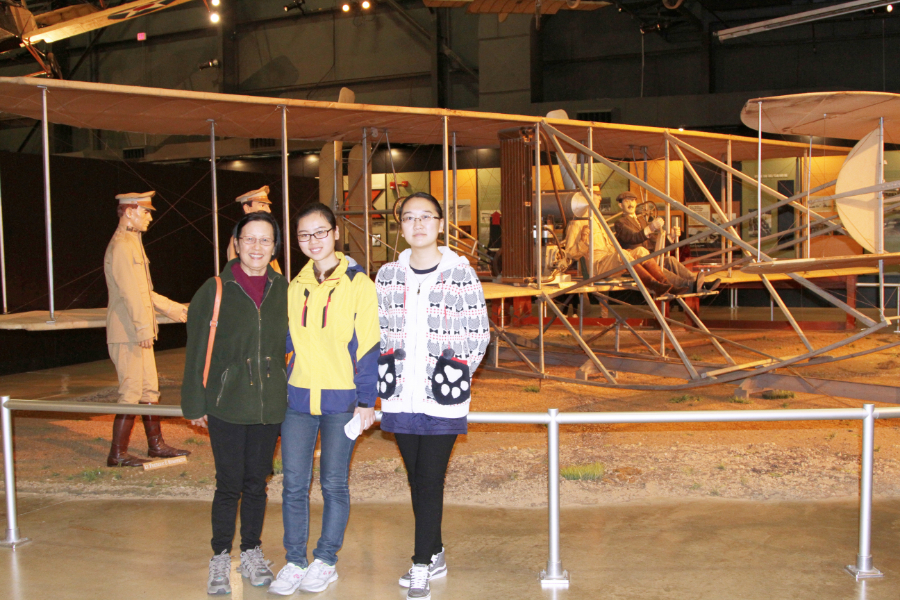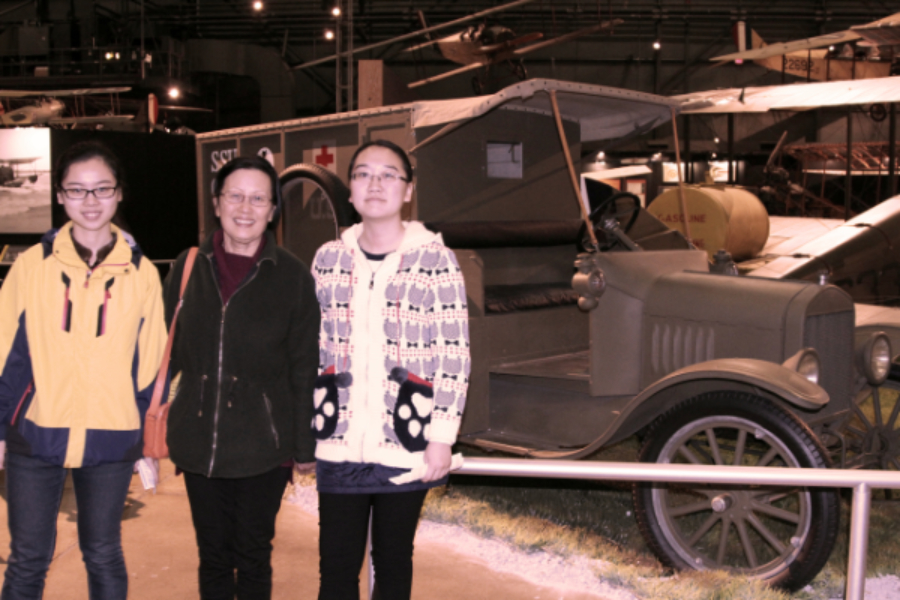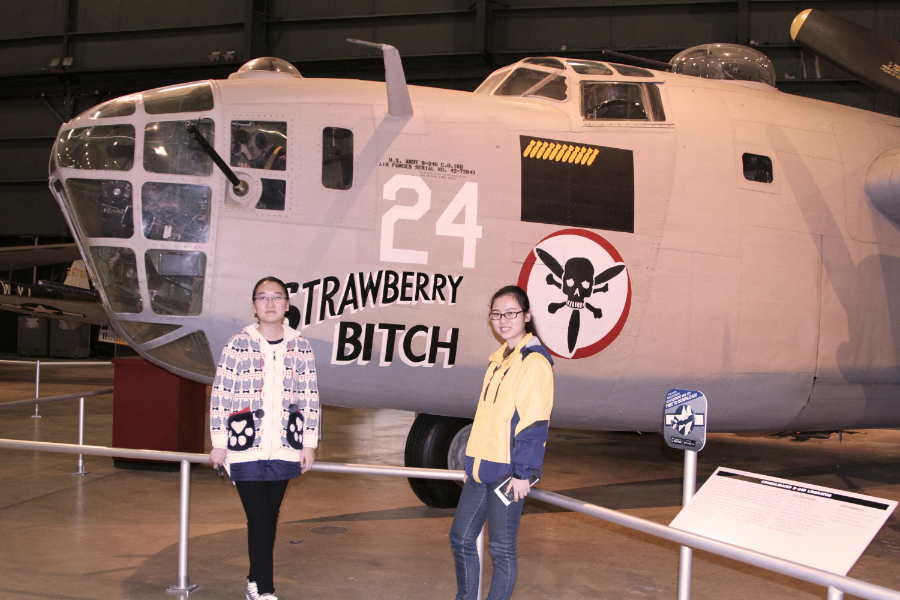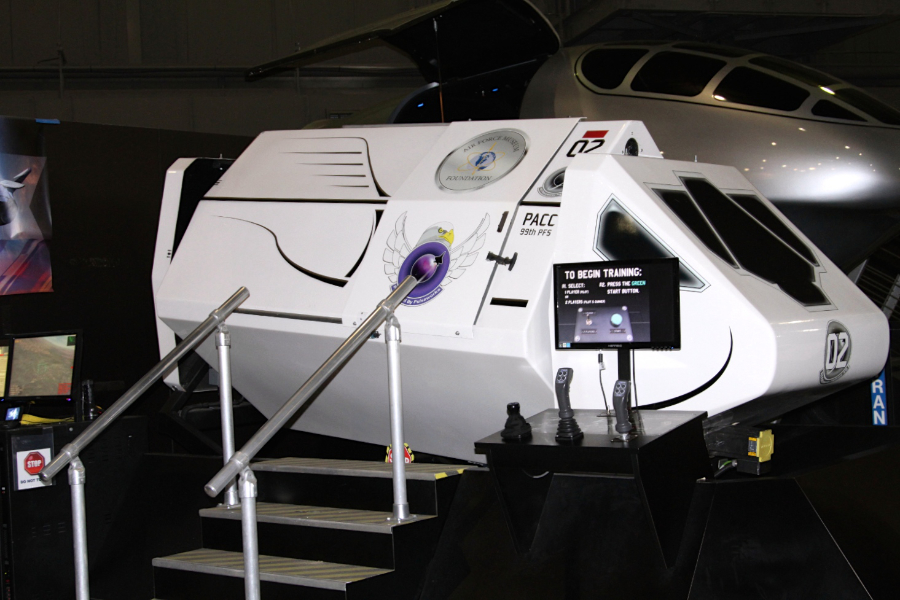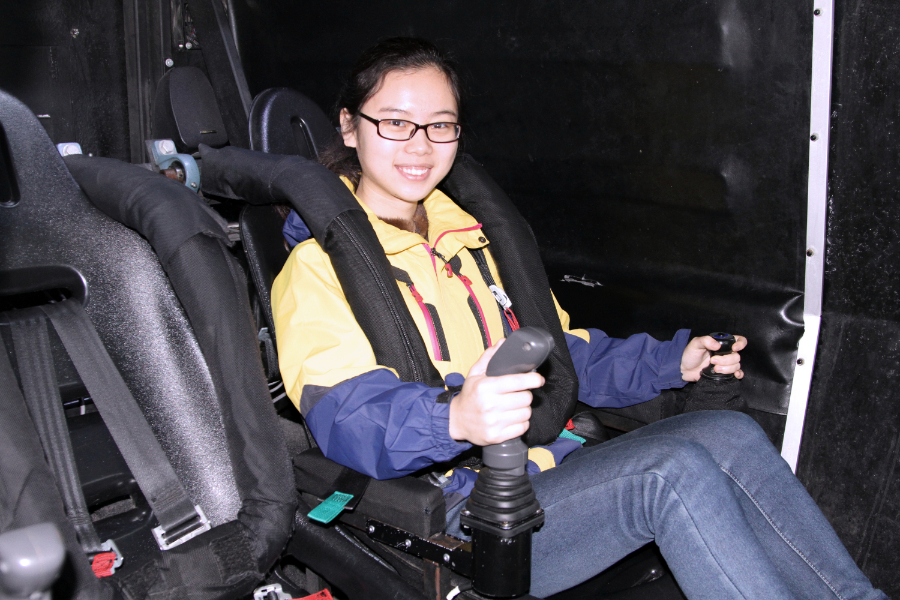 Fighter Simulator. It rolls and turns upside down while you try to shoot down enemy planes. Jiale was the only one of us with the courage
to try it. According to the operator, the average score of enemy planes shot down is three. Jiale scored ten enemy planes shot down!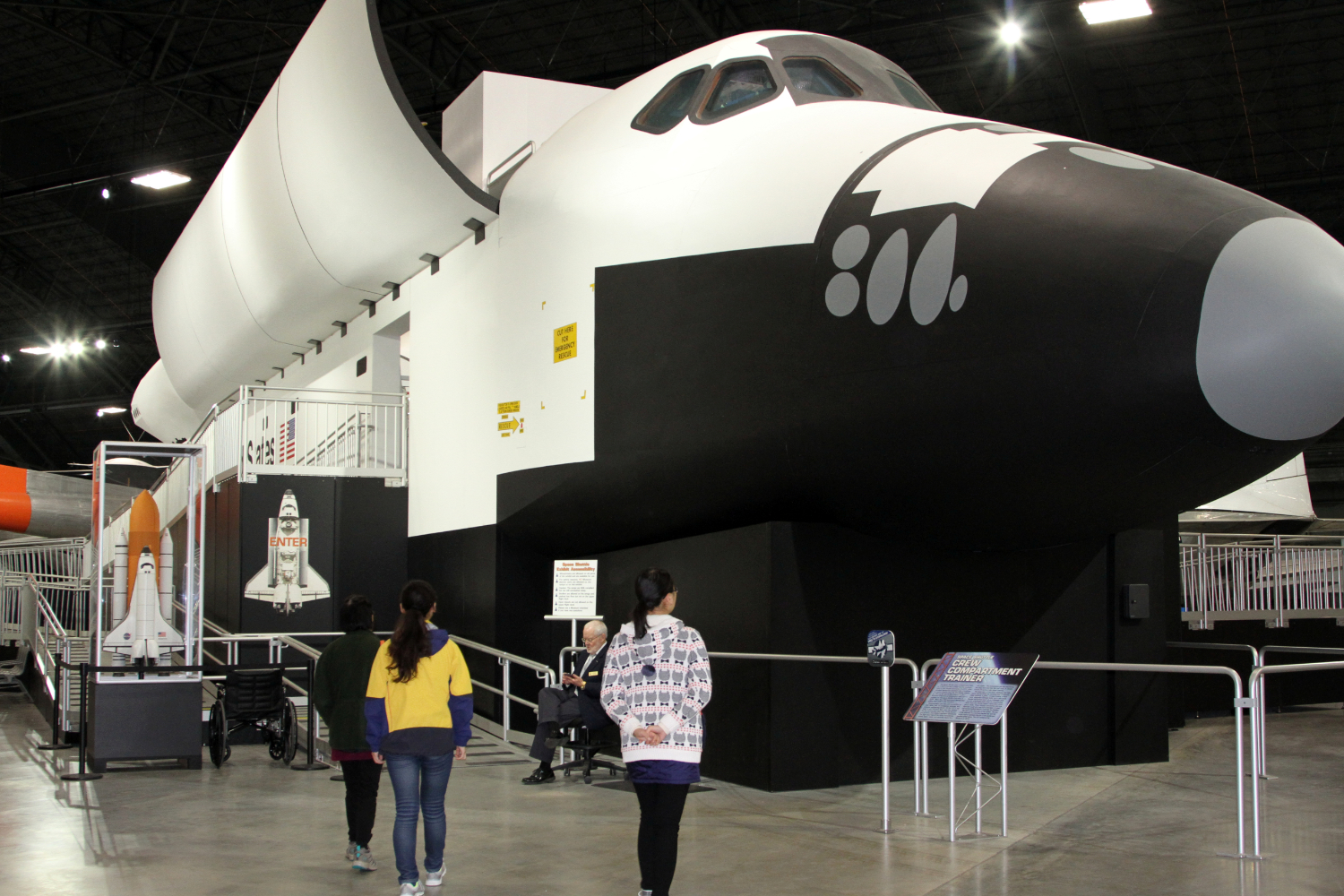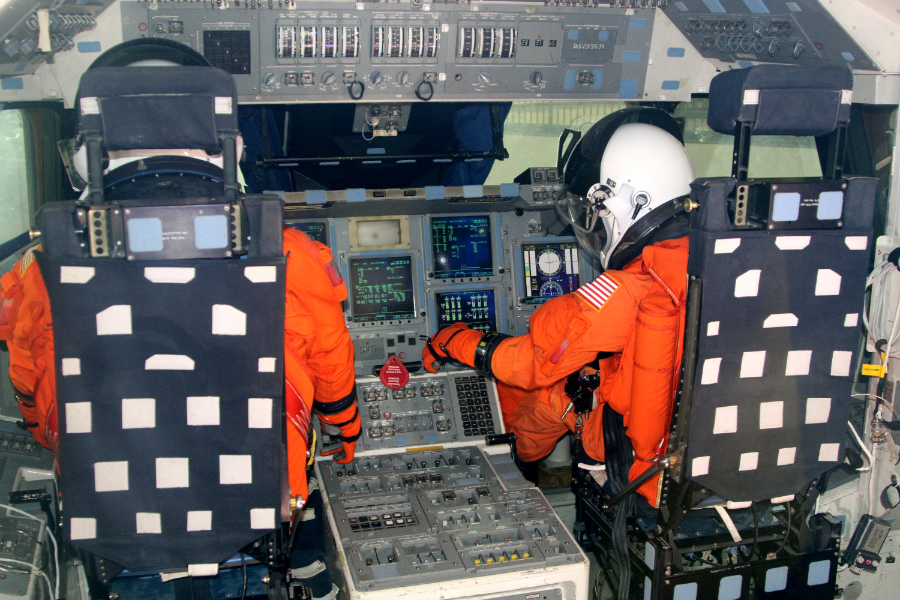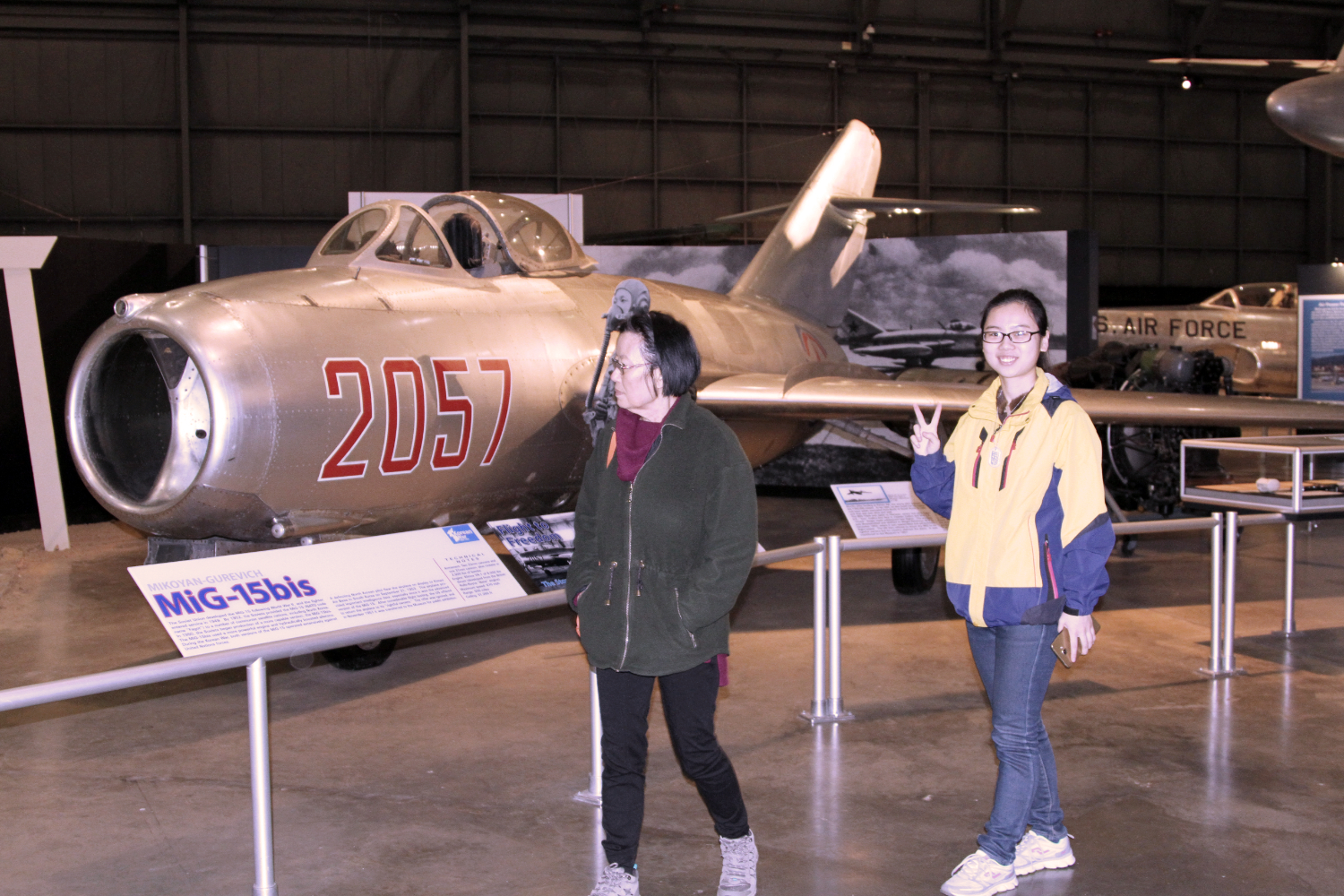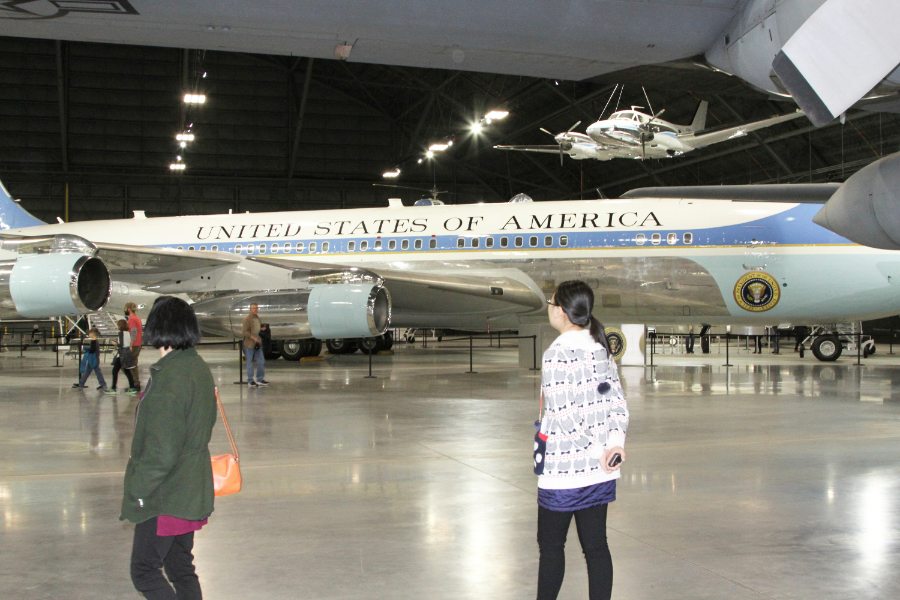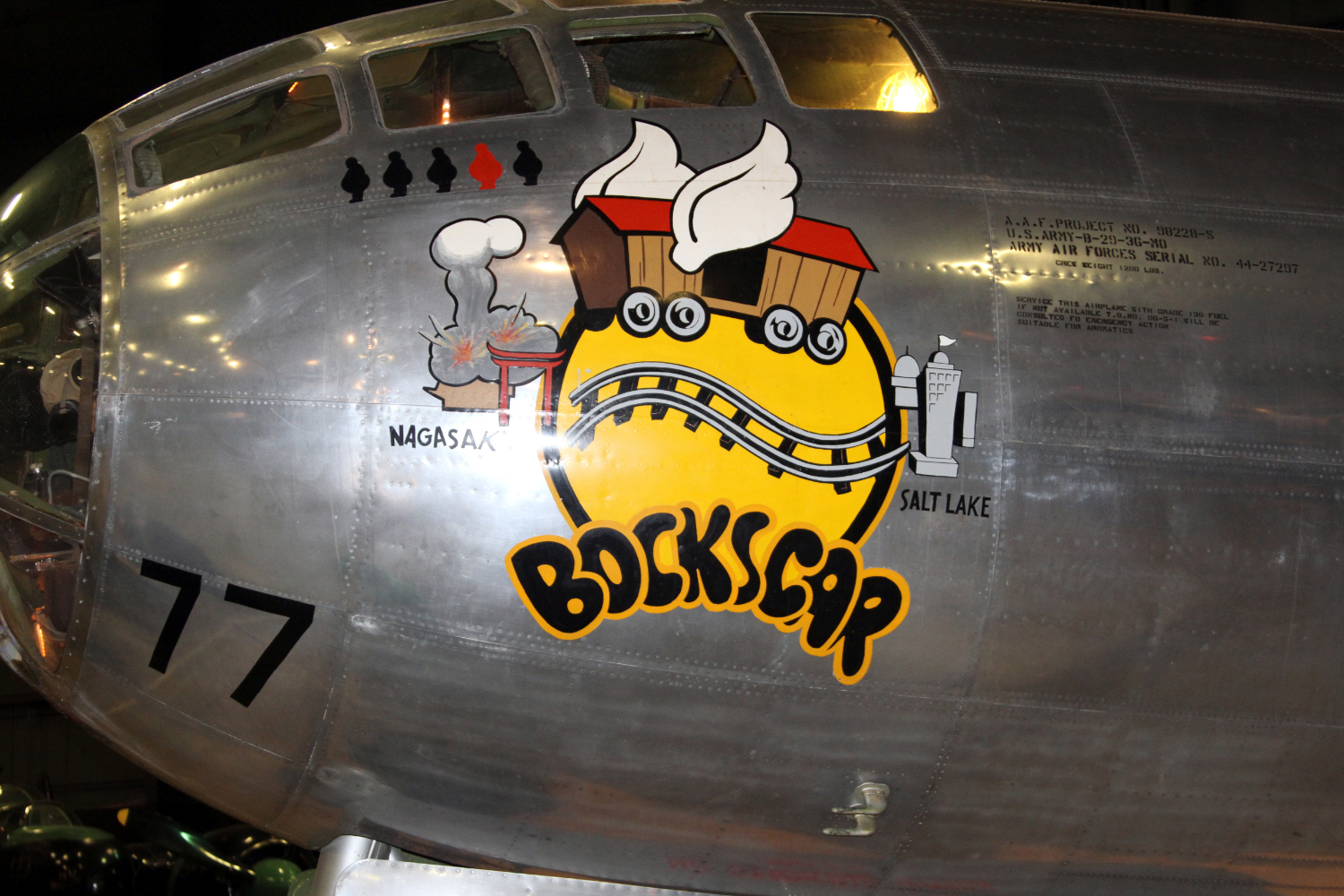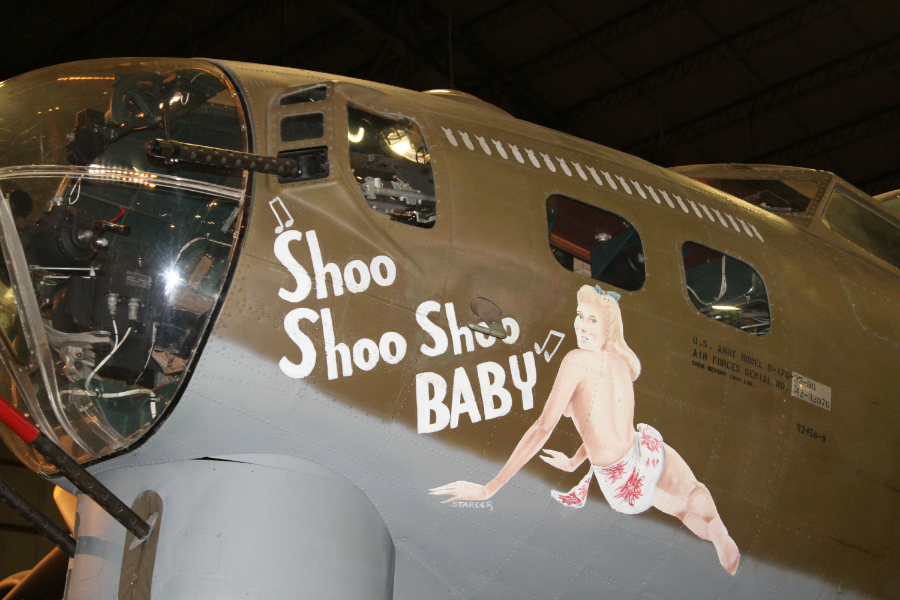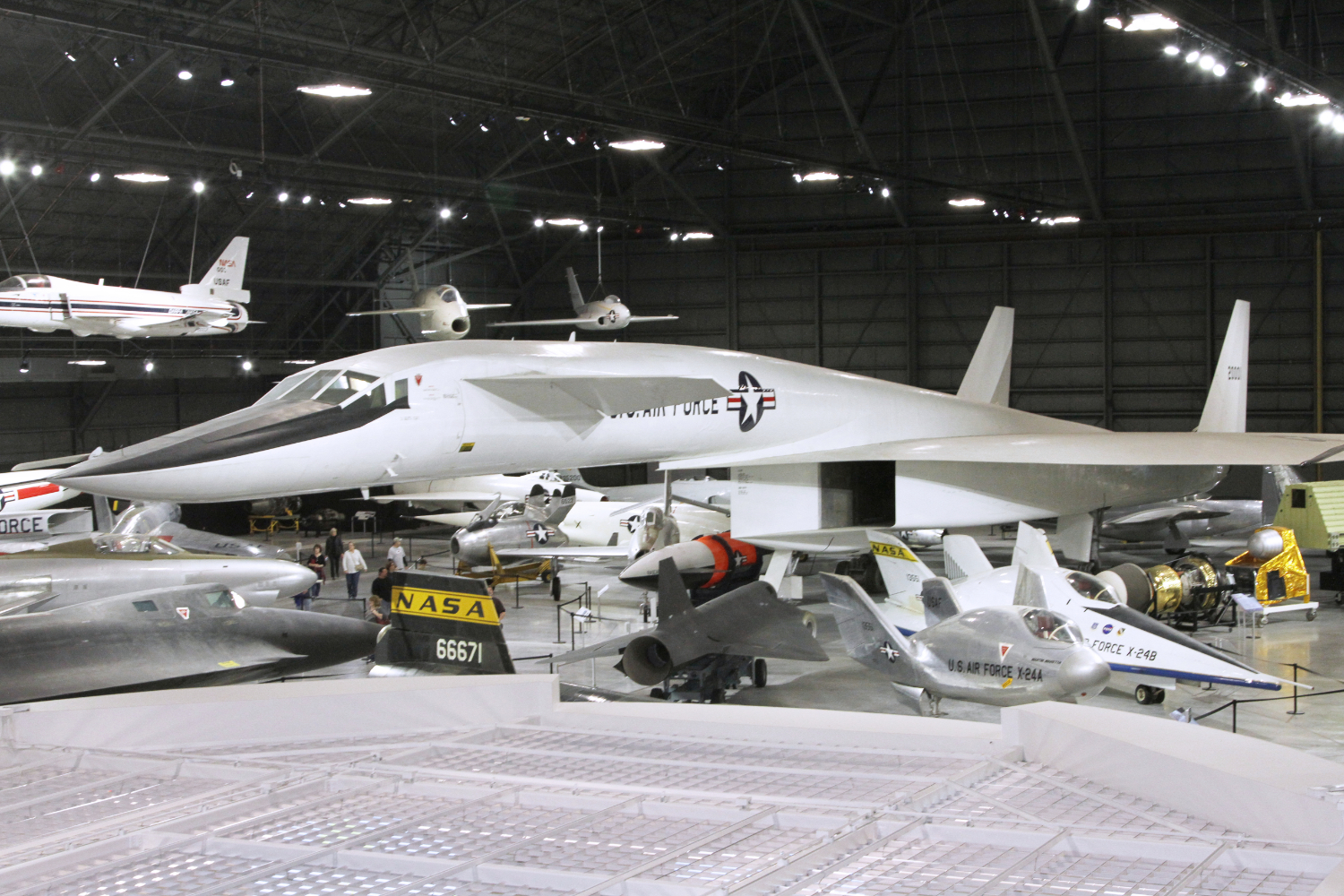 Located in Columbus, Ohio, COSI (the Center of Science and Industry) is a science center serving more than 30 million visitors since 1964. Parents Magazine recently named COSI the #1 Science Center for Families in the country. COSI brings science to life with more than 300 interactive exhibits throughout discovery-based and themed exhibition areas, which include: Ocean, Space, Gadgets, Life, little kidspace, WOSU@COSI, Progress, and Big Science Park. The exhibition areas provide experiences for all age levels to creatively combine science facts and learning through play.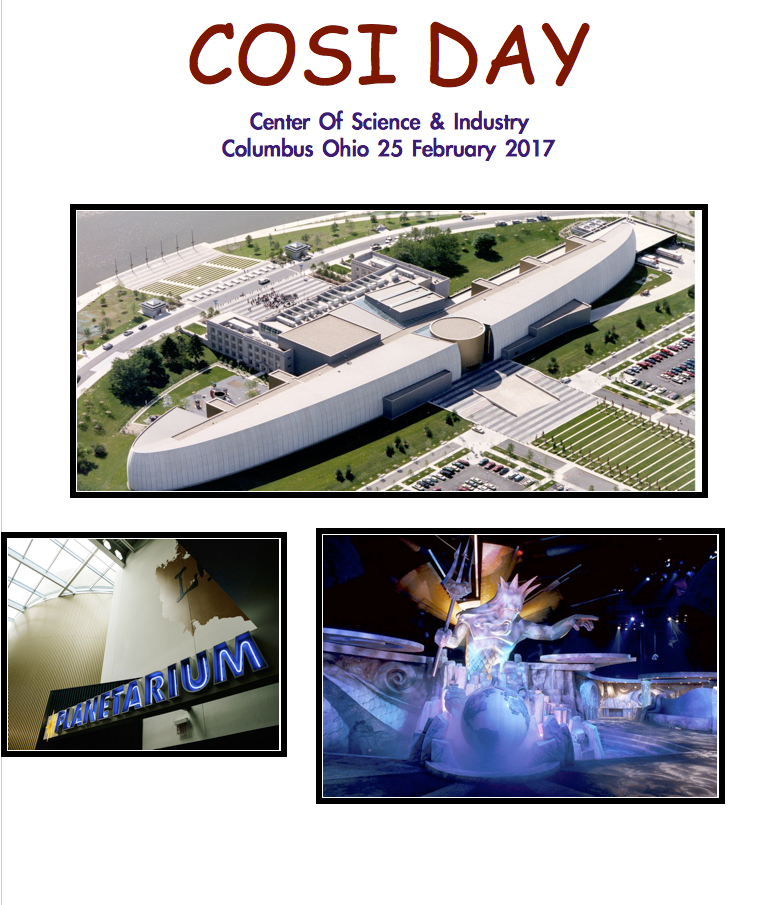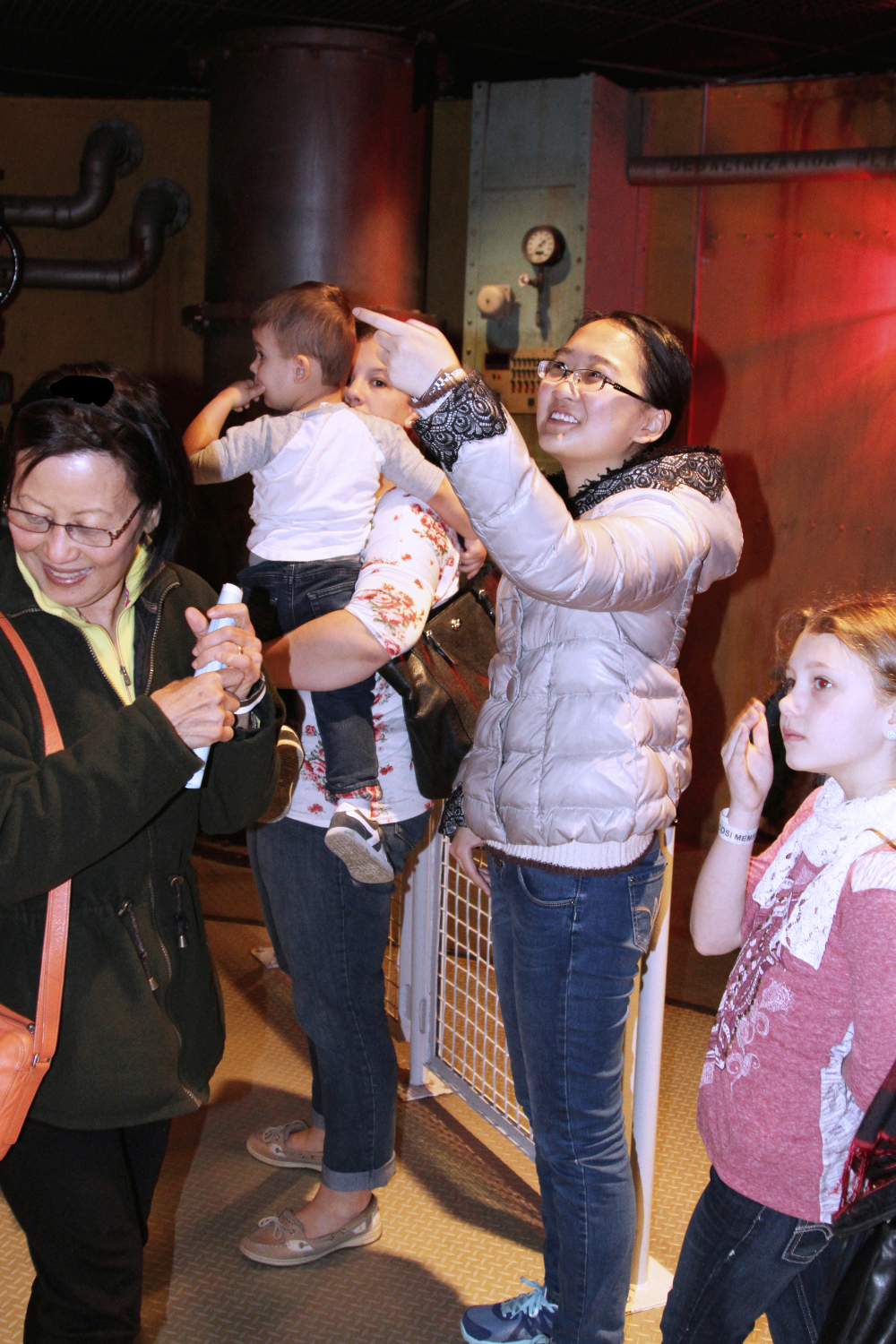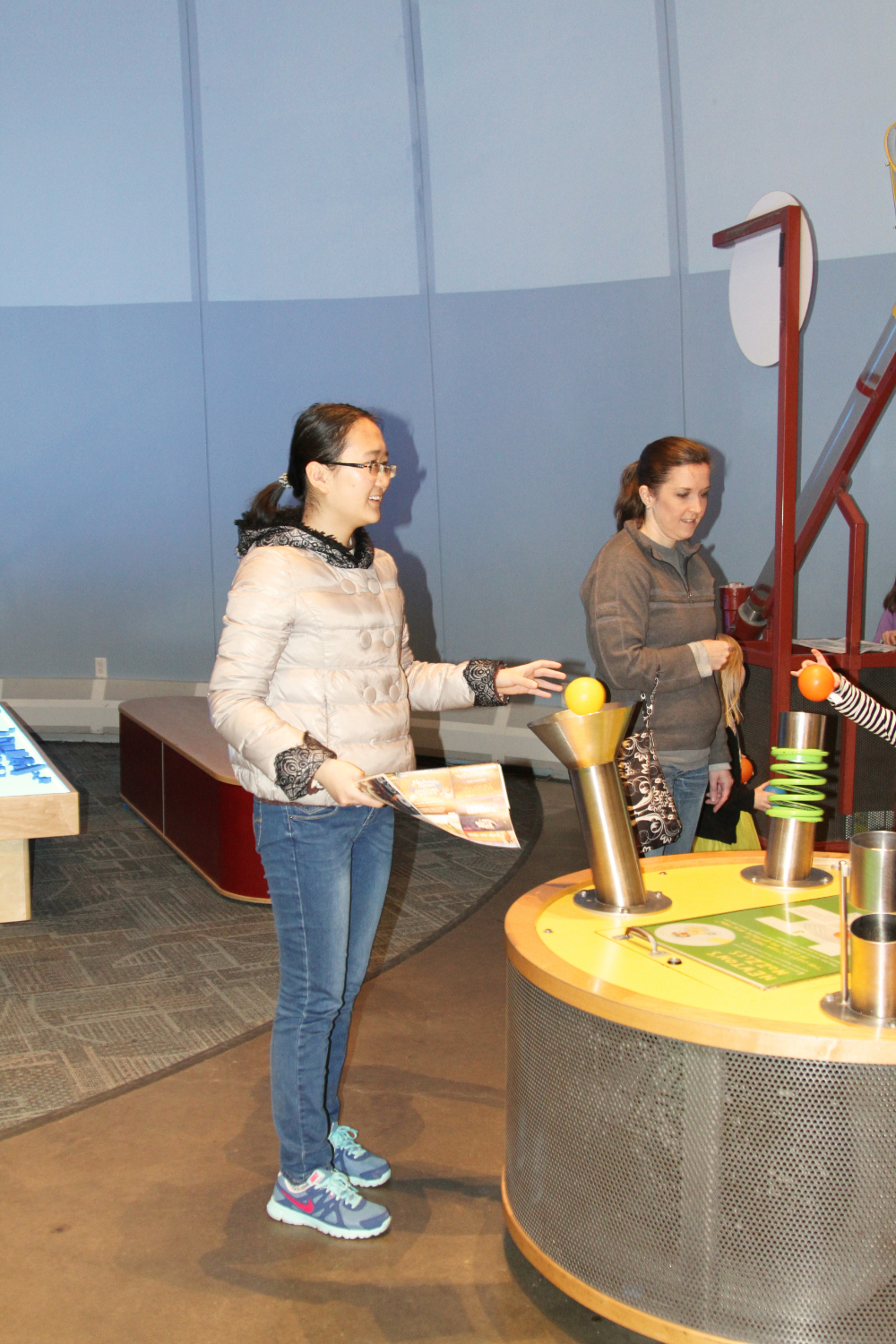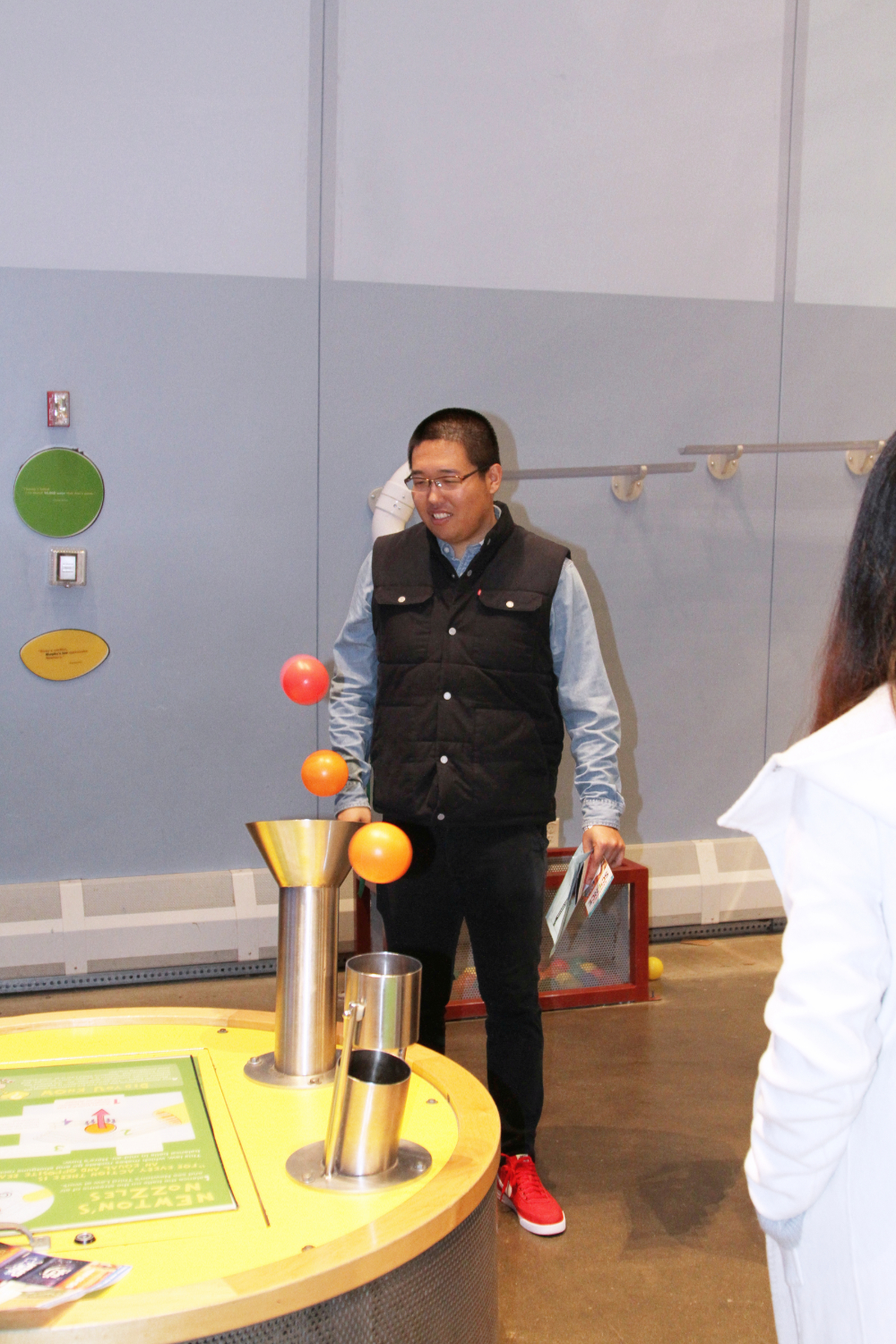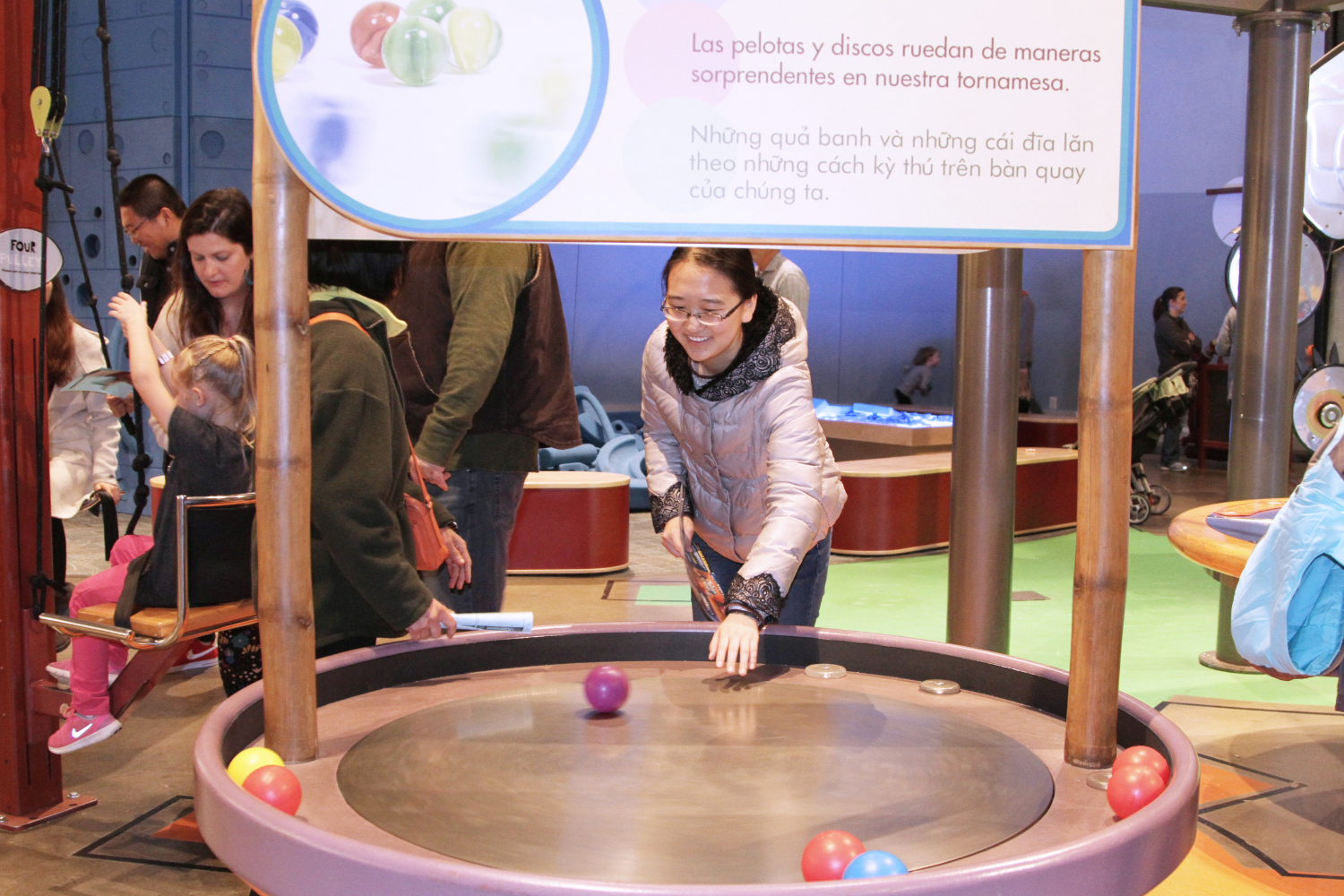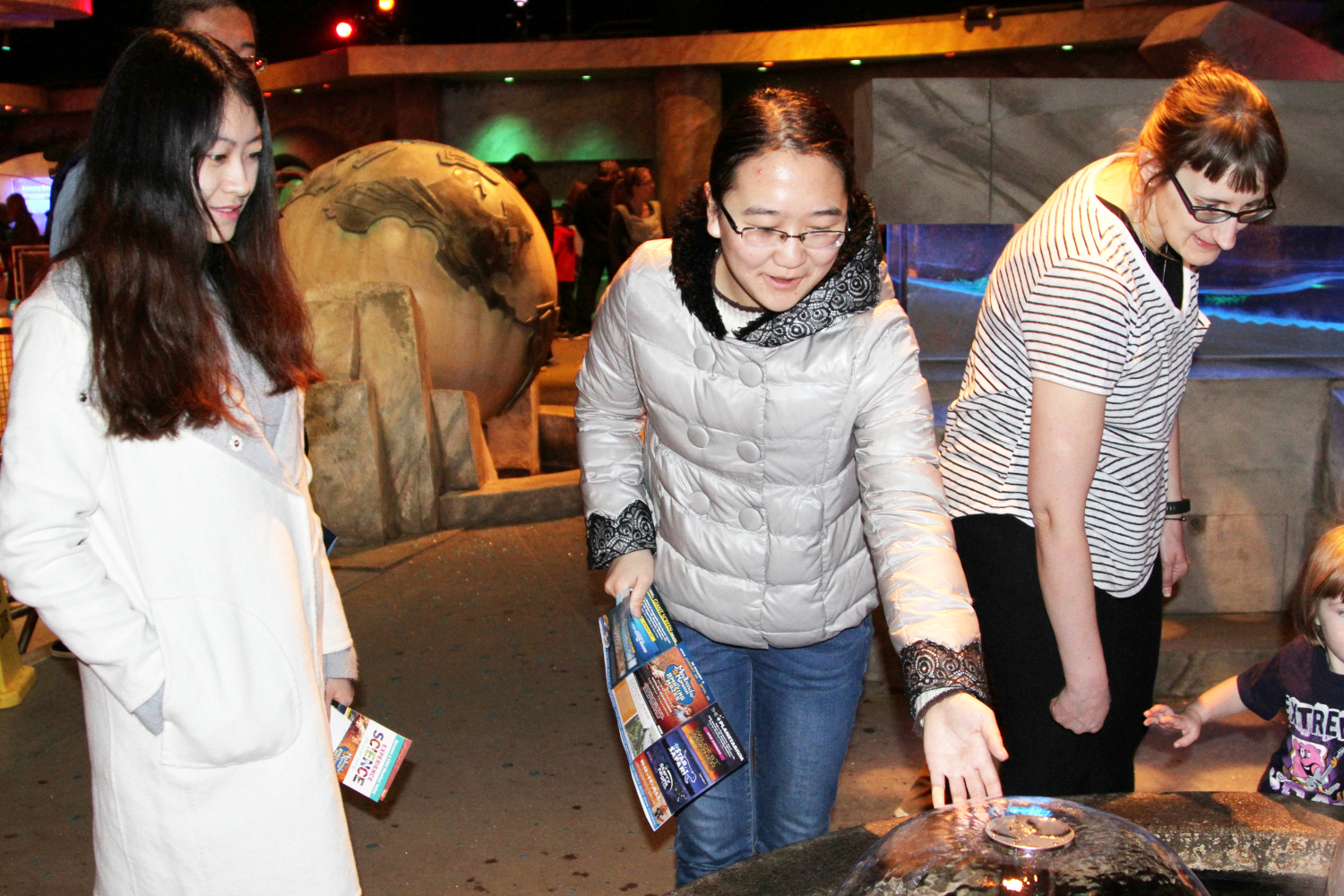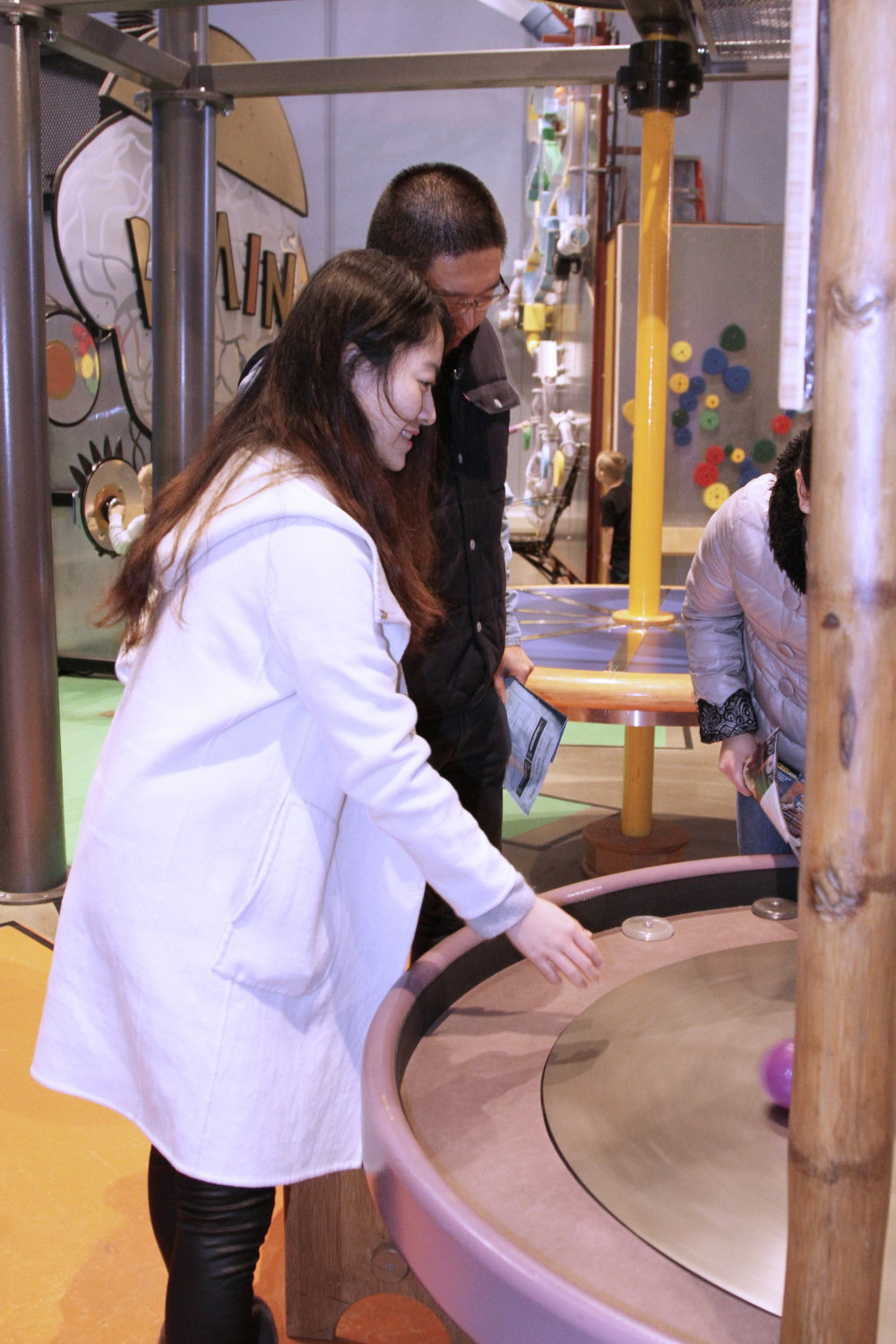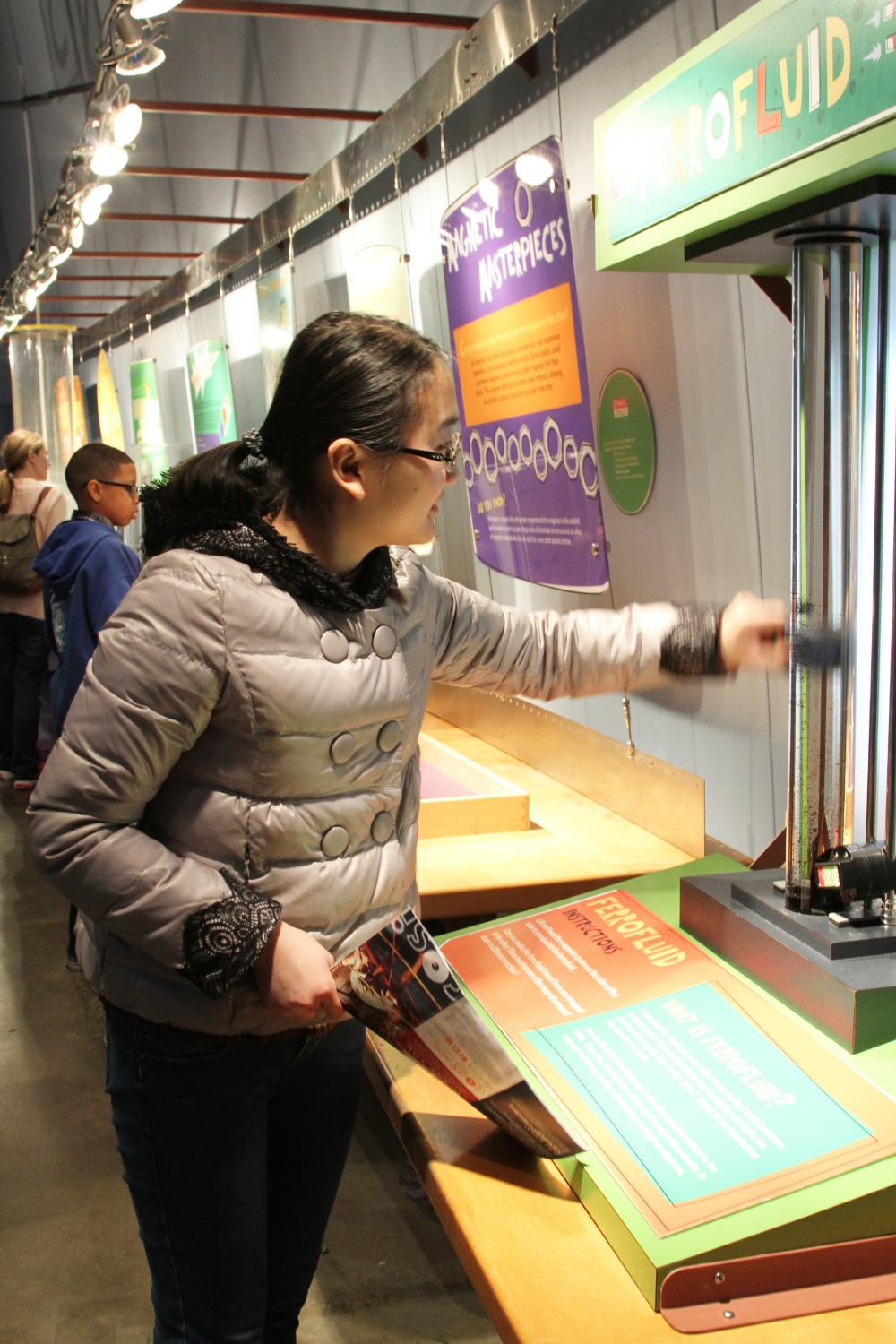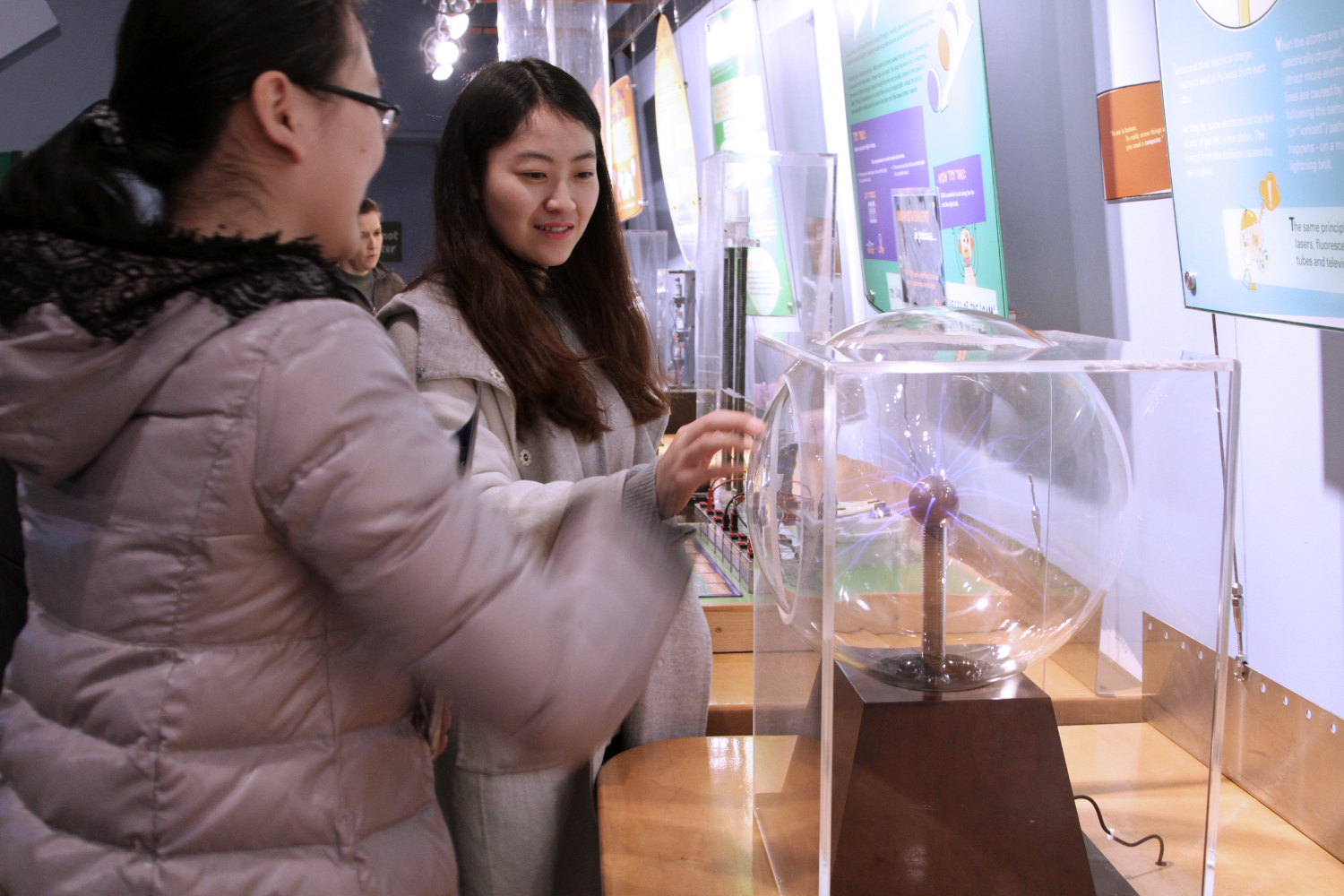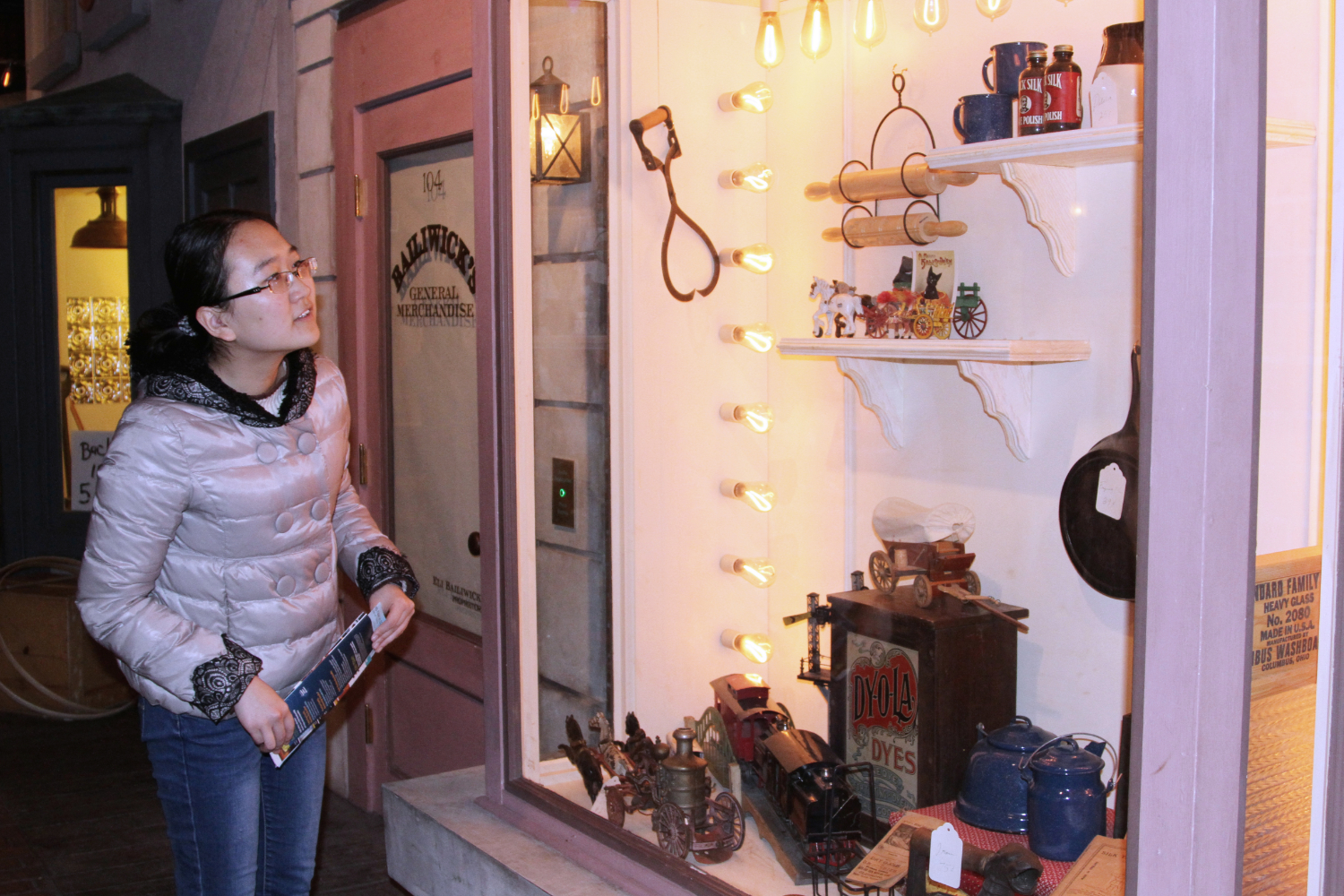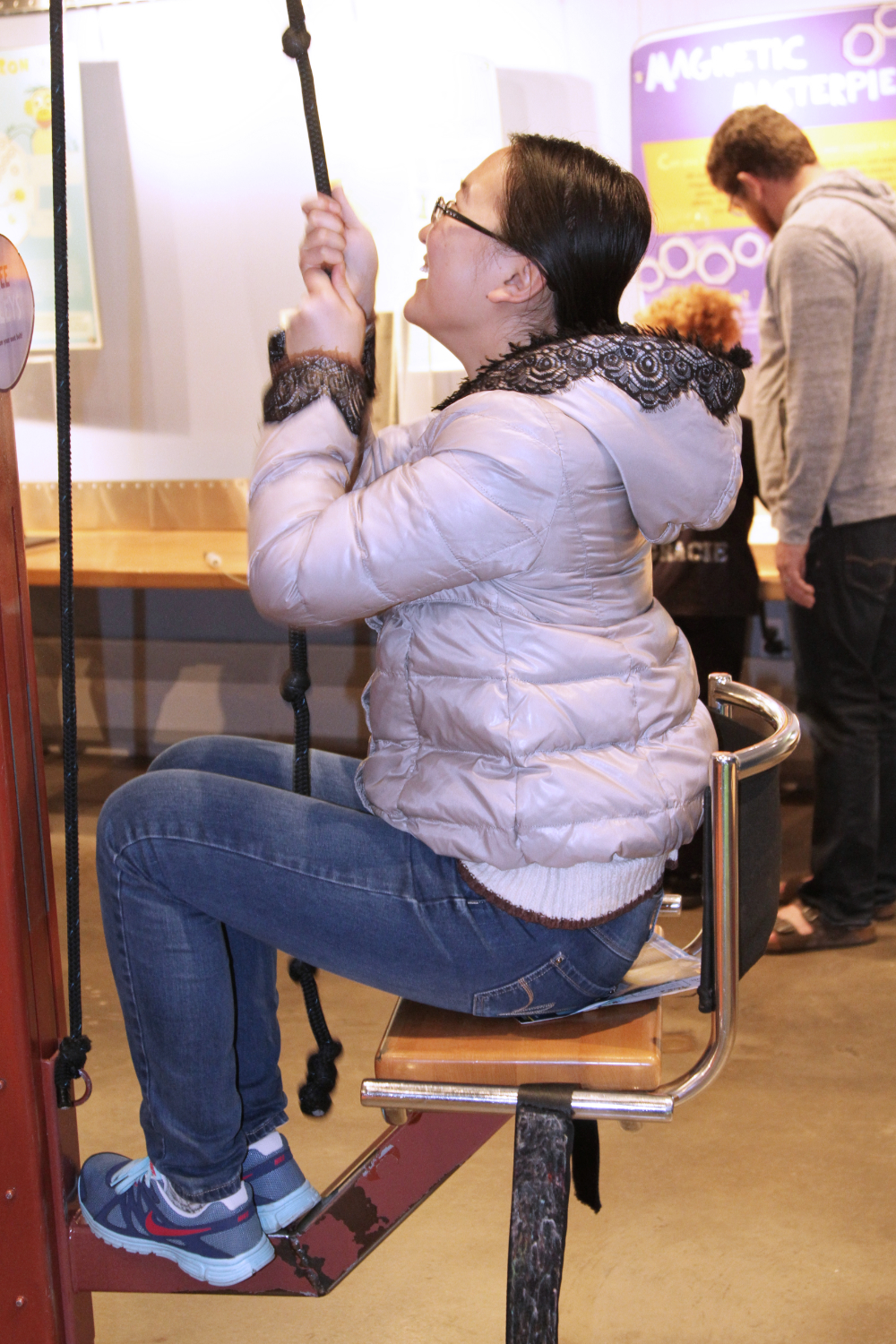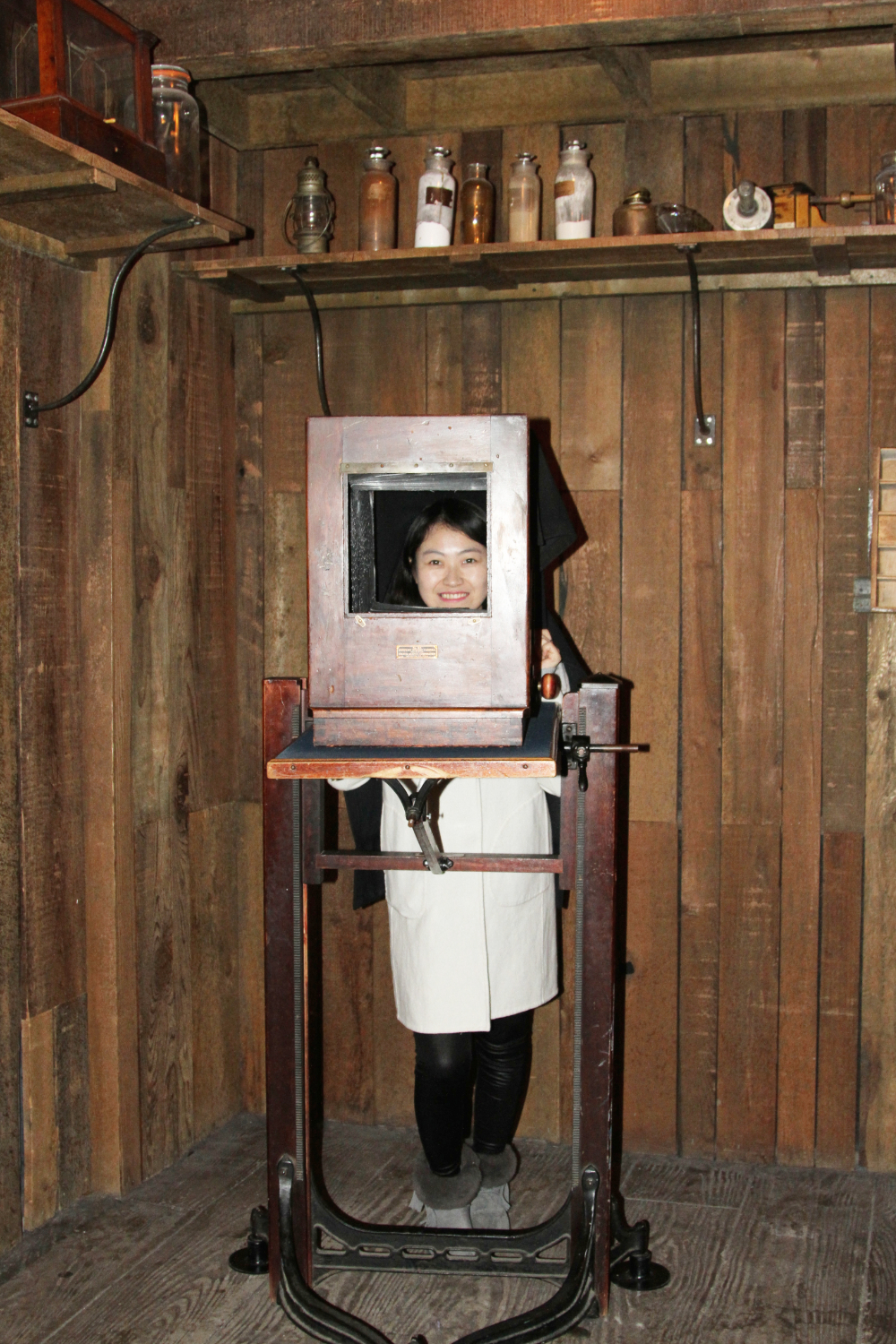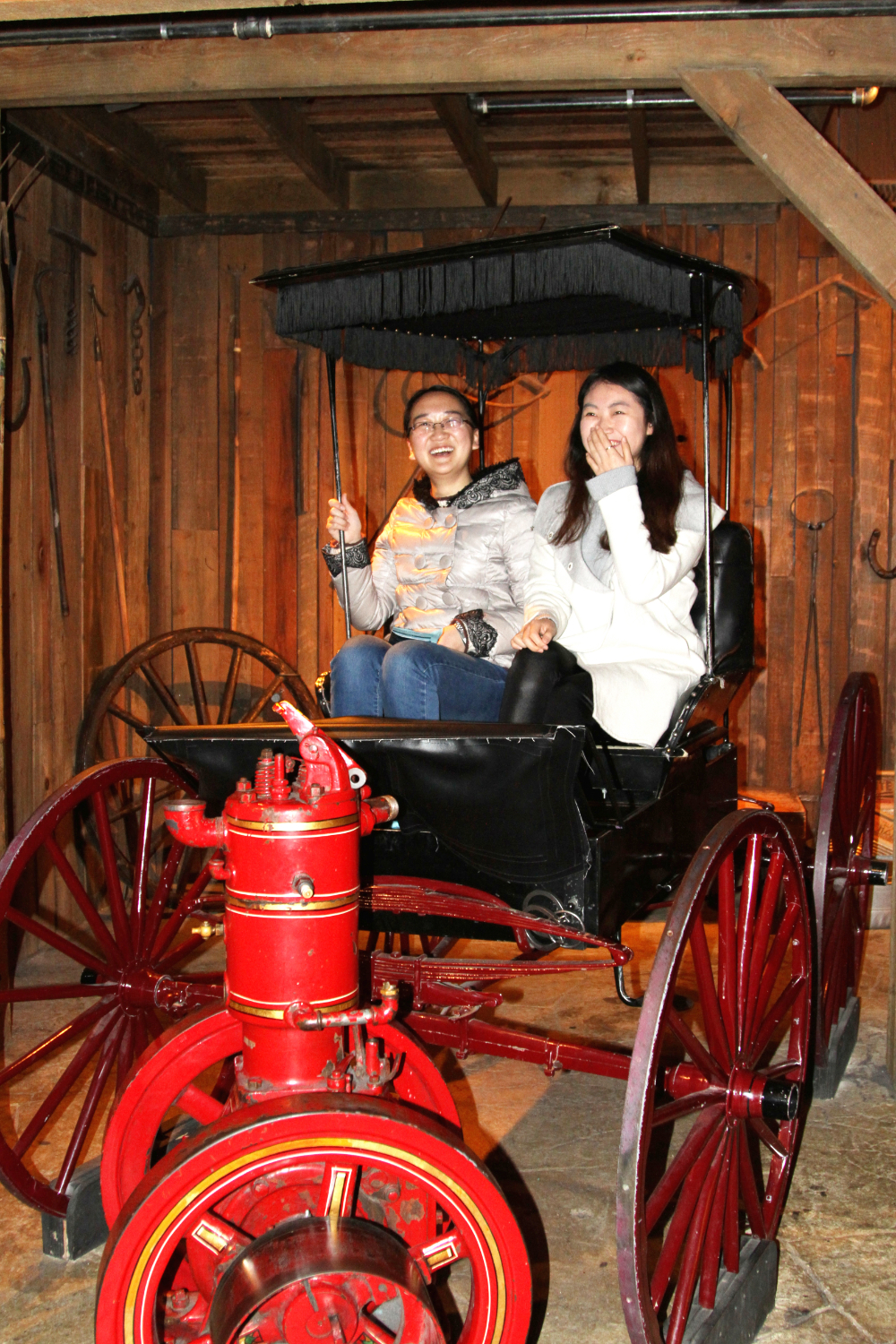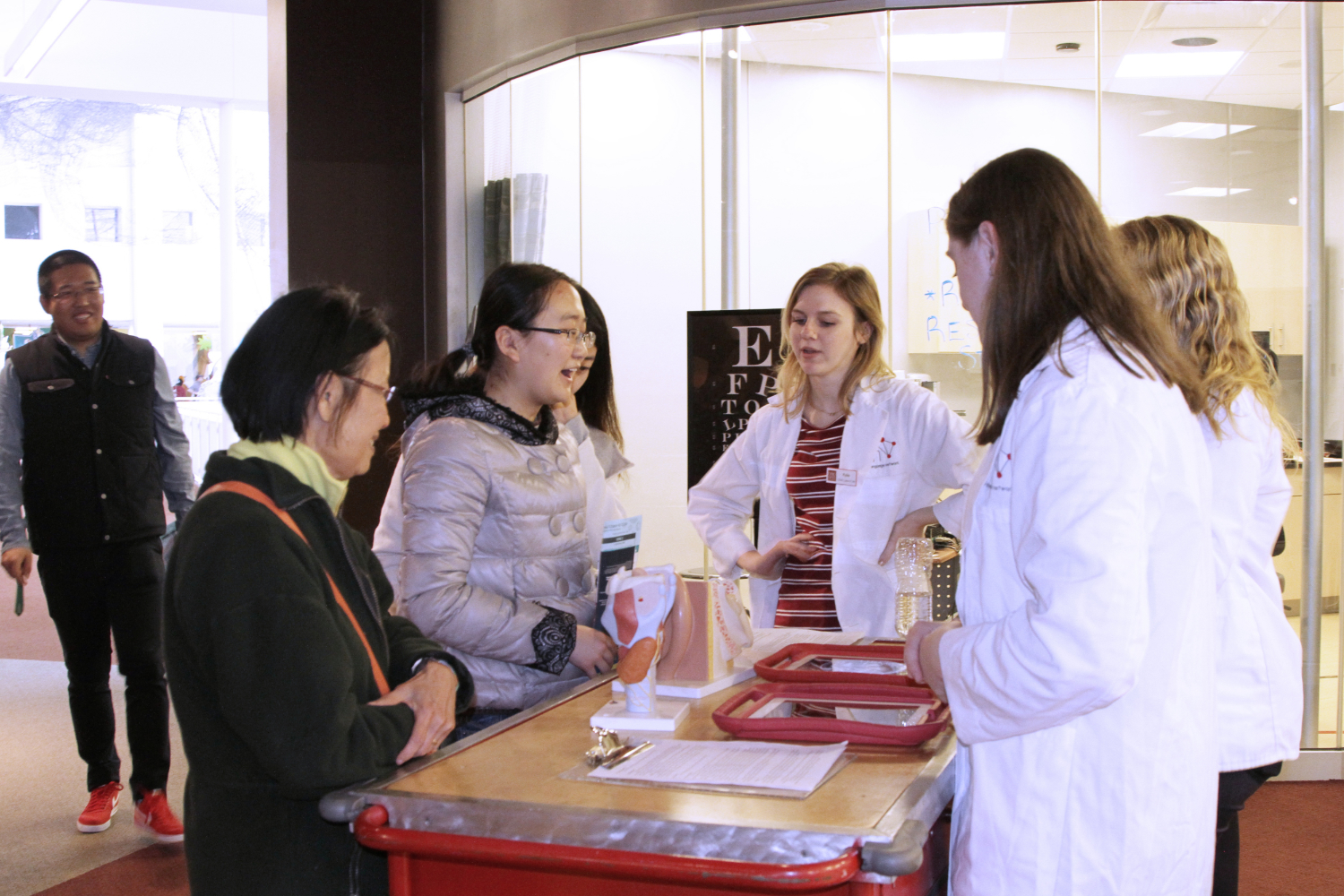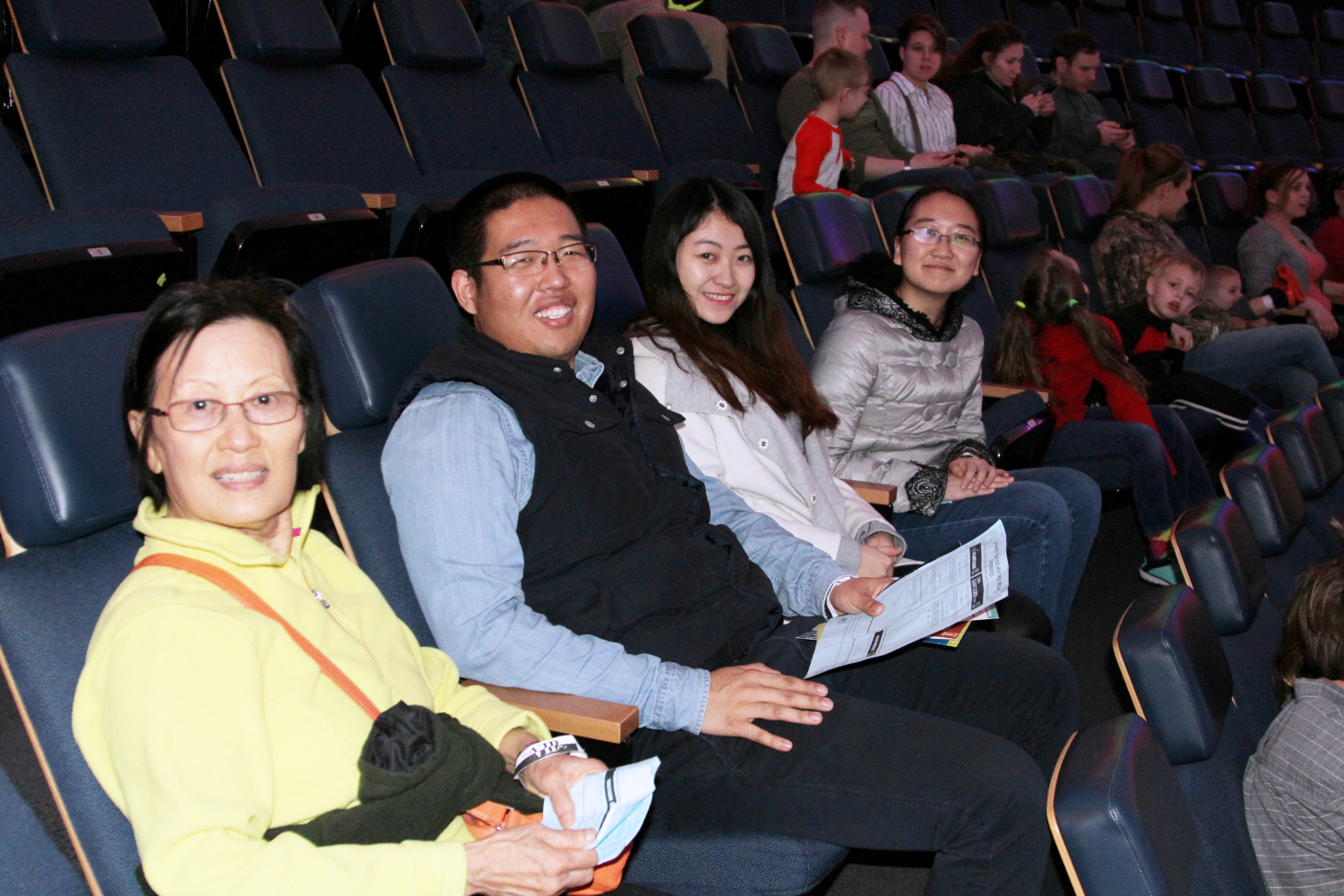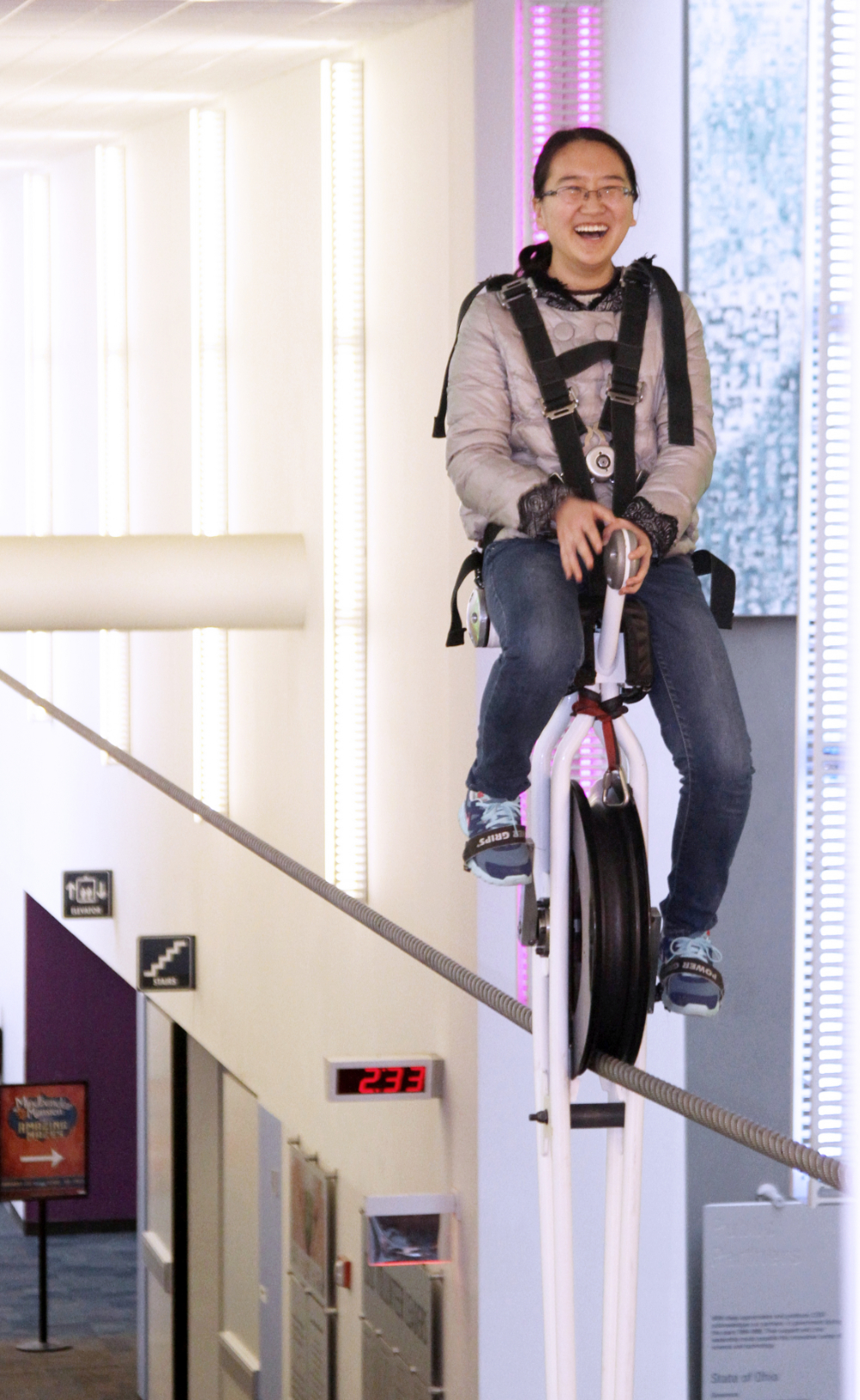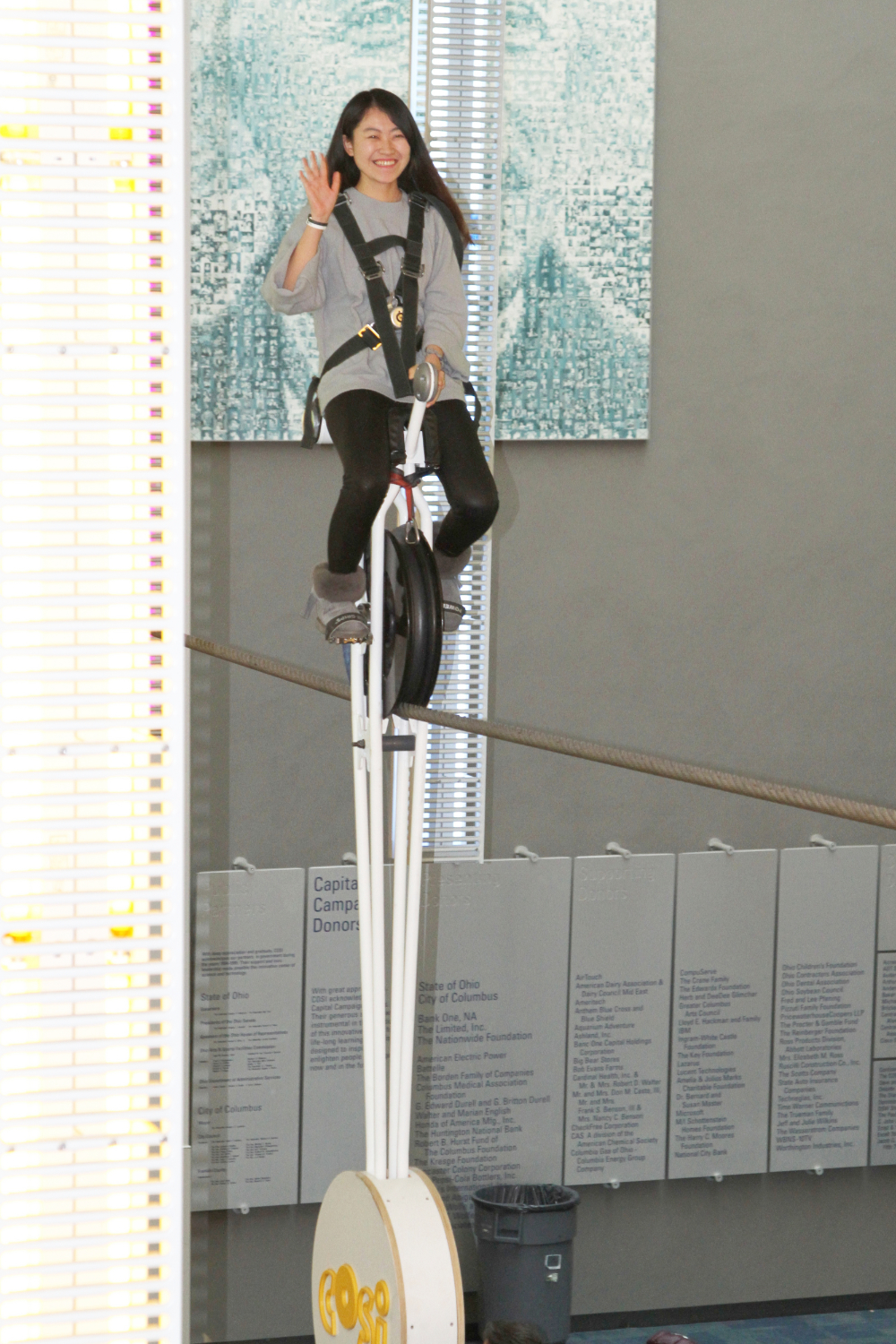 Go to Page 2